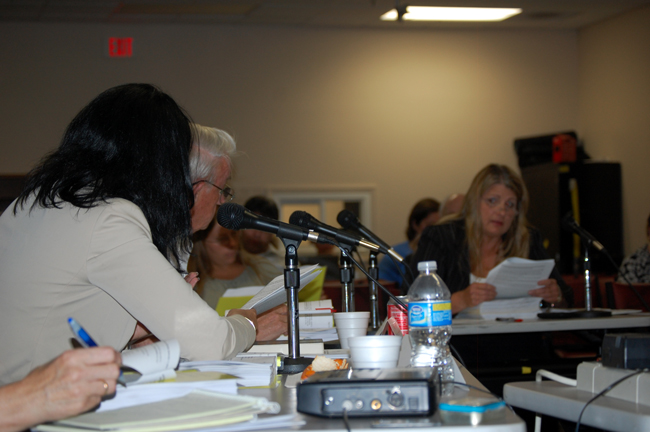 It happened at 5:15 the afternoon of Election Day, on Whiteview Drive in Palm Coast, 30 feet from U.S. Route 1.
Kimberle Weeks, the supervisor of Elections, was driving a county-owned four-wheel drive Toyota, going west on Whiteview. She was in the left turn lane as she came to a stop near the intersection with U.S. 1 when, according to the Florida Highway Patrol, she "improperly changed lanes to her right in an attempt to make a right turn onto U.S. 1."
Weeks, 49, struck a 2006 Chrysler driven by Andrew Byer, 40, of Palm Coast, on the Chrysler's left-rear quarter panel. Week's Toyota's right-front side was damaged, ans the car had to be towed, requiring Weeks to secure other means of transportation at what was one of the most critical times of the day, on one of the year's two most critical days of the year for her. Neither vehicles' occupants were injured. The vehicle is now in a yard at John's Towing in Bunnell.
Weeks, who did not return a call earlier today, was charged with improper lane change, according to the highway patrol. It's not clear how much damage the Toyota or the Chrysler sustained.
Weeks, however, apparently did not let the incident interfere with what County Commission Chairman and canvassing board member George Hanns termed a "flawless" election.
The Toyota belongs to the Flagler County Property Appraiser. It's one of about five vehicles in the appraiser's fleet. "They needed top borrow a car," Jay Gardner, the property appraiser, said, "we loaned them." The wreck won't interfere with the property appraiser's work at the moment, however, as appraisers are working in their offices (tax notices have just been mailed to property owners). Gardner estimates the damage to the car at around $2,000.