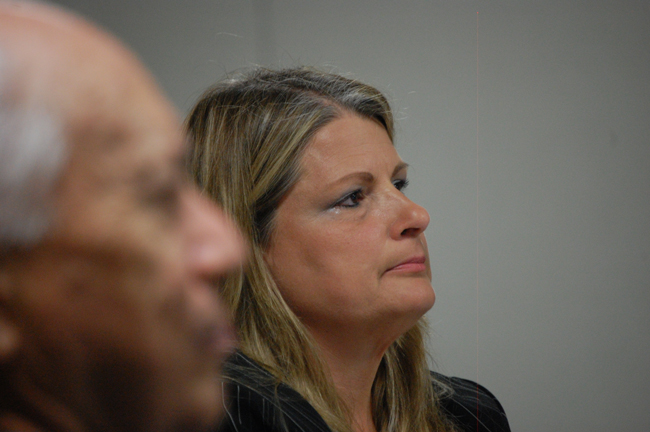 It was embarrassing. It was abrasive. It was absurd: Kimberle Weeks, the Flagler County Supervisor of Elections, appeared before the County Commission Monday afternoon in a meeting arranged at her request, ostensibly to resolve conflicts that undermined the first two years of her relationship with the county and prevent new conflicts in the next two. Two and a half hours and a fair amount of table-pounding later, the two sides were worse off than where they'd started as Weeks opted to use her time before the commission to replay and ratchet-up conflicts, naming names and laying blame on what amounted to a vast conspiracy intent on demolishing her.
After distributing to each commissioners a two-inch-thick binder with double-sided documents—an all-but-kitchen-sink brick of evidence to make her case—Weeks read commissioners, on their turf and to their face, a 36-point riot act that left no one in the top administration unscathed: County Administrator Craig Coffey, County Attorney Al Hadeed, Finance Director Tom Klinker, Communications Director Carl Laundrie and others all sustained attacks on their competency, credibility, honesty and many other words ending in "y." And that was before she took on the commissioners.
"The board has been provided misinformation and been misled by its staff. I don't know if some of the events that have taken place are political, or evidence of the board staff being incompetent, or just manipulations by the board staff to manipulate the elections process," Weeks said, by way of introduction. "I realize we can't change the past, but I hope we can change the future, and work more productively together."
---
Milissa Holland Tries to Reason With Weeks[media id=67 width=250 height=100]
Working together sounded like the last thing on Weeks' mind as she proceeded to read from a typed, single-spaced statement spiked with references to coded exhibits, legal citations and underlined declarations that leveled one accusation after another. The brief storm that raged outside had nothing on the storm she brewed inside (The storm outside couldn't compete and petered out).  All along, Weeks referred to herself in the third person, as "Supervisor Weeks," as if the material was written about her (and for her). Weeks was paid $93,974 in 2009. County commissioners are paid $48,000 each.
Remarkably and through her 120-minute performance (Hadeed took up the first 30 minutes), Weeks not once intimated that she may in the slightest degree have contributed to so much as a misunderstanding on her part.
"What is the desired result of this," Commissioner Barbara Revels asked at the end of the 36-point declaration. "What is your purpose?"
"That we can have a more productive method of doing business that doesn't impede the operations of the elections office."
"And you're going to get there with this type of accusations?"
"How else do I get there, if you're not aware of what's going on and I continue to have things happen? There were 35 things I listed there that I read off that continued to happen over an 18-month period and on many of that, you were copied in emails and at no time did board members come to see me about it without my invite, nor did they call for a workshop, and it's just been allowed to be a continuation of what's going on."
---
Weeks Takes Alan Peterson's Patience to the Limit[media id=68 width=250 height=100]
So what, exactly, is going on? Most, if not all, of the 20-month conflict over money and statutory authority doesn't add up to much more than a hill of bean-counting. Weeks is still seeking some $4,000 in refunds from a special election last year (the one that elected John Thrasher to the state Senate). The election cost less than $100,000. She had requested $358,000 — upfront. Commissioners refused. They were stunned by the amount requested and the manner in which it was requested (without a budget amendment, without an outline of what the money was for). As it turns out, commissioners were right: Weeks never needed the majority of that money. The exaggerated request and the manner in which it was made raised red flags and informed commissioners' caution since. The commission is required by law to exercise oversight on the budgets of constitutional officers, including the supervisor of elections.
The county paid all but that $4,000, once the state's Division of Elections told Flagler that it would not honor the remaining charges because they weren't directly related to the election. The county conceded that it paid some of the other bills late. Weeks isn't satisfied. She's also seeking an even less modest sum ($2,300) from a grant related to the Help America Vote Act—again, a few thousand dollars over an issue the commission thought it had resolved, but not to Weeks' satisfaction.
This fall a referendum will appear on the ballot asking voters if they want to tax themselves to pay for commercial or industrial construction and enable tax incentives that might attract new businesses to the area. The ballot language may require an additional page to the actual ballot in November, costing an additional $16,000 to $20,000. Again: a routine issue that supervisors either anticipate or work out with a budget amendment if necessary. Not here. The possible additional charge is shaping into another point of contention for Weeks.
All this in a Supervisor of Elections budget approaching $800,000. Weeks says the budget is much lower than that of counties of comparable populations. Her predecessor, Peggy Rae Border, however, ran the office with near flawlessness for years, and had no issues with the commission. Weeks cited other issues—what facilities the elections office may use at election time, how much fuel costs the county reimbursed, printers not working, folding machines not being shared, insurance questions not answered as promptly as Weeks expected, and so on. But virtually all of the issues have more in common with the routine run of red tape than any malice or machinations on the county's part—malice and machinations that would, if Weeks' allegations were closer to the truth, require an astounding amount of energy and hours to pull off.
Conversely, commissioners left unremarked the enormous time and energy it took Weeks and her staff to put together her brick of evidence for the commission workshop—or the fact that she hired a lawyer, and paid him out of her taxpayer-funded budget, to secure legal opinions she then turned on the county government. Commissioners finally stepped in when Weeks attacked Hadeed (who began Monday's meeting with a presentation on the law controlling how county commissions fund and oversee supervisor of elections offices) in terms indistinguishable from libelous accusations, some 25 minutes into her speech.
"This is a member of our staff. We're not going to sit here—," Commissioner Milissa Holland began before Weeks interrupted.
Weeks: "That's my opinion, I'm entitled to my opinion."
Commission Chairman George Hanns: "But we don't need that."
Holland: "You know what? If we ask your opinion about a member of our staff, then you can address that opinion. I would respectfully request, as you do of us, not to bring in your personal opinions to this matter. You said there were facts stated in here, we're sitting here listening to the facts. We don't want to hear what your opinion is, Ms. Weeks. It's not appropriate."
It was hardly the most contentious of an afternoon of contentions that left Commissioner Alan Peterson pounding the table a few times. Exacting with numbers, the former banker's verbal spreadsheets couldn't make a dent against Weeks' barrage of rebuttals. Hanns looked at the ceiling almost as much as he looked at Weeks, and summed up the afternoon, in a conversation away from the meeting, as a no-win situation.
Weeks' sum-up after the meeting, in reference to commissioners, who'd spent longer on this one matter than on most at any recent meeting: "They didn't want to know what happened."
And a major election is ahead.