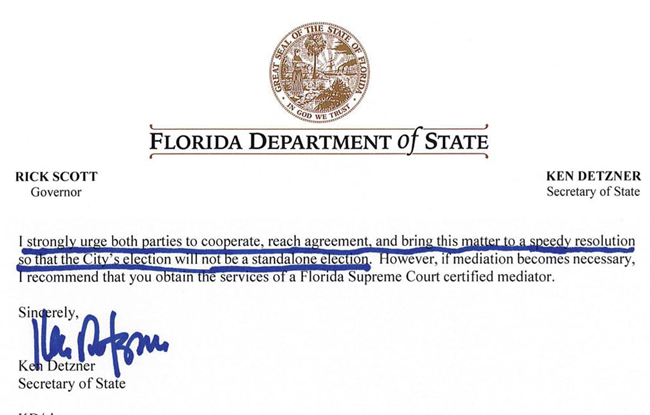 Last Updated: 3:27 p.m.
My agreement or no agreement.
That sums up Supervisor of Elections Kimberle Weeks's response to Palm Coast government Monday as she rejected the city's version of an agreement that would have Weeks running the 2014 municipal elections.
Calling Palm Coast government "uncooperative" and "unwilling to be a team player," accusing it of "inappropriate" acts and a "lack of municipal leadership," Weeks returned to the city her own original agreement, without any deletions or amendments, and gave the city until April 16 to approve it. But the Palm Coast City Council has already said that it cannot approve Weeks's version blind.
Weeks also rejects the suggestion that the Secretary of State's office could mediate the dispute, though Ken Detzner himself, in a second letter to Weeks, conceded last week that he could not be placed in the role of a mediator. Detzner suggested using a Supreme Court mediator, however. Weeks was silent on that suggestion.
Weeks's response, in a 3,300-word letter that casts the city—with scant evidence–in a villainous role and herself as voters' and taxpayers' protector, essentially means that the stalemate between her office and the city remains. Pressure is mounting on Palm Coast to come up with its own plans to run the elections for city council. That will cost the city tens of thousands of dollars, and it's unclear who could carry out the very complex job and with what equipment.
"That's not great," Jason DeLorenzo, Palm Coast's vice mayor, said Monday morning. "Disappointed, and disappointment for the voters of Palm Coast. I thought hat we could come to an agreement that both sides could live with."
"I think we're going to end up putting on our own election," council member Bill McGuire said in early afternoon. "I'm not going to support giving her carte blanche to do whatever she wants whenever she wants."
The council will most likely discuss the matter at its workshop Tuesday. Weeks had imposed an April 2 deadline for Palm Coast to decide how to proceed. The arbitrariness of that deadline left the city perplexed, as it is unattached to anything in law or necessity. Now, Weeks is extending the deadline to April 16 for Palm Coast to take or leave the original agreement she submitted. The city has refused to go along with that agreement without making at least minor changes, one of which would prevent the supervisor from demanding (rather than requesting) city facilities as precincts should one of her own fall through.
---
The political dimensions behind Weeks's intransigence are sharpening.
---
Last week Palm Coast returned two agreements to the supervisor: the first was her own, with a few amendments. The second was the agreement between the supervisor and Flagler Beach, adapted to Palm Coast. The city gave the supervisor the option of choosing one or the other, the maximize the chance of an agreement. Weeks rejected both.
It is unclear why Weeks has chosen to turn a minor hiccup into an all-out conflict with the city, though the political dimensions of the battle have sharpened: Weeks is a Democrat, but she's been getting the counsel of Dennis McDonald, a Ronald Reagan Republican Assemblies member, a candidate for the county commission and a relentless critic of city government. The Ronald Reagan assemblies are fielding candidates in each of the two city election races. They are looking for the sort of wedge issues that might enflame the electorate. They have seized on that conflict as just such an issue. It is in their interest—though not in voters' or taxpayers'–to prolong the battle and cast the city (and therefore its incumbents) in a bad light. The strategy, however, could just as easily backfire come election day.
"My involvement with [Weeks] on city matters started this past July when Landon/Netts with a cheering section from the [city council] decided that they would restrict the use of our Community Center," McDonald wrote in an email Monday afternoon, referring to City Manager Jim Landon and Palm Coast Mayor Jon Netts. McDonald claimed that the city was preparing to yield the community center (in part) to the Palm Coast Bridge Club. The claim is not correct. The city and the bridge club have been in talks that may have enabled the bridge club to put up money for a new building in the community center complex, a building it then would have been able to use, but only under terms set by the city, as with any other club using city facilities. The future of that project is unclear.
McDonald claims that Palm Coast residents "were being played" in the potential deal.
"This stealing of our asset limited our ability to Vote at the Community Center," he wrote. "If that is 'council' [sic.] then so be it." (He meant "counsel.") He added: "I am disappointed that you fail to see how this limits one of our greatest freedoms and rights."
In her letter, Weeks wastes no words before giving Palm Coast the what-for: In her second sentence, she explains that "[t]he deadline of April 2nd was imposed as it is believed the city has no idea or perhaps no regard of the timeline of requirements and responsibilities that must be met to carry out the election successfully." That's merely the first of many unfair claims levied at a city government—and, more precisely, a city staff—that has overseen relatively flawless elections for a decade and a half, preparing them alongside then-Supervisor of Elections Peggy Border, then Weeks.
Weeks then recaps her version of the conflict with the city, stating that it wasn't until Feb. 28 that Palm Coast "provided an affirmative 'YES' confirmation that they wanted the assistance of the elections office to assist with their 2014 City elections," though the council has been on record since last year, publicly stating that it wished (and assumed) the supervisor would handle the election, as in previous cycles.
Weeks was making a formal distinction: the 'yes' she received was to an email she sent the city's clerk, a formality she expects of the city but has not quite afforded it in return, limiting most of her pronouncements on the matter to statements to or through the media. Weeks also again deems "inappropriate" Palm Coast's role in drafting and approving an agreement with her office to conduct such an election. The council unanimously approved the two proposed agreements on April 1.
"Unfortunately in this situation the council and the mayor failed to communicate with me to be properly informed in order to make appropriate decisions the evening of April 1st," Weeks said. "It is believed decisions were made this evening based on assumptions and/or misinformation."
Other than over Weeks's demands for specific space from where she can operate early voting—a conflict that was resolved last fall—the city has had no public issues with Weeks. While occasionally indirectly criticizing her for not being a team player, council members and even the city manager, who can salt his words when he wants to, have referred to Weeks with remarkable restraint and deference. She has not repaid them in kind, turning the tables on the city's attempts to be magnanimous.
"The city certainly did not demonstrate a willingness to work together when an email was sent to the Secretary of State on March 27th asking for his intervention," Weeks wrote, "in an attempt to use the Secretary for leverage, rather than communicate and cooperate with me to best serve the voters in usual established practices as have been practiced during prior city elections in years past. The Secretary has no authority over municipalities or their charters, and has limited authority over me as Supervisor of Elections."
The city sent that request to Deztner in an effort to break the stalemate. Detzner joined the division of elections's attorney, the Palm Coast city attorney, the Flagler County Attorney, and the attorney for the state association of supervisors of elections—who represents Weeks—in clearing Palm Coast of an improprieties and asking Weeks to move on, and carry out the elections. Weeks has refused to concede the attorneys' points, or go along with Detzner's recommendation.
"I have never said I would not conduct your City's election, even after I recognized issues that required action by the city over the past eight months," Weeks wrote. "I have said I had concerns, and I have made the concerns be known as it is important to me to know what I do is legal, and that the voters do not lose confidence in what we do, and know what we do is fair and honest."
She concludes: "I am going to again present you with the 2014 Official Interlocal
Agreement for City of Palm Election Services, and extend the date to April 16, 2014 for you to return the Official Interlocal Agreement to the Supervisor of Elections Office."
The supervisor's full letter appears below.