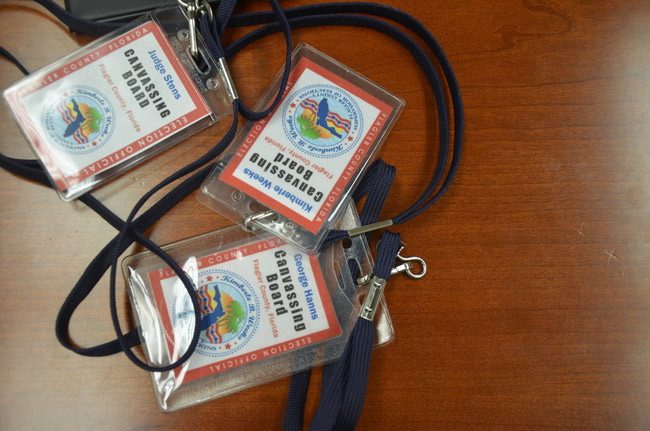 Last Updated: 2:26 p.m.
They didn't know where Kimberle Weeks had gone.
There they were this morning, Flagler County Canvassing Board Chair Melissa Moore-Stens, a county judge who was soon due elsewhere, County Commissioner Barbara Revels, who'd sat in as an alternate for a portion of the meeting for Commissioner George Hanns, ex-alternate and Commissioner Charlie Ericksen, an observer from the state Division of Elections (there at the county's request), and a few others attending the meeting, including Palm Coast City Council member Bill McGuire.
"She disappears when we're all done and we're all sitting around the table, waiting," Revels said.
The Canvassing Board had finished most of its business, including opening some 552 absentee ballots, for a total of 6,900 to date. It had public comments and the approval of minutes to finish up. But Supervisor of Elections Kimberle Weeks had gone.
At one point McGuire asked Jonathan Simmons, the Palm Coast observer reporter covering the meeting, if he knew where the supervisor was. Why, yes, Simmons said: she's on the radio doing an interview with David Ayres.
And so she was, going on a tear against county government in a tirade that at times sounded like Rodney Dangerfield, minus the wit. She attacked the county administration ("trying to make themselves look good by making me look bad," "what does Craig Coffey and most of the board of county commissioners know about conducting an election"), Palm Coast ("there's just no respect"), County Attorney Al Hadeed, who's become whale to her Ahab, describing him as among "the same characters on the canvassing board" that allegedly create her problems. "Like I said, I have a problem with the county attorney serving as the canvassing board attorney, which I've never asked him to be the canvassing board attorney," she said, neglecting to note that the majority of the board has ratified that role for Hadeed, while Weeks has retained her own attorney, at extra cost to taxpayers. (Weeks has so far refused to answer a request, renewed today, for the attorney's costs.)
At the start of the interview, she'd told Ayres, "I have a canvassing board meeting in progress so when we're done I'll go back to that."
Meanwhile, the rest of the Canvassing Board sat. And waited.
"They're not a happy group having to sit here, waiting for her to get back," Ericksen said.
"We were done with all of our counting, all the ballots had been run, we were going back into the meeting to verify the three ballots, one that was an overvote and two that had some writing on them," Revels said. "But we sat and waited on her for however long she was on the radio." The interview itself on Free For All Friday lasted 11 minutes. Weeks, who conducted it by phone, was gone a little longer than that.
"What would your perspective be if I got up in the middle of a city council meeting to talk to David Ayres on the radio?" McGuire said in a brief interview after the meeting. He was on his way to the Palm Coast Community Center to check on what issues Weeks had raised. "I don't want another orchestrated event where these people get up and say Palm Coast is treating them badly," he said, noting that from what he'd heard, speaking with poll workers at the community center and with residents, voting has gone smoothly.
Once she found out where Weeks had been, Revels insisted that her absence to do a radio interview be read into the record, which it was. But the meeting wasn't soon over even when Weeks returned.
"It was the same old contentious mess at the end of the meeting," Revels said, as discussion turned to the minutes. Moore-Stens, who was late for a mentoring meeting, approved, with Hanns's concurrence, minutes prepared by the county administration. Weeks went off, objecting, as she had Wednesday, to the fact that someone other than her was doing minutes.
"I don't need anybody doing the minutes for me," Weeks said, again, as she did Wednesday, incorrectly referring to "another county office doing the minutes for this office that I'm responsible for." Weeks is confusing the Supervisor of Elections Office with the Canvassing Board: they are two separate, independent entities under Florida law, with the Canvassing Board established around election times as an independent body providing a level of supervision to certain functions of the supervisor's office. Weeks has no overriding authority over the Canvassing Board beyond the 33 percent vote she controls, being a member of the board. Nor is the Canvassing Board taking minutes "for the office," but for its own oversight body.
But on Wednesday the judge had made clear that Weeks's minutes, because of their length and their dubious accuracy, and because they were prepared contrary to the board's direction (which had stressed brevity and a focus on action, not editorializing), would not have her approval. Moore-Stens accepted the county's version of the minutes as the official minutes, again reasserting what she'd said Wednesday.
"A majority of the board has rejected the minutes prepared by the supervisor," the judge said. "I already rejected them as not being compliant with our majority ruling from Sept. 12." Weeks again objected in a tirade, but the judge was in no mood to entertain that rehash of a matter more than once settled and adjourned the meeting at 9:39.
The meeting started at 8 a.m. and, interruption included, adjourned a little over 100 minutes in. The suspension lasted from 9:03 to 9:20. Weeks, who claimed incorrectly on the radio that she was not afforded "input" on articles relating to her, did not responded to questions emailed to her moments before this morning's meeting was adjourning.
Dennis McDonald, the ex-county commission candidate representing the Ronald Reagan Republican Assemblies, and a Weeks partisan who attends canvassing board meetings, objected to Al Hadeed, the county attorney and canvassing board attorney, being queried by Hanns during a review of certain ballots. Moore-Stens dismissed the objection. "The three of us are the ones that make the decision on whether or not—what the voter's intent is," the judge said. Hadeed noted that he was only referring to Division of Elections rules, which he had on his computer when the board was deliberating about how to interpret stray marks on a ballot. "So I was only conveying information to the full board in response to questions about what is the guidance from the Division of Elections," Hadeed said.
McDonald has either echoed Weeks's attacks on the attorney and the county administration or instigated them on various occasions at the Canvassing Board.
When Weeks in this case echoed McDonald, Revels objected, in her words, "to the Canvassing Board responding to public comment. We're here to hear the public comment, it's on the agenda, we can take the public comment, but it doesn't need to have responses."