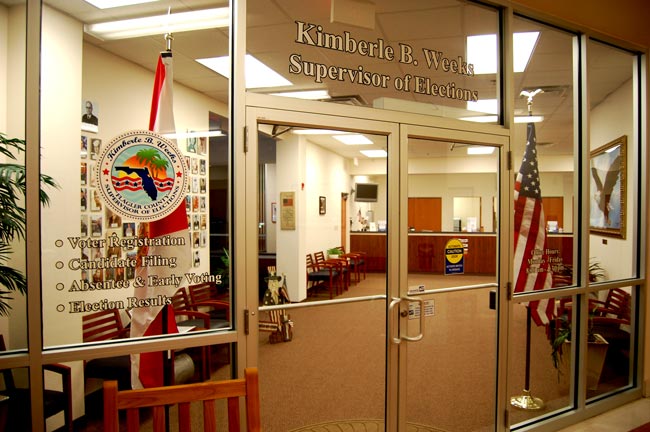 Kimberle Weeks is Flagler County's supervisor of elections. She's been at odds with at least elements of the Flagler County Commission since before her election in 2008: Carl Laundrie, the county's director of communications, was one of her opponents. She beat him and one other candidate handily. It hasn't gotten better since.
It got much worse around the time of the special election that eventually put Sen. John Thrasher in office last fall, after Sen. Jim King, the Jacksonville Republican, died. Weeks and the county didn't just haggle over budgeting for that election. They sparred, verbally and publicly. None of it would matter if it was the usual bickering and backbiting that takes place between agencies or within them, as it often does when personalities and politics clash. But this is the elections office–the office on whose integrity rests the machinery of representative government. The supervisor of elections office doesn't have a high profile. It does have a critical impact.
Which is partly just why the two sides are brawling. The county commission is responsible for oversight. Weeks resents the level of oversight she's expected to provide. She is, after all, an elected, constitutional officer. The commission doesn't understand Weeks' chronic defensiveness. Weeks doesn't get the commission's chronic "resistance," as she interprets it. The brawling goes on and elections are ahead.
They've been at it again this week–ironically, and incomprehensively for the county administration, over a special workshop, arranged by the commission, to work out problems between the two sides. Weeks has issues with that one, too, bringing to mind something Commissioner Milissa Holland said to Weeks last September: "I get the sense sometimes, Kim, that you feel like we're attacking you."
Weeks met with County Commission Chairman George Hanns on May 6, and with Holland on May 11, to discuss her issues with the county. Commissioners were receptive to better communications. Holland, on Weeks' behalf, asked for the special workshop between the commission and Weeks. The meeting was set, according to Weeks, "two or three weeks ago," for this coming Monday, June 21. (At 1 p.m. in the county's Emergency Operations Center, appropriately enough, if you're interested.)
Around noon Friday, Weeks was in a conference room in her office, surrounded by paperwork, a laptop, newspaper clips, and a binder about four inches thick, and growing: That was the binder she was preparing for the commissioners. It's something of a complete history, with documentation, of her issues with the commission. She intends to deliver a binder to each commissioner at the workshop.
Commissioners don't like that. They're hands-on commissioners (most of them, anyway) who like to pour over their meeting material days in advance like it's a calculus exam. Two of them reamed out County Administrator Craig Coffey a few weeks ago merely because some "slip sheets," or individual items, were making it into the agenda at the last minute, without giving commissioners time to review the material. (And that was over last-minute, necessary paperwork to ensure the county got hundreds of thousands of dollars in federal road grants.) They won't take kindly to a case file the size of "War and Peace," with more emphasis on the war part.
"If they want to read it they will. If they don't, they won't. They probably won't," Weeks said Friday.
"I didn't call the workshop. Commissioner Holland called the workshop. I didn't get an agenda what it was she was wanting to hear. So perhaps I'm pulling together more than she wanted to hear. I was not notified of an agenda. If she called a workshop and she had in her mind what she wanted to discuss and it was shared with me," Weeks said, "then I would have prepared exactly what they wanted. I wasn't given that courtesy, either."
---
Listen to Milissa Holland and the Commission Agree to Weeks' Request for a Meeting, May 17, 2010[media id=65 width=250 height=100]
The record shows otherwise on two counts. First, it was Weeks who requested the workshop. Holland merely forwarded the request to the commission, which immediately agreed to set it. (Who "called" the workshop is semantics: a constitutional officer may not call a meeting of the commission regardless, but is obviously entitled to request that one be set, as Weeks did.) Here's what Holland said at a May 17 meeting of the commission, soon after meeting with Weeks: "Recently I met with our supervisor of elections officer, Ms. Kimberle Weeks. She has requested to either be put on a future workshop to resolve some issues she continually has with the county or to be put on the next agenda. It seems like a quite lengthy discussion, so I think perhaps a workshop would behoove the process a little bit better." (Listen to the commission's full discussion on the matter through the audio clip to the right.)
Second, Christy Mayer, the county administrator's executive assistant, the morning of June 10, 11 days before Monday's meeting, extended the courtesy Weeks was expecting in an email: "In preparation for the workshop with the Board of County Commissioners on June 21, Mr. Coffey has asked me to contact you to obtain a list of items to be placed on the agenda for discussion." Mayer followed up five days later, having not received anything from Weeks: "In order to be as specific as possible for the agenda notice to the board, we are wondering if you have been able to put together the topics to be discussed. The back-up could be provided in the next few days." The "back-up" is background material provided to the board (and to the public, through the county's website) ahead of meetings.
Weeks replied, saying the material she was preparing–the material laid out on her table Friday–"is a work in progress, and it is not complete at this time."
Two days later, Sally Sherman, the deputy county administrator, met with Weeks to discuss the possible additional costs that would be incurred if this fall's ballot were to need an extra page to accommodate a local referendum.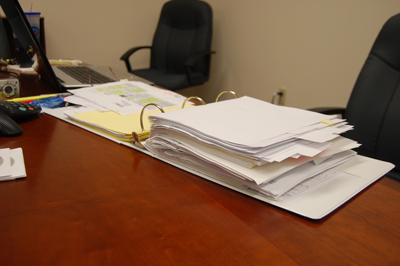 That triggered more emails when, after summarizing the meeting in her words, Sherman got this email from Weeks: "Unfortunately, your correspondence doesn't not (sic.) accurately reflect the events of the meeting held this morning. Please see that this matter is scheduled to go before the Board of County Commissioners at their next regularly scheduled meeting."
And on it went, with Weeks then emailing commissioners, Sherman–whose courtesy is almost compulsive–seeking clarifications, Weeks using phrases like "it was made perfectly clear" and underlining that advance funding for the election was "required."
Al Hadeed, the county attorney, finally intervened, also by email, to remind everyone that the law states, clearly enough, what process a supervisor of elections must follow when there are unanticipated expenses: The supervisor files a budget amendment to the county commission, the commission reviews it, a public hearing is held, and the amendment is adopted, amended, or rejected: it's up to the commission.
"Bottom line is," Weeks said on Friday, "the statute reads that the county shall provide the funding. Shall. That's the magic word." Not quite: "The budget of the supervisor of elections may be increased…" goes the statute. The specific law controlling the supervisor of election's budget overall makes the commission's oversight role even more explicit, with the word "shall" applying to what the supervisor must comply with, not the commission: "The supervisor of elections shall furnish to the board of county commissioners or the county budget commission all relevant and pertinent information which such board or commission shall deem necessary."
There's more: Commissioners ""may amend, modify, increase, or reduce any or all items of expenditure in the proposed budget; and, as amended, modified, increased, or reduced, such budget shall be approved by the board or commission, giving written notice of its action to specific items amended, modified, increased, or reduced." The law is also specific about "contingencies" and reserves, meaning unexpected expenses. But you get the idea.
Ahead of last September's special election that led to John Thrasher's election, Weeks had requested $179,000 extra from the commission–just for the special election primary. She requested an additional $179,000 for the general election in that special election. Commissioners were stunned by the amount, which was larger than what had been budgeted for the previous, general election–the one that elected Barack Obama, drew an enormous turnout, and had required early voting. This was after Weeks' budget had increased $75,000 over the previous year. Commissioners agreed to pay the supplement only if Weeks agreed to sign an agreement that provided for a line-item accounting of every expense. She refused to sign the agreement. The agreement as such was outside the law's requirements. The itemized accounting was not.
As it turns out, the Thrasher election, primary and general, cost just under $100,000–nowhere near the original estimate of $358,000. All but around $4,000 of those bills have been paid by the county. The coming referendum, if it requires an additional ballot page, would cost $20,000. But that's not really the issue.
"It's insane to think that they would expect somebody to do a job and incur expenses, knowing some of those you have to pay for in advance without providing me any physical money in the bank account to cover those expenses," Weeks said.
"From my tax exempt certificate to borrowing a printer to getting involved in my facility use agreements to not delivering the equipment, to providing funding—it's everything, everything that I present, there's resistance," Weeks said. "There's a problem. They've done it before, and this is not how business was conducted in the past. But why are they conducting business in a different fashion? Did this office experience these obstacles before I took office? I don't know. I don't think so."
She's right. The office under Peggy Rae Border didn't have those conflicts with the commission. Nor did it have funding issues. And the last election Border supervised, the biggest one on her watch, was virtually flawless. Commissioners, too, are wondering what's changed, though the only difference in the equation is the supervisor of elections herself.
Reader Interactions