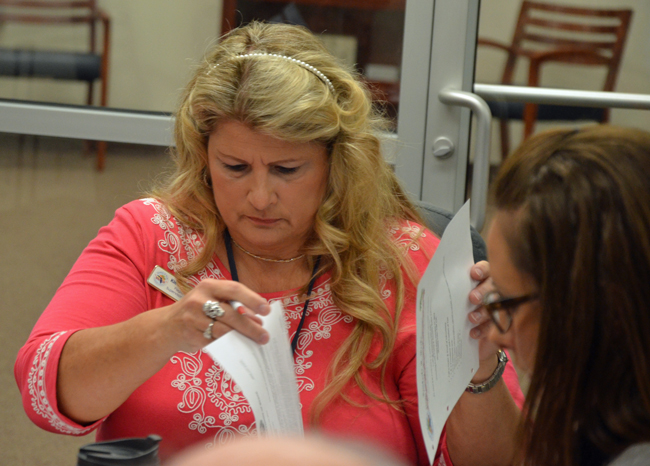 An election is going on. Wednesday was the third day of early voting. Absentee ballots are coming in by the crate-load (3,265 absentee ballots by this morning, more later). They had to be opened and processed today under the supervision of the Flagler County Canvassing Board, a laborious and meticulous job, followed by re-processing certain questionable ballots.
But what took an hour's time of the Canvassing Board—so much time that at one point its chair, County Judge Melissa Moore-Stens, had to excuse herself to go across the street for arraignments for an hour—was another labyrinthine discussion about Supervisor of Elections Kimberle Weeks's minutes.
Unlike most local government bodies' minutes, Weeks's version are more like epics of editorial judgments and tendentious spin running to reams of single-spaced typed pages for each meeting. A majority of the Canvassing Board members—the judge and County Commission Chairman—have already put Weeks on notice to write more government-appropriate minutes. They did so by vote on Sept. 12. Weeks has ignored them.
Today, five days after the board rejected Weeks's attempt to remove County Attorney All Hadeed from his responsibility as Canvassing Board attorney, the board rejected Weeks's minutes. It was a striking vote of no-confidence in the accuracy and veracity of Weeks's version of events that Moore-Stens made even more striking by her decision to include a written statement–essentially, a disclaimer–on each set of minutes stressing that they are not the official minutes of the board, but Weeks's own.
"I am not going to endorse or say those minutes are accurate or correct," the judge said, "because I don't know if they are, because I'm not going to sit and listen to three and a half hours of a recording to determine of those minutes are accurate. We had a vote that they were only going to be action taken. Those minutes are not what we as a board voted on. And so those minutes are rejected by myself as the chair."
It was the first time that the judge pulled rank on Weeks, who so far this election season has portrayed herself as the board's leader. But Moore-Stens was clearly not inclined to parry today so much as to let the board majority rule and move on. It didn't quite work out that efficiently. But she also made clear that Hadeed remains very much the board's attorney, and it was to him that she deferred to outline issues with minutes.
"I have basically three general comments. One, the timing of the distribution of it, two the content of it, and then I have several corrections," Hadeed said. "As to the distribution of it, I've raised this before, I think it'd be very helpful if these be emailed out in advance of the canvassing board meeting so there's some opportunity to review them. One primary reason is that there are a number of spelling errors and other kinds of errors even if they were to be adopted wholesale, without any changes or corrections. That is the common practice of collegial bodies that have minutes, that the members receive them in advance. That's my first comment. I think that would result in a lot of correction of grammar and spelling. Plus give people time to read it so you're not having to jam through it in the few minutes between ballot canvassing. Second, as to content, I think the content of these minutes go beyond what the canvassing board voted, because there is an attempt to partially reproduce conversation through dialogue, and it is not strictly limited to actions."
---
A vote of no-confidence in the Supervisor of Elections' minutes' accuracy and veracity, in the middle of an election.
---
Hadeed pointed out as an example of omissions that when the board last week discussed Commissioner Charlie Ericksen's contribution to Commissioner Frank Meeker's campaign, the discussion included reference to the state Division of Elections clearing such contributions as not illegal—a detail Weeks did not include in the minutes. He pointed another omission as well.
"In reviewing them I had noted that they were not in accordance with the vote that we had on Sept. 12, for it to be just actions, so it was my intention to reject those," Moore-Stens said. "As was voted on Sept. 12, Commissioner Hanns and myself voted that the minutes shall only be action taken, who voted which way, and that there was the recording" that could be made available for a fuller accounting.
Weeks disagreed. "I agree they don't need to be verbatim, but I believe they need to be transparent and as much information as possible as to what transpired needs to be included in the minutes for the public to review." She then went on to re-interpret Canvassing Board history dating back to when then-Judge Kim Hammond was a member—and completely mischaracterizing the sunshine law by stating that it "doesn't matter whether they are current Canvassing Board members or prior Canvassing Board members. They were Canvassing Board members and you shouldn't have been being a conduit between the Canvassing Board members."
Weeks was wrong and incorrectly accused Hadeed of being a "conduit," a serious violation of Sunshine—but one that does not apply between former members of the Canvassing Board, or even a current member and a former member of the board any more than it applies between current and former members of any local government body. It is that sort of distinction that Weeks refuses to make, even after being corrected. Yet she nevertheless mangles the falsely incriminating information in her version of the minutes, while her partisans echo similarly false information to cast aspersions on the Canvassing Board attorney or other members of the board who are not in line with Weeks's versions.
Weeks then went on to lecture Hadeed: "I don't even know why you were sitting here critiquing how we do our minutes and raising issues about our minutes that if Judge Stens or Mr. Hanns or myself have an issue with the minutes and the accuracy of the minutes is what needs to be looked at, but that should be our call, not for you to grade our minutes and make your opinions of what you believe about the minutes."
Again, she was wrong: Hadeed speaks up on matters of concern, whether regarding the record or the law, because as Canvassing Board attorney—a responsibility ratified by Moore-Stens and Hanns last week—the board, obviously with Weeks's exception, expects him to speak up.
Either way, the judge was not swayed by the supervisor of elections as she cast doubt on the accuracy of Weeks's minutes. Remarkably, Weeks rejected Moore-Stens's point and lectured the judge on the law, saying "they could be rejected by you" but that minutes are not required to be approved, only taken. Weeks said she polled other supervisors around the state who told her that the minutes are merely taken, not approved. That may well be true, but supervisors' operations in most counties tend to be humdrum and non-controversial, with minutes likely written as the overwhelming majority of government board minutes are: as the judge described them. That's not been the case during Weeks's reign. And while the law may be silent on minute minutiae, it is not silent on affirmative board votes, which decide how business is to be conducted.
In essence, Weeks was declaring a 2-1 vote of the Canvassing Board, and its chair's reiteration of that decision, null and void in Weeks's eyes.
"You can reflect that they are the supervisor's minutes but they're not the official minutes if they don't comport with what we as a majority of the board have voted on," the judge said. "So I can specifically write on there that I as chairman reject those minutes and find them to be not the official minutes and have that placed in there, or you can change the title from official to supervisor's minutes, and we won't even look at them moving forward. If you're saying that we don't need to approve them, then we don't need to pass them around, and you can write that they're your minutes, not the Canvassing Board's minutes. And we'll have the county prepare minutes in accordance with the vote from Sept. 12."
Again deciding as a writ of one, Weeks countered: "County is not going to conduct the minutes, do the minutes or prepare the minutes," she said, asserting that "nobody's going to the minutes for this office."
Again, Weeks was incorrectly conflating "this office," as she referred to her constitutional office, with the Canvassing Board, which is a separate entity entirely, not one that falls under the authority of the supervisor's office in any way, beyond the one-third vote the supervisor controls when she serves on it (when the supervisor is unable to serve, it is the County Commission chairman, not the supervisor, that names her replacement, again reflecting the board's independence from the supervisor's office.) Remarkably, she finished by saying she wasn't going to let the minutes "be manipulated."
The judge said she'd let Hadeed put on the record all the objections he had to the minutes, "and I'll just write on the minutes each time that as chair I am not approving or endorsing what's contained therein."
Hadeed made one last stab at cooperation: "If you can just email me the minutes," he said, "I'll go through and I'll correct any typos for you. I'm sure it would be—I'm assuming it would be welcome." It was not. Moments later, the judge decisively ended the conversation on minutes, noting the irony of holding lengthy discussions on historical matters that shouldn't be included in the minutes.
"We're spending more time discussing the accuracy of previous minutes from years ago when we as a board have taken action that all this detail shall not be in there," the judge said.
It didn't work. Weeks pressed her case, lecturing Hanns, who'd been spared until then, finishing on a remarkably disingenuous flourish: "I just ask for the needed cooperation and the games to stop."
Earlier today, the Palm Coast Observer reported that the county administration had requested that the State Division of Elections send an observer to Flagler for the election. "There are still unresolved issues, I know, with Palm Coast; I don't think they've been mitigated," County Administrator Craig Coffey told the Observer. "I think that outside observation might be prudent in this case."
In a separate matter, Ericksen resigned as the commission's alternate member as a result of the $50 contribution he made to Meeker, and was replaced by Commissioner Barbara Revels.
"To me, an impression of impropriety  is not something I want said about my actions or behavior," Ericksen said. "Even if  there is a hint of impropriety, it's wrong in my standards."
In a brief interview, Hanns termed "ridiculous" the way Canvassing Board meetings have been stretched out over "distractions," considering that the work of the election is proceeding apace. "It'd be such a pleasure to conduct Canvassing Board meetings and do the job that's to attend to without these distractions," Hanns said, going as far as describing his time on the board as his most difficult in three decades of public service. "I know it's Halloween, but for God's sake, every meeting it's trick or treat."
The treats have been rare.