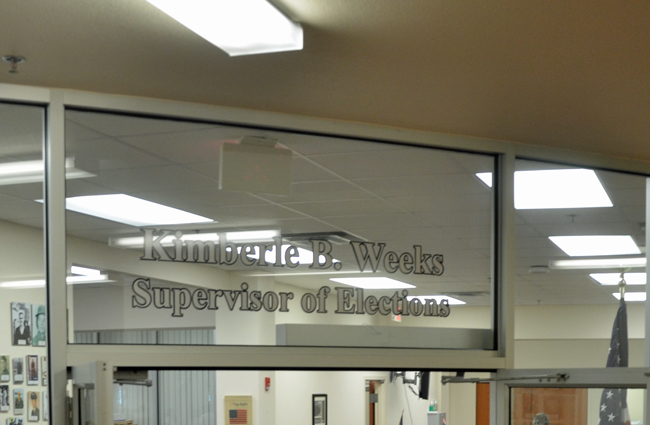 Ronald Labasky, the general counsel for the Florida State Association of Supervisors of Elections, told Flagler County Elections Supervisor Kimberly Weeks on Jan. 29 that Palm Coast was on firm legal ground regarding the conduct of its 2011 election, and that Palm Coast's 2014 election would not expose Weeks to legal liability should anyone contest its legality.
Weeks has been conducting a long and public battle against Palm Coast over a charter amendment voters approved in Palm Coast in 2011, changing the date of subsequent elections. Weeks contends that the referendum was carried out improperly, that because the city did not properly and immediately update its relevant documents, the amendment lacked validity and could expose her or Palm Coast taxpayers to legal liability should a voter sue in the future, and that Palm Coast should still seek out an opinion from the Attorney General to ensure that it's doing things properly.
Labasky disagreed. But he was only the latest legal authority to do so: the state Division of Elections' attorney, the Flagler County attorney, the Palm Coast city attorney and previous Attorney General opinions have all fallen on Palm Coast's interpretation of the law, seeing no issues with the city's elections past or future.
Yet Weeks a month later was still publicly casting doubt on Palm Coast's legal standing despite what she'd read from the man she referred to in correspondence with a voter as "my attorney."
"Based on what I have reviewed," Labasky wrote in a Jan. 29 letter to Weeks (who received the letter on Feb. 3), "the election took place, the amendments were approved, and the city has now incorporated the amendments into the charter. It appears from your communications that the city is satisfied that its change of elections is proper and legal. Based on the interpretation and reliance on the legal construction contained in [Attorney General Opinion] 78-62, that would appear to be the situation." Labasky explicitly agreed with an opinion Weeks had previously received from Gary Holland, the state Division of Elections' attorney, clearing Palm Coast.
Labasky, who's been the association's attorney for 25 years, urged Weeks to follow Palm Coast's lead on when to conduct the city's elections. "Since the city is satisfied that there are no legal issues with its election change," Labasky wrote, "I believe you are entitled to rely on what the city asserts are now the provisions in the charter and when its elections are to be undertaken."
Weeks is still not taking Labasky's opinion as final.
---
"Rely on what the city asserts are now the provisions of the Charter," Weeks' own attorney told her.
---
"Until I receive affirmative documentation that the city has complied with all requirements to modify their city charter following the 2011 election to know it would be legal to hold elections in even numbered years for the city, I am going to have concerns, and not be satisfied knowing the tax payers dollars are at risk," Weeks wrote in an email responding to questions Tuesday. "Mr. Labasky's letter was not misinterpreted, it simply didn't provide firm affirmative confirmation that the matter could not be challenged." She added: "In my opinion, 'appear to' and 'do' have different meaning and because I did not receive the 'do' confirmation I felt I was in a no better situation of knowing the tax payers and voters were protected. Mr. Labasky's reminder, 'You are certainly aware that a citizen or voter of the City could challenge the City's Charter,' also leaves room for concern. There is absolutely no excuse for the City to not request the formal opinion that I have asked of them to protect the tax payers pocket book against a costly court challenge. My actions have been to do what is best for the voters to protect them and to allow them to maintain their confidence in fair, honest elections."
Attorney General's opinions are advisory only, and are usually written with the same qualifiers that Weeks will not abide.
Palm Coast has been forced to live with the uncertainty of whether the supervisor was going to conduct its election or not since Weeks began questioning the city's charter change last year. Even after receiving Labasky's opinion, Weeks did not tell the city that she would conduct its election. She waited to do so until she wrote an OpEd in the Palm Coast Observer last week. Even as she announced that she would conduct Palm Coast's elections after all, she repeatedly attacked city officials, including the city manager and the city attorney, never mentioning the letter she'd received from Labasky—or a second letter she received from him two weeks later, reiterating Palm Coast's firm standing.
"I do not follow the lead of employees such as Landon and Reischmann," Weeks concluded in her piece, referring to City Manager Jim Landon and City Attorney Bill Reischmann. "I follow the laws of the state of Florida."
But Labasky had told her that the city—through Landon and Reischmann—had indeed followed the law, even if city staff had erred with what amounted to scriveners' errors regarding dates and late-filed changes to city ordinances. Labasky saw no harm in those mistakes, because state law is just as clear about the fact that once voters approve a charter amendment, that approval is in effect, regardless of whether the city immediately and properly amends its documents to reflect the change or not.
Weeks in her OpEd does not acknowledge that she may have misread the law that four lawyers had interpreted for her (Weeks is not a lawyer), or that she, too, like Palm Coast, may have committed a few mistakes. Rather, she portrayed her decision to conduct the election as an act of grace for Palm Coast taxpayers, to protect them from their city, should the city be exposed to a lawsuit.
But Labasky had disabused Weeks of that presumption, too, in his Jan. 29 letter: "Your office would not be responsible to defend the city charter if someone chose to challenge the city's position to hold its election in 2014, pursuant to what the charter states," the supervisors of election association's attorney wrote. "If a suit was filed the city would need to be named or would need to intervene to defend its charter and at worst you may be named as a party. A declaratory action could be attempted but I do not believe under these circumstances your office has that responsibility and you can proceed forward based on the city's position concerning the charter's requirements."
In her answers to questions on Tuesday, Weeks acknowledged that "Because of Mr. Labasky's opinion an Interlocal Agreement will be prepared and provided to the City," but she she reiterated that to date she had not received a confirming opinion that Palm Coast "has met all requirements" to modify its charter. And she repeated her assertion that she is acting to protect Palm Coast voters.
"The citizens of Palm Coast will at least be in a win lose situation if I assist with their election," Weeks wrote. "They may still have to open up their pocket books for a suit should one be filed, but they will have the confidence that their election is fair and honest. We can only hope this turns into a win win situation for the citizens by no challenge being filed."