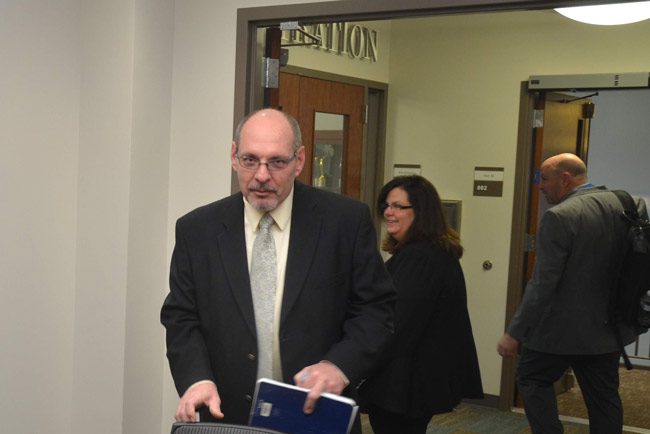 Who gets to hire whom in Palm Coast government just got a bit more complicated. Some council members want to see a new face in charge of the city's broadband network, or FiberNet. But it's not their call. One of them tried to make it so today. There was push-back from other council members and a debate over lines of authority. Just as clearly, there was also support. It adds up to a sharp message to the incoming manager: this council interprets deference to administrative autonomy very differently from its predecessors.
By the time Donald Kewley made it among the four finalists for Palm Coast city manager, his big draw was not his experience as a manager–he had none–but as a broadband operations manager, the job he's held in Ashland, Ore., for the past two years. "But I feel undervalued in my current role," he said in his application to Palm Coast.
Palm Coast City Council member Nick Klufas values him, and wants him in Palm Coast. Klufas thinks the city's FibernNet system is a potential gold mine, that it could be run as a profitable utility, but that it's dormant for now. He sees Kewley as its savior. Kewley did not score high as a potential manager with the council. But he scored high for what he does. But the city already has an IT director: Chuck Burkhart, whom Interim Manager Beau Falgout hired in late October at a salary of $107,000, to replace Steve Viscardi. (Falgout was one of the finalists for city manager.)
Burkhart is now in the strange position of wondering whether his job possibly in jeopardy and watching a council member openly lobby for Kewley, though the city could just as possibly hire Kewley separately to focus exclusively on FiberNet in place of Magellan Advisors, the broadband consultant the city hired almost a year ago to develop a new FiberNet business plan.
Last week when the council voted to hire Matt Morton as its next manager, several council members lavished praise on Kewley as a technology maven, especially Nick Klufas. Klufas went further, saying that one of the reasons he was not in favor of hiring Falgout as the permanent manager was because Falgout had not searched out Kewley when hunting for someone to take charge of the city's broadband system, even though Kewley was dissatisfied with his current position. Today Klufas went further.
Just as the council had just voted to approve Morton's contract, Klufas brought up Kewley's name again, this time to make a direct pitch for the city to hire Kewley in order to run Palm Coast's broadband network as a city utility. "Exactly what Mr. Kewley has done in Ashland, Oregon, is where the City of Palm Coast is today when he came on board there," Klufas said, "and he was able to provide direct results and very clear data that enumerated out his successes and the enormity of the impact that it had on its community."
Given the importance of technology to the city's goals, Klufas put it more explicitly than any council member had before regarding the hire of an employee other than a manager or an attorney: "I want to discuss with this council how viable it would be to make an offer to Mr. Kewley or instruct Mr. Morton to pursue Mr. Kewley to be able to come to our city in the role of chief innovation officer. His responsibilities would not only include that of our FiberNet utility, but also that of landing other technology initiatives and leading those as well."
Since Palm Coast made its choice for manager Morton has, in fact, been in contact with Kewley to feel him out toward just such ends in IT, going as far as trying to meet with Kewley on his own grounds on the West Coast (Morton's town of Duvall is almost 500 miles north of Ashland, but Morton is not currently employed.)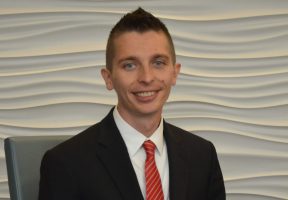 Morton's efforts are beside the point. Elected officials on county and city boards are forbidden by law to interfere in the management of their government, beyond giving their manager or administrator direction. This very council, with Klufas on it, bristled just a few years ago when former council member Steven Nobile would suggest that members should have a greater say in administrative issues or intimated that the charter should be changed to enable such ends. (At the time Nobile was at loggerheads with Landon.) The hiring and firing of directors is exclusively the purview of the manager. The Palm Coast council doesn't even get to ratify the choices (as, say, the Bunnell commission does, though even there the current, new manager stood firm a few weeks ago when commission members tried to overrule one of his choices for a director). The administrative independence is by design, to prevent nepotism and politics from tainting the organization.
Fellow-council members did not disagree with Klufas's assessment of Kewley. But Holland to some extent and Cuff to a much greater extent were quick to temper Klufas's approach.
"Our form of government does not allow us as a council to offer direct compensation to someone being hired. The city manager does that, and we look to them to do that," Holland said. "We've all voiced last meeting how we would really like to see that outcome and to bring someone that could be very transformative in our city into our city and lead an initiative that's very important to us moving forward. So I'm very supportive of making that even clearer to Mr. Morton, that this is the council's wishes for us to see him and immediately begin that process. But again, we need to be very clear that there's a line there I'm not comfortable crossing." Holland said she's had conversations with Morton in that regard "where my intent is what you just stated," and to make it clear to the new manager that "this is something that is very, very, very much a top priority for this council."
"What does your IT guy, think about this, our IT guy, is he in agreement with this?" Council member Jack Howell asked Klufas.
"Mr. Chuck totally is in the understanding that this is a niche type of industry even though it is in technology," Klufas said.
"I know you're on a roll and I appreciate that," Cuff said, "but I can't decide whether to sound like a lawyer or a council member but I want to very strongly echo the mayor's concerns here. We have absolutely no business identifying an individual and telling our city manager whether it's Beau at this instant or Matt Morton when he accepts the contract we've just countered with, 'Hire this guy.'" Cuff said Kewley had a lot to offer, "but I am very, very uncomfortable about us or anybody else settling on Donald Kewley as the white knight who's going to save Palm Coast and make us a gazillion dollars." For all of Kewley's quality, Cuff said he couldn't imagine that he'd be the only person capable of answering Palm Coast's needs.
"I was under the impression that Magellan was doing a good job," Council member Eddie Branquinho said.
There was also Howell's point that a new position to head up FiberNet should be created and budgeted for, though that, too, would be the manager's prerogative, not the council's. In the end, the council left it up to Morton, should he accept his contract, to provide his own recommendations–with the mayor's rather clear caveat that underscored her emphasis on a clear break with the Landon years.
"I do think historically we've missed opportunities, and I don't want to miss opportunities in the future," Holland said. "I can't speak to why it went awry historically. I don't know. But there is an issue there that we need to make sure doesn't happen in the future, and I think that's why we made the change we did, and we're moving forward in the direction we're moving forward in." She, too, is not enthused with Magellan.
"If we don't act we're going to be left behind," Klufas said.
"And I concur in suggesting we act," Holland said.