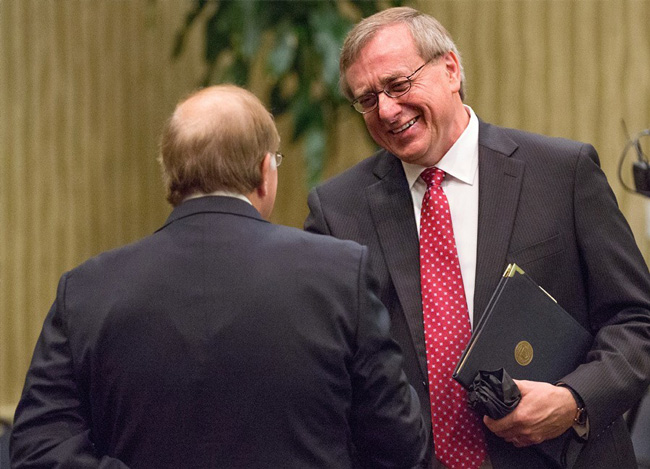 Cornell University Provost Kent Fuchs was selected quickly, and with little comment, on Wednesday to lead the University of Florida's efforts to improve its national academic reputation.
The University of Florida Board of Trustees unanimously picked Fuchs, 59, to become the school's 12th president, after a discussion that lasted less than five minutes. The trustees' selection followed morning interviews with Fuchs and New York University Provost David W. McLaughlin.
Fuchs and McLaughlin were on a short list of candidates that was whittled from three to two on Tuesday.
Fuchs, pronounced "Fox," is expected to start with the Gainesville school just after the start of the new year, replacing President Bernie Machen who is retiring in December after 10 years.
Trustees Chairman Steven Scott, who helped recruit Fuchs, said the Cornell provost "clearly" stood out as an academic leader.
"He knows all about our preeminence program," Scott said during a news conference moments after the selection. "We're well on our way, and we felt like we needed someone who would help us get to a new level. We believe that Kent is that person."
The University of Florida, which has 33,000 undergraduate students and in-state tuition rates of $6,310, was most recently ranked 48th among national universities by U.S. News & World Report.
Cornell, a private school with an enrollment of just over 14,000 and an annual tuition of $47,286, stands in 15th place in the magazine's annual rankings.
---
An appointment, and academic credentials, in sharp contrast with FSU's new president.
---
Fuchs, who graduated from Miami Killian Senior High School, said he felt privileged to join "Gator Nation," where he hopes to build on the academic legacy already in place and also intends to become "one of the most enthusiastic of all the sports fans."
"If I had the opportunity to be any place, this is the place I'd be," Fuchs said during the news conference. "What is particularly exciting is that you have a single campus here that encapsulates all of higher ed in some sense. A great medical sciences complex, a great component of the university that supports the agricultural economy of the state of Florida, an amazing arts and humanities, the STEM area, the social sciences, are all at one campus. To me, I can't think of a better dream job."
Fuchs said plans to spend the first 100 days on the job listening to students, faculty, employees and state lawmakers tied to the school. Over the summer and fall he plans to outline a series of three-year goals.
Fuchs' selection for the job — advertised with a compensation package between $950,000 and $1.25 million — must still get the approval of the state university system's Board of Governors. The board next meets the first week of November.
Board of Governors Chairman Morteza "Mori" Hosseini said in a release that UF "has chosen a seasoned and respected leader for board confirmation."
In the November meeting, the statewide board is also expected to consider the selection of state Sen. John Thrasher, R-St. Augustine, to serve as the next president of Florida State University.
FSU's Board of Trustees is scheduled Monday to review a $430,000-a-year, five-year contract proposal for Thrasher.
Thrasher would replace Eric Barron, who left to become president at Penn State University earlier this year.
Machen had planned to retire from UF at the end of 2013.
In January 2013, the university halted its search for a new president after Gov. Rick Scott helped persuade Machen to remain at the campus as the school continues its quest for higher national recognition as a research university. The governor's effort came with a promise to allow university funding to increase.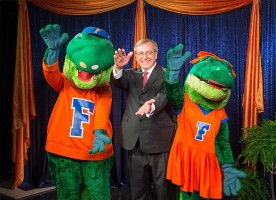 Fuchs has been at Cornell, which is in Ithaca, N.Y., since 2002, starting as the Joseph Silbert Dean of the College of Engineering before becoming provost in 2008.
His resume includes six years at Purdue University, where he was head of the School of Electrical and Computer Engineering, and little more than a decade at the University of Illinois, where he was a professor in the Department of Electrical and Computer Engineering and the Coordinated Science Laboratory.
In addition to an engineering degree from Duke University and his doctorate from the University of Illinois, Fuchs holds a Master of Divinity from Trinity Evangelical Divinity School.
Fuchs was inducted into the American Academy of Arts and Sciences — a national honor society that leads independent policy research — this past weekend.
Outgoing Cornell President David J. Skorton, who next year will become the secretary of the Smithsonian Institution, called Fuchs' selection by UF "well deserved," noting the provost helped guide Cornell through the economic recession.
"Thanks in large part to Kent's clear vision for the future, the university found creative ways to hire and retain diverse, outstanding faculty and maintain its strong academic profile," Skorton said in a prepared statement.
–Jim Turner, News Service of Florida