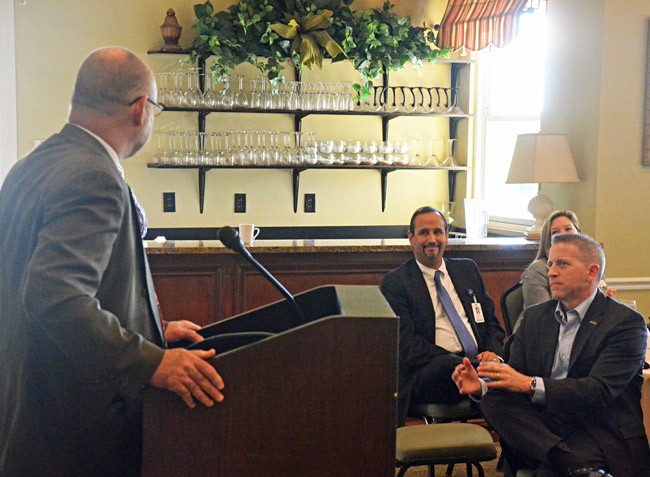 Just three years into his tenure locally, Florida Hospital Flagler CEO Ken Mattison said this morning that he was leaving for a new post in Volusia County at the end of the month. His replacement is Ron Jimenez, a physician and the chief medical officer at Florida Hospital Memorial in Daytona Beach since 2009. Jimenez, who will oversee the largest private employer in Flagler County, with over 1,000 employees. It will be his first posting as a hospital chief executive.
Mattison made his announcement before a breakfast organized by the Flagler County Chamber of Commerce that was to feature the county's legislative delegation–Sen. Travis Hutson and Rep. Paul Renner. The legislators were somewhat upstaged by Mattison's announcement, which had been rumored around town (members of the Free Clinic had heard about it last week, and Chamber President had heard "rumblings" about it) and known by the hospital board, which had interviewed Jimenez.
Adventist Health Systems on April 1 closed the $40 million deal to acquire Bert Fish Medical Center in New Smyrna Beach, where it pledged to invest another $35 million. It was "looking for a CEO that was seasoned–that really means that it was an old guy that had been around a long time," Mattison said, "but that could help bring the Florida Hospital New Smyrna into the family, and they have asked me to go down. So as of May 1 I will be taking on responsibilities for helping to bring that facility up into the system. I will be remaining here to help with the transition." The medical center will be called Florida Hospital New Smyrna, adding to Adventist's 46 hospitals and some 8,200 licensed beds in ten states.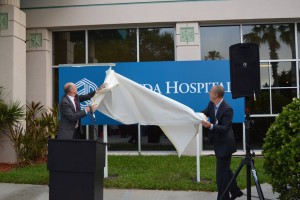 The merger with Bert Fish was not a surprise: the two organizations had been working on it since November 2014, when the Southeast Volusia Hospital District Board of Commissioners selected Adventist Health System to acquire the 112-bed facility in New Smyrna Beach. Mattison's departure was, however, less expected, and Jimenez himself learned of his new posting only in the last few days.
"It's frankly a bittersweet thing for me because I love Flagler County, I love this community, I love the people that I have had the privilege of working with over the last three years," Mattison said in a brief interview after this morning's chamber event. But he's not concerned about a break in the momentum from his tenure, though he'd have liked to be here to see the ongoing construction of a 32-bed expansion to completion. "I truly believe that Dr. Jimenez is an extraordinary leader already in his own right and has demonstrated a passion for the mission of the organization and the access to care initiatives that we've been promoting. Fortunately, if I had to choose someone to replace me, he is that person, because he cares about the same things that I do. And while I'd never speak for him, I do believe that Flagler County is in good hands."
Mattison spoke with hospital board members individually in the past couple of weeks to inform them of his reassignment, Barbara Revels, one of the board members, said. "Even though he'd planned to stay at Flagler through his retirement, for the organization he said OK, I'll do it," Revels, who is also a county commissioner, said. Hospital board members, she said, weren't so much upset about it as "really disappointed to lose him" because Mattison had been very supportive and "engaged to further community health in Flagler County."
Mattison had helped Revels establish a committee that brought together all local health care providers, what eventually turned into Flagler Cares, intended to raise the bar of community health and possibly explore what social factors determine individuals' health conditions. "Ken was the impetus for that in telling me how it worked in previous communities he was in, so I think that buy-in, even for somebody new moving into the community, he immediately bought into the community he was in," Revels said. Jimenez, she said, told the board in his interview that he would continue that approach. "He has been working on community health at Memorial in Ormond, so he says that will be one of his passion, and many of us on the board have made that fairly clear that that's what we hope he will continue to do."
Jimenez said he was not nervous about his first hospital CEO posting. "The team is really what you utilize to get the work done, and I've got a great team, so I'm not worried about that," he said. Nevertheless, the father of two adult children and grandfather to two, just began to familiarize himself with the county. "Visited a little bit the facility and the surrounding area, but I'm not real familiar with the entire county."
Jimenez is a gynecologist by specialty. "There are three imperatives that face us in health care that also face us here in Flagler County," he said. "Improving the quality of care so the delivery is at the highest level possible. That's number one. Number two is making sure that we have access to care for all those in the county no matter where they live or what their care source is. That's an important piece. The third part is that we work on the efficiency of delivering the care so the cost to care can be decreased."
The latter priority has been a challenge locally. Jimenez said he'd look to institute certain methodologies such as the "lean" system of delivery. "Lean is the process that Toyota uses in their manufacturing," he said, "to make the delivery of their product the most efficient it can possibly be. What the facilities and health systems that have done it in health care have found that the outcome is better and the cost is less."
Jimenez before joining Memorial had been Vice President of Medical Affairs and Chief Medical Officer at Park Ridge Hospital in Fletcher, N.C., and previously been a staff physician there. After graduating summa cum laude from the University of Florida, he got his medical degree with honors from Loma Linda University School of Medicine in California and his residency in obstetrics and gynecology at the University of Florida. He was chief resident and was named Resident Teacher of the Year there.
In an email to hospital staff this morning, Mattison wrote: "Had you asked me two months ago what my future would hold, I would have unequivocally stated that I would stay here at Florida Hospital Flagler for the remainder of my career," and described himself as " torn – very torn" over the decision. "But God's path for us isn't always the easy choice. Sometimes God asks us to step out of our comfort zone to do something in His name and for His reasons."