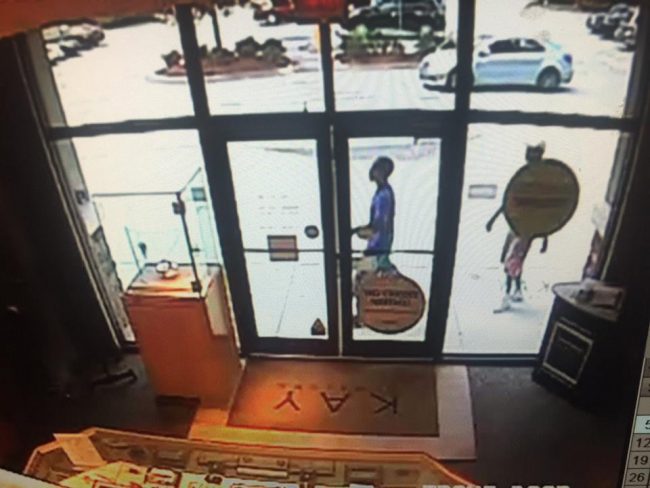 Kay Jewelers in Palm Coast's Town Center was the target of a robbery this evening. The assailants are at large. No injuries were reported.
The robbery was reported at around 7:45 p.m. According to Anna Hackett, a Flagler County Sheriff's spokesperson, two black males who appeared to be in their early 20s entered the store and looked around like shoppers, then smashed one of the inside glass cases, grabbed some gold jewelry, and fled.
It is not yet clear if they were on foot or aided by a waiting vehicle, or what direction they went. Flagler County Fire Flight, the emergency helicopter, launched soon after the report, and at least one K-9 unit was brought in for the search.
A large sheriff's presence, some of them armed with rifles, was also reported in Palm Coast's Z-Section soon after the robbery, suggesting that the search may have led deputies to converge on the neighborhoods south of State Road 100. Residents there were reporting that police were looking for two black men, possibly in a red hatchback vehicle. The men being sought were reported by neighborhood residents to be wearing Khaki shorts, though that has not been confirmed officially.
Hackett said the assailants were not immediately reported to have been armed. The search is ongoing.
As of 10 p.m., the Sheriff's Office was reporting no one was in custody, and the investigation was continuing. The office had issued a request for public assistance to help identify the two suspects, along with a few still images from surveillance video.
If you have any information contact the Flagler County Sheriff's Office at (386) 313-4911. Reference case number 2018-75043. Or call CrimeStoppers at 888-277-TIPS and you could be eligible for a reward up to $5,000.00 or email us at [email protected] See more stills below.