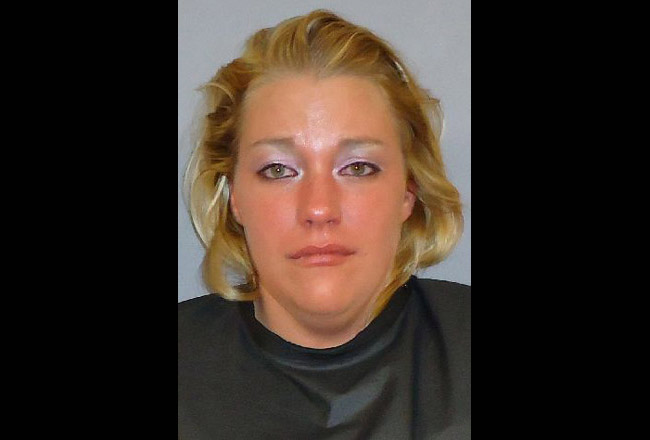 One of the pictures Karolyn Harris features at her Facebook page shows her curled on a couch, her head poised at the edge over a white bucket. The presumed contents of the bucket leave little to the imagination. "[O]nly turn 21 once!! haha," was the photo caption, eliciting six likes and many appreciative comments ("been there, done that," "looks like ya had a good night," and "You were done"). Harris herself described what had led to that point: "dude let me tell ya that night was a blasttt!! i was so drunk i had to be walked to the car and walked in my house kuz i couldnt even walk str8!! i went out sat at midnight and got trashed and then drank all day sunday!! it was an amazing weekend and def had alotttt of fun!!"
It's not clear where Harris herself drove that night. What's clearer is that she was driving late Thursday night when she carried out a few odd maneuvers with her Chevrolet in front of a Flagler County Sheriff's deputy–and backed into the deputy's cruiser, striking it but causing no damage. It was the second time in two night that a deputy's car was struck by that of a drunk driver. Harris, 22, of Ullian Trail in Palm Coast, was arrested and booked into the Flagler County jail on a DUI charge.
Deputy Frederick Gimbel was patrolling along east State Road 100 near Palm Pointe Apartments when he saw Harris's green two-door Chevrolet make a U-turn directly in front of him by the entrance to Palm Pointe, according to Gimble's report. The car's rear end fishtailed and spun the vehicle around, so it ended up facing north on the eastbound road. Harris regained control and began driving east. Gimble followed. When Harris crossed over Belle Terre Parkway, she began to slowly drift off the road and onto the shoulder, traveling with its right wheels on the grass for about 100 or 200 yards, according to the police report.
Gimble activated his police lights. "The vehicle jerked very quickly to the left and slightly went back into the lane before pulling off onto the shoulder," Gimble report states. "When the vehicle pulled off onto the shoulder, I put my patrol vehicle in park and began to exit my vehicle. As soon as I opened my door, the vehicle put his rear lights on (reverse lights) and began to slowly come back at my vehicle. I entered my vehicle and quickly had to put my vehicle in reverse but before I could engage the shifter to reverse the said vehicle slightly bumped into my patrol vehicle's push bumper. Be advised that neither vehicle sustained any damage."
Wednesday evening, Colleen Comfort, 45, of Palm Coast, almost took out the open door of another sheriff's deputy who was conducting an unrelated traffic stop on Palm Harbor Parkway. The deputy was in the car when Comfort struck his cruiser. Comfort insisted that she thought she'd hit a mailbox. She kept on driving and was subsequently arrested by another deputy, and jailed on a DUI charge and a hit-and-run charge. There were no injuries in that incident.
When Gimble first observed Harris in her Chevrolet, he noted that she had "a very slurred speech, she appeared to be very upset, had a hard time understanding what information I was asking for, had an obvious odor of alcoholic beverage coming from her person, and continuously stated, 'I've never been in trouble before please please please.'"
She was then asked to conduct field sobriety exercises. She complied, but failed, being unable to keep her balance or follow directions as she became very upset. She failed four successive "exercises," according to the report. She told the deputies at the scene that she'd been "hanging out" at Palm Pointe Apartments since 8:30 that evening. At the jail, she consented to a breath test, which recorded 0.204. The legal limit in Florida is 0.08. A second test resulted in a reading of 0.214.
Harris, a native of Daytona Beach, posted $150 bond and was released.
"Often, people forget that these deputies – your neighbors and friends – put their lives on the line every day that they put on their uniform," Flagler County Sheriff Don Fleming, who a few weeks ago led the annual ceremony for fallen deputies at the sheriff's office, said. "These are traffic incidents that could have been avoided if some common sense had been used by the drivers – don't drink and drive."