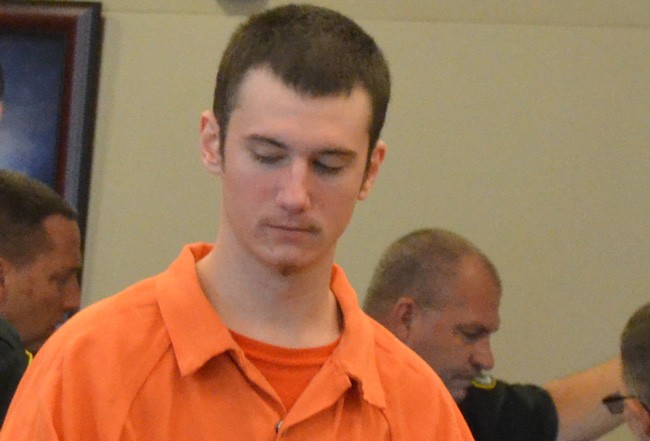 At several points during his sentencing this afternoon, Karl Westgate, standing shackled in front of the judge, with a sheriff's deputy behind him—as is the norm with felons appearing in court—closed his eyes for extended periods. He did so especially when the judge was enumerating the details of his sentence, the accumulation of five, 15- and 25-year terms in state prison, though fortunately for Westgate, who is 19, the terms are to be served concurrently rather than consecutively. That means he will most likely be out of prison by the time he's 44 if not sooner, with half his life ahead of him.
That life will be shackled. He's been designated a sexual predator. He'll be on sexual-predator probation the rest of his life, required to abide by all the strictures of the designation, which are many. They include rigorous reporting requirements about his living arrangements, his whereabouts on a periodic basis, the public branding of his status on sexual-predator websites and police agencies' mapping of offenders and predators.
Westgate pleaded guilty to a long list of charges before Circuit Court Judge J. David Walsh today, worst among them the rape of an 11-year-old girl, a capital felony that had exposed him to life in prison without parole. He pleaded it down to two counts of lewd and lascivious molestation of a victim younger than 12, reducing his sentence to a first-degree felony and 25 years in prison. That made all the other charges to which he pleaded guilty mere technicalities in so far as his prison term is concerned, though there were many: transmission to harmful material to a minor, cruelty toward a child in the performance of a sex act, several probation violations, burglary on a 2013 charge, and so on.
The mother of the victim was in court as the judge read the sentence. So was the 18-year-old mother of Westgate's own infant child, born in December, weeks before he was arrested on the rape charges.
A resident of 3 Wendell Place in Palm Coast until his arrest in March, he'd exchanged nude pictures of himself and the minor girl he'd met on Facebook and engaged in conversations with, at first electronically, about drugs, sex and alcohol for hours, before moving on to instructing her on the type of nude pictures he wanted of her. He raped her at the girl's home, where he'd gone ostensibly to watch television with her.
An avid skateboarder, he'd grown long hair and a goatee before his arrest, though today much of the hair was gone. The goatee remained.
The sentencing was routine until the end when, the judge seemingly done and the bailiffs were readying to take Westgate's fingerprints and DNA sample, he leaned over and whispered something in the ear of Regina Nunnally, his attorney and public defender.
There is one other thing, Nunnally told the judge. Westgate was requesting a furlough.
He wanted five hours to go to his family's house. He would take a sheriff's deputy's escort. His family would pay for the escort, Nunnally said. He just wanted to go home, she did not explain for what, "for a period of time, and then back."
The judge did not think about it. "I can't allow that," he said.
And that was it for Westgate. He stood patiently as his fingerprints were taken, repeatedly. He briefly sat as another case was being disposed of. He stared in front of him, perhaps listened to the conversation in the room, as staid and ordered a setting as he would know, in contrast with his circumstances for the next 25 years. Then he was ushered out with one or two inmates. Shortly after that, the mother of his child, now effectively a single mother—she was with another woman—got up and left.

In federal Court: Palm Coast's Timothy Edward McDermott, 61, Pleads Guilty To Receiving Child Porn Over The Internet
In an unrelated case, Timothy Edward McDermott, 61, has pleaded guilty to receiving child pornography over the Internet. He faces a mandatory minimum sentence of five years and up to 20 years in federal prison, with a potential life term of probation. A sentencing hearing has not yet been scheduled.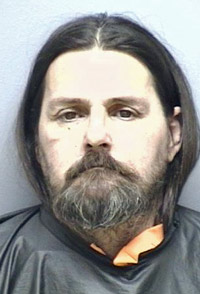 According to court documents, an FBI agent began an undercover investigation to identify individuals that were trading child pornography over the Internet. The agent determined that McDermott was hosting and trading images of child pornography using a peer-to-peer file sharing program. A subsequent search warrant was executed at McDermott's residence and his computer was seized. During an interview, McDermott admitted that he had downloaded child pornography from a file sharing website. Forensic analysis of McDermott's computer revealed that it contained 310 images and 68 videos depicting child pornography, including babies being sexually exploited by adults.
This case was investigated by the Federal Bureau of Investigation in Dallas, Daytona Beach, and Jacksonville, the Flagler County Sheriff's Office, and the Wheaton, Ill., Police Department. It is being prosecuted by Assistant United States Attorney D. Rodney Brown.
It is another case brought as part of Project Safe Childhood, a nationwide initiative launched in May 2006 by the Department of Justice to combat the growing epidemic of child sexual exploitation and abuse. Led by United States Attorneys' Offices and the Criminal Division's Child Exploitation and Obscenity Section, Project Safe Childhood marshals federal, state, and local resources to locate, apprehend, and prosecute individuals who sexually exploit children, and to identify and rescue victims.