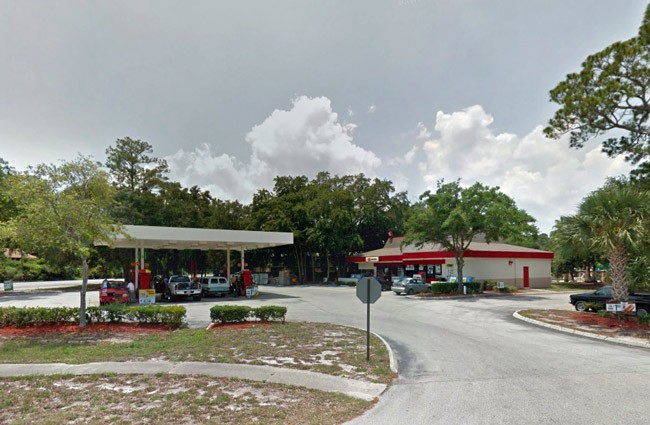 The Kangaroo gas station and convenience store at 3 Kingswood Drive, just off of Old Kings Road in Palm Coast, was the target of a robbery at close to 3 a.m. Sunday, by a man armed with a nightstick and masked by a bandanna.
The man apologized to the store clerk and got away with $56. Flagler County Sheriff's deputies set up a perimeter and attempted to locate the robber, but were unsuccessful. The clerk was not hurt.
According to the 50-year-old clerk, who described the incident to a sheriff's deputy, he heard the front door of the business open (it makes a strident, brief sound), so he got out of the rear cooler to see a white man standing at the front door. The man was wearing hunting camouflage, a Florida Gators baseball hat, a black or dark colored bandanna over his face, a short sleeve blue hospital scrubs-like shirt, blue hospital scrubs pants, and dark colored tennis shoes.
The man was white, between 5'8″ and 5'10". He carried what appeared to be a baton or a nightstick-like instrument in his right front pocket, "with his right hand near it as if prepared to use it," the incident report states.
The store clerk said the man spoke with a southern accent or drawl as he notified the clerk that he was being robbed. The man apologized, and ordered the clerk to walk in front of him to the cash register and not to touch the alarm. The clerk removed paper currency from the cash register and either gave it to the robber or placed it in such a way as to let the robber take possession of it. The robber then ordered the clerk to lie on his stomach with hands on his head.
The man then left the store. It's not known whether he got away on foot or by car. The clerk said the man neither threatened to harm him nor brandish the weapon at any point, though the apologies kept coming from the robber, according to the clerk.
Sheriff's units searched the surrounding area with a K9 unit but were unable to locate the suspect. The Kangaroo fuel station store manager responded to the scene and provided a copy of the security footage, which showed the man entering the store at 2:37 a.m. through the northernmost door and exiting the store three minutes later through the southernmost door.
The incident report is partially redacted and lists six individuals' names that have also been redacted. The individuals, four men and two women, are between the ages of 22 and 51, and are identified as "other" in the report, as opposed to suspects, victims or witnesses. It is not clear why their names and addressed were redacted. Those of the store clerk were not.