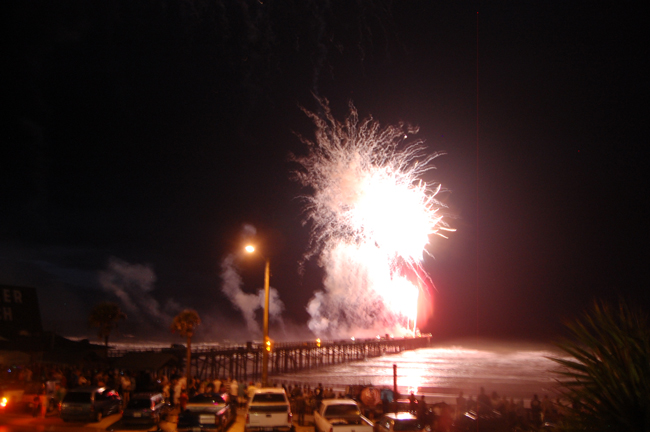 Just as it happened last year, Flagler Beach and Palm Coast will each have a 4th of July fireworks show this year. Flagler Beach's show will take place on July 4, a Monday, the same day as the city's traditional Independence Day parade. The city got plenty of grief last year, from residents, visitors and businesses, for holding the show on the 3rd. Resentment added to grief when the Palm Coast show was scheduled for the 4th, at Town Center, though by scheduling them a day apart, the two shows were never in competition. This year, Palm Coast will hold its show on the 3rd.
The city of Palm Coast itself is not a sponsor—at least not yet. The chief sponsor of the event in Palm Coast is WNZF-Beach FM, possibly with the Flagler Rotary Club, which last year was a sponsor and raised the money for the fireworks from businesses. (An earlier version of this story erroneously referred to the Flagler Beach Rotary Club.) The Rotary's board is meeting on April 5 to decide whether it will be involved this year, though its involvement financially won't have to be what it was last year.
The Tourist Development Council will consider a measure at its April 20 meeting to pick up the fireworks tab on both events—$15,000 for Flagler Beach, $15,000 for the show in Palm Coast. The TDC used to underwrite the cost of Flagler Beach's fireworks until two years ago, when county government picked up the cost, with the Palm Coast government traditionally contributing $1,500 to the Flagler Beach event.
TDC money, which is raised through the county's 4 percent bed tax added to hotel, motel, RV bills and other temporary rentals, is used to market Flagler County and attract tourists to the area. The July 4 weekend features races at the Speedway in Daytona. Local hotels are expected to be filled for those races. County officials want to capitalize on those visitors by attempting to keep them in Flagler as much as possible.
"What really piqued my interest on this issue was the races," said Milissa Holland, who chairs the Tourist Development Council and says the $15,000 for Palm Coast's event would be as legitimate an expense as Flagler Beach's. "I think it makes sense for us to capture those who happen to be visiting due to a larger event in another county. That's what I'm hoping is the big benefit for funding this type of event. It goes back to what establishes us as a unique community—family values, Americana." Rather than let visitors travel to Daytona Beach for entertainment on the 3rd, the Palm Coast fireworks show would be a magnet to keep them here. "It's certainly my understanding," Holland said, "that we'll be doing some internal marketing with our lodging associates to hopefully entice or attract some of our visitors who are staying her to enjoy the fireworks and remain in our community."
The Palm Coast event last year was free. People were invited to bring their coolers, their grills, their Frisbees and their lawn chairs and make a party of it—which thousands did. The radio station, which broadcast from Town Center for several hours that evening, is planning the same sort of event this year, with all proceeds from various merchants going to fund educational programs in the district. The station wants the city and the sheriff's office to either lower or write off their usual permitting and security costs to minimize expenses and presumably channel as much of the money raised toward school functions.
As it did last year, when Palm Coast City Council members said they did not want to step on Flagler Beach's toes, Palm Coast's edition of the fireworks elicited more discussion on the matter when City Manager Jim Landon brought up the matter Tuesday. The radio station wants the city to have a sponsoring role to defray costs. "I told them I would make sure that you all were comfortable this year with us providing some of that assistance," Landon told the council, assuring members that there'd be no "hard dollars" involved. "It'd be a city event from the standpoint of us helping assist and partner with this, and once again communicating, coordinating with Flagler Beach and trying to minimize any—make sure we don't have any duplication."
"I have some concerns, Jim," council member Mary DiStefano said, "and the concern that I have—I might be the lone council member—I just see all the functions we're involved in. You may say that there's not hard dollars, but there are hard dollars, because if the staff is doing activities extensively for these functions they're obviously not performing the duties for which they were employed to do. I think it's nice to have one or two functions a year, but it appears to me that we have an awful lot of functions and an awful lot of employees' activities taking away from their daily jobs." She added: "You've got the Rock 'n Ribfest coming up. I'd like to know, after you do the report, how many hours do we pay for them and what does that translate into, and then do we make the money."
Council member Bill Lewis was of the same mind: "I think Marry is right on target on that, because someone has to pay for that time, and we're paying for that time," Lewis said. "And in these types of budget times we can't be as generous as some people would like us to be."
"Why," Lewis continued, "do we have a 4th of July event here if we're having a regional 4th of July, which we all go to. Fourth of July is 4th of July, anything else is not 4th of July."
But Palm Coast's July 3rd fireworks show will likely go on whether the council backs it or not, Landon said. "Most communities our size are going to have 4th of July fireworks," he said.
Jon Netts, the Palm Coast mayor, said the discussion is predicted on what the Tourist Development Council will do—whether it approves the money or not. The council will revisit the issue after the TDC's April 20 meeting, or possibly later than that: the TDC can only recommend that the money be spent that way. The county commission must ratify the decision.