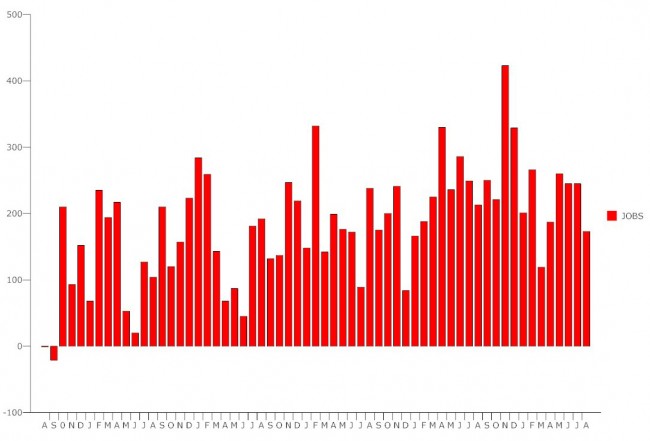 It's been more than seven years since the unemployment rate was this low: 5.1 percent in July, a rate not bested since April 2008, when it was rising rapidly as the second recession on President Bush's watch was shredding payrolls. The July unemployment rate fell two decimal points, from 5.3 percent in June, and a full percentage point from a year ago.
But the economy added only 173,000 jobs, perhaps signaling a slow-down even as the last three months' job creation totaled a healthy 663,000 jobs, and the 2015 total is at 1.7 million new jobs–400,000 more jobs created in eight months than the entire eight years of the second Bush's presidency.
But underlying factors remain weak: there were still 6.5 million workers employed part-time for economic reasons. Those are called involuntary part-time workers whose hours have been cut back from full-time work, or who couldn't find full-time employment. The civilian labor participation rate is still at 62.6 percent, where it's been for three successive months, well below the rate in 2005, when it was 65.8 percent. Although there are 1.5 million fewer unemployed workers today than a year ago, 8 million people are still unemployed, including 2.2 million long-term unemployed (those who have been unemployed for more than half a year.)
Wages are looking up slightly, but still not enough to make a difference in most workers' standards of living. Average hourly earnings for all employees on private payrolls rose by 8 cents to $25.09, following a 6-cent gain in July, a rare two-month improvement in an era of stagnant wages that have not kept up with the cost of inflation.
"While the Great Recession is behind us, not every household is experiencing rising incomes and living standards," Labor Secretary Thomas Perez said in a statement this morning. "So many people are still struggling to find work. Even many of those who have jobs find themselves running in place, still unable to get ahead despite working harder than ever. For an even more robust recovery that lifts up more people, we need Congress to come together to raise the national minimum wage and pass a transportation infrastructure bill, along with avoiding self-inflicted wounds by eliminating sequestration.
"It's also critical that workers have the ability to stand up and speak out for better wages, benefits and working conditions. The labor movement and union membership have traditionally been our most powerful expressions of worker voice. Next month when President Obama convenes a Summit on Worker Voice, we will focus on ways to strengthen organizing efforts and protect collective bargaining rights, in addition to exploring new models for empowering workers."
Health care and social assistance such as child care and services for the elderly or disabled added 56,000 jobs in August. Those are mostly low-paying jobs. Over the year, employment has risen by 457,000 in health care and by 107,000 in social assistance. Financial activities employment increased by 19,000, with job gains in real estate (8,000) and in securities, commodity contracts, and
investments (5,000). Those tend to be better-paying jobs. Employment in food services and bars rose 26,000, but manufacturing decreased by 17,000 and by 9,000 in mining. Since reaching a peak in December 2014, mining employment has declined by 90,000, a reflecting of the battered coal industry, where costs have been undercut by cheaper, cleaner fuels.