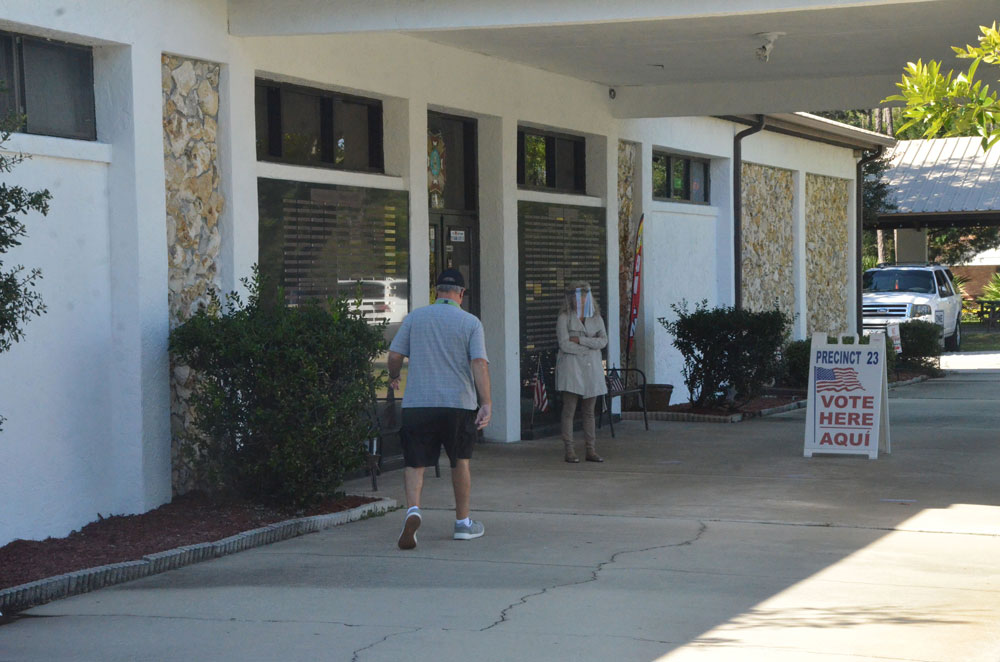 A federal judge has refused to block two parts of a new Florida elections law that placed restrictions on voter-registration groups, while the state appealed an earlier ruling that said other changes in the law likely are unconstitutional.
Chief U.S. District Judge Mark Walker on Tuesday denied a request by the League of Women Voters of Florida for a preliminary injunction against two parts of the law that the group contends violate First Amendment rights.




One of those parts requires representatives of voter-registration groups to provide receipts to people who sign up to vote. The other part prevents people with certain felony convictions from "collecting or handling" voter-registration applications.
In an 18-page decision, Walker wrote that the League of Women Voters had not shown legal "standing" to receive a preliminary injunction. As an example, he wrote that the League of Women Voters had not shown that its members or volunteers would be affected by the ban on felons handling or collecting forms.
"As to associational standing, plaintiffs assert their members are injured because they will be able to associate with fewer members and volunteers with qualifying felony convictions," Walker wrote. "The problem with this argument is that the League plaintiffs have submitted no evidence indicating that any members or volunteers with qualifying convictions were planning to engage in voter registration work after July 1, 2023 (when the law took effect), but for the challenged provision."




Walker's decision was notably different from a July 3 ruling in which he issued a preliminary injunction against two other changes in the law. Those changes would prevent non-U.S. citizens from collecting or handling voter-registration applications and make it a felony for voter-registration group workers to keep personal information of voters.
"Florida may, of course, regulate elections, including the voter registration process," Walker wrote in the July 3 ruling. "Here, however, the challenged provisions exemplify something Florida has struggled with in recent years; namely, governing within the bounds set by the United States Constitution. When state government power threatens to spread beyond constitutional bounds and reduce individual rights to ashes, the federal judiciary stands as a firewall. The Free State of Florida is simply not free to exceed the bounds of the United States Constitution."
Lawyers for Secretary of State Cord Byrd and Attorney General Ashley Moody filed a notice Tuesday that was a first step in appealing the July 3 ruling to the 11th U.S. Circuit Court of Appeals. As is common, the notice of appeal did not detail arguments the state will make at the Atlanta-based appeals court.
The law (SB 7050), which Gov. Ron DeSantis signed in May, made a series of changes in Florida's elections system, particularly focused on "third-party" voter registration groups. DeSantis and other state Republican leaders argued, in part, that the law was needed to ensure that elections are secure.
But voter-registration groups, including the League of Women Voters, the NAACP and Hispanic Federations, quickly filed lawsuits challenging the constitutionality of the law and seeking preliminary injunctions. They said third-party registration groups play an important role in signing up Hispanic and Black voters.
The July 3 injunction stemmed from two of the lawsuits, while Tuesday's ruling was in a separate lawsuit filed by the League of Women Voters.




In challenging the receipt requirement part of the law, the League of Women Voters pointed to issues such as group members or volunteers having to provide identifying information in the receipts. The lawsuit said that "directly regulates their speech and discourages volunteer participation without sufficient cause."
But Walker wrote that the League of Women Voters had not shown legal standing to block that part of the law.
"They (the plaintiffs) have demonstrated that their members fear engaging in voter registration efforts because their members believe it may expose them to harm from both individuals and the government now that they must provide their full names on receipts given to the voters they register," Walker wrote. "These subjective fears, however, depend on assumptions that the League plaintiffs' evidence does not support."
The League of Women Voters and the Campaign Legal Center, which is representing the group, issued a statement Wednesday that said "Florida should celebrate — not punish — the civic-minded people who help voters make their voices heard."
"We are disappointed by this decision, which will severely curtail the ability of nonpartisan civic engagement groups like LWVFL (the League of Women Voters of Florida) to engage with and educate voters," the statement said. "In the past, the League has relied on volunteers with felony convictions to assist in engaging other persons with felony convictions to learn about their eligibility to register to vote. This ruling leaves in place the barriers that prevent persons with felony convictions from assisting with voter registration."
–Jim Saunders, News Service of Florida