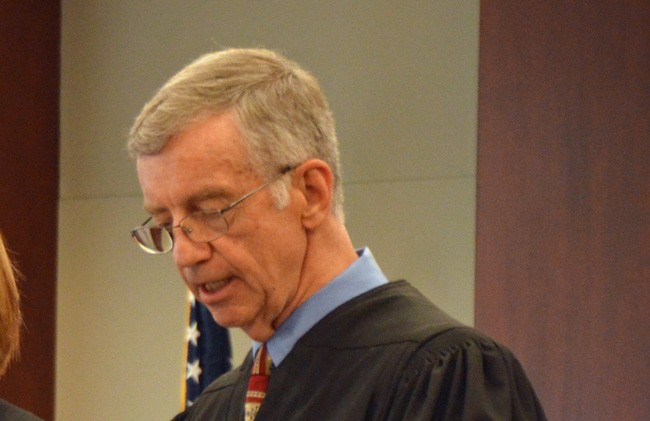 Circuit Judge J. David Walsh is a study in judicial temperament.
Walsh could have a man accused or convicted of murder in front of him. He could be talking to a child rapist, a wife-beater, a soon-to-be graduate of his drug court, a bedraggled re-offender barely past his teens or one of the rare offenders closer to Walsh's own age, as when he presided over the trial of Paul Miller, the then-66-year-old who murdered his neighbor in Flagler Beach. Walsh could be contending with the most deferential of lawyers or the most cretinous: his demeanor hardly changes. It is almost always as if he's addressing an equal in a formal, amiable transaction, though no one before makes the mistake of presuming to be his equal and get away with it. Walsh, however, seems never to need to play that card. His presence is enough to command the courtroom.
"I always have strived to be polite and fair to all litigants, to be prepared, and to rule in accord with the law and the facts as proven to me," Walsh said in a recent release.
For a few more months, anyway. Come next February—on Feb. 29, leap day—Walsh will be gone. He announced his retirement last week, two years into his latest six-year term and within sight of his 70th birthday, when he'd have been required to retire anyway.
"I know we normally get new judges to the judicial college the first part of the year, so we would seek a planned transition," enabling the new judge to start work in February, Walsh said in an interview last week. "Having been chief judge I know how difficult it is to get the new judges in place, and we don't like to keep our dockets unfollowed for too long."
Walsh's replacement in Flagler is known, however: it's Matthew Foxman, the judge elected in 2010 who's been serving in Deland. Walsh made that announcement at a June 19 lunch of the Flagler County Bar Association, at the courthouse, which Foxman attended, and where he spoke of his coming assignment (and his friendship with Kim Hammond, the judge for whom the courthouse is named). But a new judge would still have to be appointed in the circuit, which numbers about 42 circuit and county judges overall.
Walsh was himself appointed to the bench in 2001 by Gov. Jeb Bush after practicing civil litigation in private practice in Volusia County for 25 years. There will be no election for his replacement, who will be appointed by Gov. Rick Scott following a recommendation by the Judicial Nominating Commission, though that judge will have to stand for election two years hence.
Each judicial circuit has its own nominating commission. The Seventh Circuit, which includes Flagler, Volusia, St. Johns and Putnam, has a nine-member commission chaired by Jacksonville attorney Christopher J. Greene and that includes only one Flagler County lawyer: Raven Sword of Livingston and Sword. The nominating commission has not yet been called to convene for Walsh's replacement.
Walsh said he's been working constantly since his Navy days—he was an airman in Vietnam, flying some 150 combat missions between 1969 and 1971, the war's deadliest years, flying  the A-6 "Intruder." "I'm really looking forward to not having to be on a schedule," he said.
Walsh presided in civil and felony divisions in Volusia County from 2001 to 2012, serving twice as chief judge along the way, before taking over the criminal division at the Flagler County Courthouse after Judge Raul Zambrano was shifted to Volusia County.
By the time he became a judge, the Legislature had already put in place the sort of relatively restrictive sentencing guidelines and harsh sentences in place today. More recently the Legislature eliminated the top of the guidelines, giving judges more discretion to be harsher. But if judges want to be less harsh than the guidelines call for, they have to formally justify it.
Walsh on occasion has had his issues with the severity of the law.
"There are those times where I as a judge had been faced with a quandary in which it was my opinion that a certain defendant did not merit the severity of the required guideline sentence," Walsh said, "and in those cases I had, where I thought it justified, entered a departure order," the document that essentially explains the judge's rationale for not sticking to the guidelines. It often had to do with the youth of the offender. "There are alternatives available to the judge but sometime if you abided by the guidelines it would be an excessive punishment. In those cases I do make efforts to follow the law by imposing a sentence where there is a finding of fact to set it," Walsh said, referring to a lesser sentence.
---
"I would hope with time that we could possibly amend those guidelines, give judges a little more discretion," Judge Walsh says of sentencing guidelines.
---
He would let his forbearing side show more freely in drug-court graduations, a role he clearly cherishes, when he abandons his bench that dominates the courtroom and stands shoulder to shoulder with drug-court graduates, handing them recognition and congratulations, and handing them back their future, which he'd held in his hands. Some of them inevitably disappoint him and reappear before him, criminals all over. And some of them make good on their graduations.
But don't mistake him for a softie, either. In the last three years' most high-profile cases, and despite long parading pleas of some mercy from the friends and family of the accused, he sentenced 23-year-old James McDevitt to 40 years in prison over the rape of a woman in Flagler Beach (McDevitt can get out in 32 years). He sentenced Miller, the Flagler Beach killer, to life in prison, ensuring that Miller will never see another day's freedom. He sentenced Edmond Welch, 34, to life in prison for a home invasion and battery on an 88-year-old man—the same sentence Walsh imposed on child rapists Thomas Underwood and Shaun Whitt. And his words could wag more sternly than a finger, as when he told a probationer who wanted out of his probation early, "it's called punishment."
In every case, Walsh remained within the guidelines which, in many cases, included mandatory sentences that have shrunk judges' discretion considerably.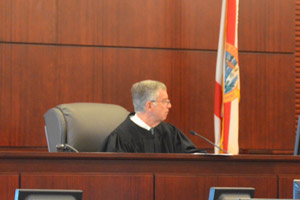 In two days (on July 15) Walsh will sentence Giuseppe Verdone, the 24-year-old Palm Coast resident found guilty in June on five charges stemming from assaulting and kidnapping the co-owner of a Chinese food restaurant in November 2013. Verdone faces life in prison, again because of guidelines.
"Generally speaking I'm quite confident in the abilities of our judges to fashion goods sentences, good common sense," Walsh said. "I don't know all the reasons but I tend to think the movement across the United States toward more harsh sentences and guidelines, if you will, were a reaction, legislators around the country thinking there was some sort of judicial leniency perhaps. But I've never seen it."
He cited the well-documented fact that the United States, since the movement toward harsher sentences led to a surge in the nation's prison and jail population, now has the highest number of incarcerated people than any nation, perhaps with the exception of China, where the numbers tend to be fuzzy. Walsh added: "I would hope with time that we could possibly amend those guidelines, give judges a little more discretion."
His advice to the judge who will replace him: "The new judge is going to have to be a multi-tasker, be flexible, keep your patience, be able to work well with the clerks. But most importantly it is to be patient, because people lose their tempers." The docket in Flagler is complex by dint of piling it on top of too few judges, who are required as a result to be dexterous and juggle schedules, dockets and areas of the law regardless of their official designation.
As for himself, Walsh said he'll be devoting more time to books, to some writing, and to his music. His mother was a concert pianist. In his youth he was a member of an all-state band. "I'm a percussionist, I play drums, xylophone, tympani," he said. And he's working on improving his piano playing.