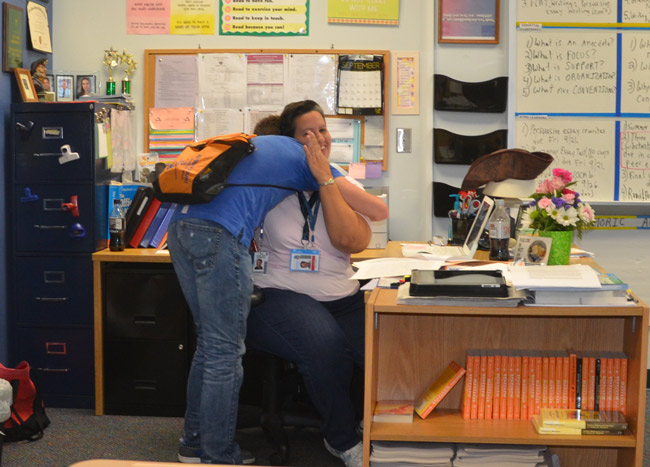 Jo Ann Nahirny, an English teacher of long date at Matanzas High School and the author of the Teacher's Trenches column on FlaglerLive, is battling the recurrence of an abdominal cancer for the next three months, in Gainesville. One of the students she influenced deeply in her class chose to respond in his own way.


By Juan Torres
As I walked down the crowded halls looking for my classroom on the first day of my sophomore year, I heard a distinct voice slice through the chatter in the halls. As students gossiped about what teacher they have, who they planned to sit with at lunch or what new clothes and "swag" they prepared for the new school year, they were interrupted by interjections like "Pull up your pants boy! I don't need to be seeing that crack!" I could have sworn that the glass around me had shattered. That pitch and that voice was too distinctive to belong to any normal person.
It didn't. It belonged to the woman who's influenced me more than any to date.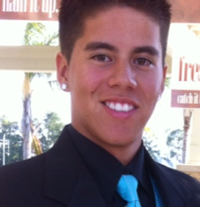 I entered Jo Ann Nahirny's fourth period English 2 class that first day at Matanzas High School to get attention from all my friends and establish my title as the class clown. I would give the almighty Nahirny a run for her money. Little did I know that she would be the one to flip my world upside down with her red pen and her arsenal of vilifying words. Nothing could save me from the wrath that was Nahirny.
From my punk phase in 10th grade to my more mature chapter in Mrs. Nahirny's AP English class in 11th grade, there's just too many stories to write about and not enough space. I'll always cherish moments we had in that room, especially when she was more than just a teacher. She was my friend. That classroom was more than just 27 students confined between four walls and learning about adequate writing techniques. We were a family. She was the reason for it. We all craved success. She gave us the tools and showed us the way. We all yearned to acquire more knowledge. She was like the lumberjack on a cold winter night feeding logs she chopped into the fire. Her raging fire was a classroom craving tinder in the form of SAT prep questions and AP essays and AP practice passages.
Now here I sit at 2:51 in the morning two years later, embarking on my last year of school, my senior year at Matanzas high school, thinking about the experiences I have been fortunate to share with Mrs. Nahirny–and about the email I received from her over summer break. We were all aware that she was a cancer survivor and that she's the living proof that when life gives you lemons, you make lemonade. She overcame the cancer and became one of the most effective and talked about teachers at Matanzas. But in that email she informed us that she'd be out of school for three months. Her cancer had recurred. She'd be undergoing heavy radiation therapy.
Knowing from firsthand experience with my grandmother in Colombia who defeated breast cancer with chemo radiation at the age of 78, I am aware that it is not a pleasant thing to undergo for patients or their families. I knew that Mrs. Nahirny could use all the love and support she could get to help her along her recovery. That's when it hit me. She has done so much for me and my fellow students, never ceasing to be there for us in our times of need, that it was my turn to rally up my classmates and school administrators to return the favor. As a family, we need to show her we care for our own and that we will be there for her. That when she feels weak and feels the urge to fall and lose hope, we will be there to catch her and help her back up. Because as Matanzas Pirates we have established a sense of pride and commitment over the years. We are always there for our own. It is all for one and one for all. Right now it is all for one.
With the collaboration of our schools administration and fellow classmates, I have come up with a plan to make this experience a little more positive and bearable for Mrs.Nahirny as she goes through treatment in Gainesville. We'll pass around 'Get Well Soon' cards that will be signed by everyone attending Matanzas. We'll post flyers around our halls to inform faculty and students of our cause. We will try to raise whatever money we can to make this easier for her and her family because this is a situation that no one should experience alone. Then I and some of her ex-students will drive to Gainesville to deliver the cards, flowers, gifts and donations to make sure we as a school and a community are the reason that she maintains that beautiful smile, in as much as possible, as she under goes her treatment. Mrs.Nahirny will have more than just her family supporting her. She will have the whole school and community with her every step of the way because we will always care for our own.
If you have any questions or inquiries regarding making a donation or if you wish to give us an item to deliver to her in Gainesville on your behalf when we make the drive up there Thursday, September 27th, please feel free to contact me 386/237-2856.

Juan Pablo Torres is a senior at Matanzas High School.