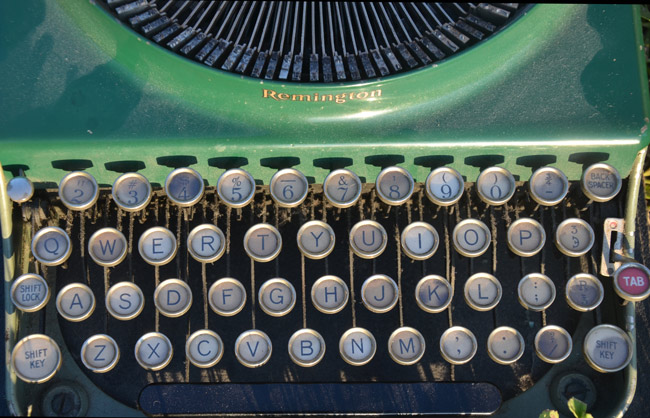 She wasn't working on her assignment. That much I knew. Most tasks I ask students to complete don't engender the happiness her countenance exuded.  Suspecting she was probably watching a YouTube video or playing a game, I switched on a remote application which enables me to see or control any student's computer from my own. I clicked on the icon representing the gleeful young lady's screen, ready to divert her from her unauthorized website. Voilà! Just as I suspected, she wasn't completing the practice exercise I'd assigned 20 minutes earlier.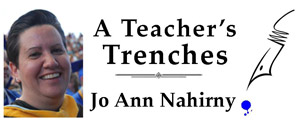 'Darkness screamed at his touch, struggling weakly to pull away. The pain. She closed her eyes against it, trying to will it away, pretend it wasn't there. The pain. The reason she'd done it. To get rid of the pain. "L-let go… of me…" she panted, black tears streaming from her eyes as she struggled weakly against her grip, feeling the strength leave her very veins.
"What. Have. You. Done?" Rivanel hissed, jerking her forward until he could grab her neck with his other arm. Darkness cried out, but her struggles faded to something so weak that holding her became a subconscious act for the angry god.'
She was furiously pecking out the next chapter of her latest science fiction-fantasy novel, trying to capture the words before they eluded her.
Once I realized what she was doing, I didn't have the heart to interrupt. She had an A in my English class anyway, and when scores come out in July, they'll confirm she passed the Advanced Placement English exam with flying colors. So I let her continue, knowing that  one day I'll see her name on the cover of a book, several chapters of which I'd already been privileged to read thanks to her willingness to share portions of her magnum opus with me throughout the school year.
Rarely do I encounter students as enthralled by writing as Ivy is.  Most hate to write. I can't say I blame them. Schools have snuffed the joy out of writing, all in the name of standardized testing. Teachers today have no choice but to drill students on how to write formulaic essays on mundane, banal topics, even in elementary school. Instead of writing age-appropriate creative stories or poems designed to help them enjoy using the power of the printed word, students encounter their first "timed writing prompt" when they're as young as 9, when they get just 45 minutes to write a complete essay.
Sometimes the prompts they're asked to respond to raise a few eyebrows, as occurred during this year's New Jersey Assessment of Knowledge and Skills (NJ ASK), when parents were outraged to learn third-graders were directed to write an essay about a secret they had, and why it was hard to keep.
And what of Florida's 10th graders who took February's FCAT? The writing prompt asked them to persuade business leaders about whether or not students should have part-time jobs while in high school.   How appropriate is such a topic in our floundering economy? Flagler County's unemployment rate tops the state; few of my students can find jobs. Some have fruitlessly filled out dozens of applications;  many of their parents are out of work, too. What dolt came up with this insensitive topic anyway?
Unlike today's students though, I never had to write a timed essay in school.  I'm grateful I didn't. I doubt I'd have become the proficient writer I am now. Instead, I developed a love of writing starting in third grade, when Miss Schoenberger placed a makeshift "wishing well" in the front of her classroom. Once or twice a month, we had to reach down into the well and randomly draw out a "writing starter." We had a week or two to perfect our masterpieces.  I loved the topics, which allowed my imagination to soar. I remember writing and revising, while learning to use a dictionary and thesaurus to find just the right word to express myself, and then double-checking everything before finally submitting my final draft.
When we got our essays back, what made it worthwhile were the personal comments Miss. Schoenbeger wrote to each and every one of us. Most of the time, the grade took a back seat to her florid script, which usually contained encouraging and supportive suggestions amidst the stern admonitions against poor penmanship, spelling and grammar.  (I doubt I'd have improved my skills much had she merely awarded me a number  like the one-digit dispassionate "feedback" FCAT provides.) I took what she wrote to heart, improving each successive essay.
Nowadays, I do much the same with my own high school students. Knowing I read papers in the order in which they submit them, my 11th-graders scurry off the bus to see who can beat the others to my room, where they write a number on the upper right hand corner of their papers, designating their "place" in the grading order.  More than once I've heard, "Damn, I got here at 7:30 and I'm number 27? Jeez! Next time I'm submitting a day early!"
When I return their "graded" essays to them, they pore over the myriad comments I've scrawled, with hardly a glance toward the score, because they already know I'll allow them to rewrite to improve it anyway. We're like pen-pals: they write to me and I write back.  And that's what it is, really, a dialogue between us, the only one-on-one attention they'll likely get in a class of 25 or 30 others,  where I spend most of my instructional time rushing to cover several dozen state standards in reading, writing, vocabulary and more.
This exchange we share once or twice each month constitutes, in education-speak, "differentiated instruction." But it's so much more. It's an intimate bond during which, for just a few sacred moments, I read only what the student has written. I focus solely and exclusively on the individual's work –and no one else's.  And knowing this, the students, within the confines of these essays, become creative risk-takers. Sometimes they write about things they've never told anyone else, things that they want or need to write about: eating disorders, drug experimentation, date-rape, sexual abuse, an alcoholic parent and so much more in response to these and other topics over the years:
Narrate the story of an important event or episode in your life that impacted or changed you in some significant way.
Describe a place and the people who go there so as to convey the "spirit" of the place, and offer insight into the impact of the place on the people.
Before students get to my class, few, if any, have ever written anything like this, or anything fun, or  something personal about themselves – or in any format other than an expository or persuasive essay. Why? Because those are the only types of essays FCAT tests in the secondary grades.  Hence, teachers are loath to "waste" instructional class time on other types of writing.
But I know better. What I ask kids to do initially scares or frustrates them, but ultimately, writing empowers them, perhaps more than any other academic task.
I've seen kids break into tears of joy upon glimpsing "100" on an essay. "Oh my God!" they shriek. "I did it! I did it! An A! Oh my God! Mrs. Nahirny gave me an A! Mrs. Nahirny, can I call my mom to tell her? I can't believe you gave me an A!"
"I didn't give you an A," I respond. "I'm not that generous. I don't give anything away. You earned an A."
Student writers deserve so much more than an FCAT score. Composing a rough draft under stressful time constraints can't convey an accurate picture of what they can accomplish. Asking teens to write a polished essay in 45 minutes is like handing a sculptor a lump of clay and demanding he create a statue in less than an hour, or giving an artist a pencil and asking her to sketch a captivating image (of a subject someone else selected) on the easel in mere moments. It just doesn't happen.
Given sufficient time to write, proofread and revise, and given clear, consistent feedback and encouragement, students grow as writers–over time.
But don't believe me. Read for yourself.  Linked to this article you'll find a few of the 2,000 essays I read and commented on this school year, written by the more than 150 students I taught. Each piece you'll read has undergone multiple revisions and changes, from the initial draft to final, publishable format.
That's what writing is:  a process, not a race. The prize, after all, isn't a number on a score sheet, but a piece of polished writing which allows readers to respond emotionally. So go ahead and read. You'll probably laugh. Maybe you'll even cry.  I know I did. And my tears were not tears not of sorrow about disappointing FCAT results, but tears of joy, knowing that what I'm doing in the classroom every day does so much more for them than a lonely number on a score report ever will.

Jo Ann C. Nahirny, a 1985 graduate of Columbia University and a National Board Certified Teacher, teaches English at Matanzas High School in Palm Coast. Reach her by email here.