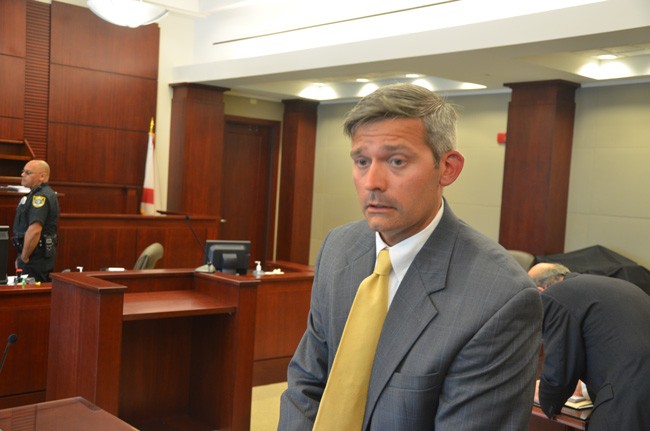 Update: The case against Joshua Knight was dropped later in 2015 and the case expunged.

Josh Knight is an attorney who has represented members of the local Ronald Reagan Republican Assemblies in actions against county government and Palm Coast, both of which a judge deemed frivolous. In both cases, local governments are pursuing Knight and the people he represents for reimbursement of steep legal fees. At 9 a.m. Monday, Knight was in Flagler County Circuit Court Judge Michael Orfinger's courtroom, preparing for the latest in a series of hearings related to the lawsuit against Palm Coast, in which he may be personally liable for half the $18,000 bill the city ran up in legal fees.
Just before 3 p.m., he was arrested and jailed at the Flagler County jail on charges of battery domestic violence and false imprisonment. Knight remained at the jail this morning.
The incident, according to Knight's arrest report, began after 3 p.m., when a Flagler County Sheriff's deputy was dispatched to Knight's home on Faircastle Lane in Palm Coast after police received a call from Knight's father, Dave Knight, who lives in Georgia. Dave alerted police that his daughter-in-law, Josh Knight's wife, had called him to let him know that her husband had been drinking heavily, was out of control and belligerent, and that he'd restrained her at one point, according to the report.
Knight, 36, had torn his wife's clothes and "tried to hold her hostage in a room," according to the arrest report. The deputy separated the couple when he got to the residence and spoke to each separately.
Knight's wife told the deputy that Knight had come home drunk after 2 p.m., "acting angry and aggressive" but denying that he'd been drinking. He allegedly called his wife names, including "Jersey girl trash" and a more brutal expletive (though his wife is Floridian). His wife told him she wanted "out of this" and wanted a divorce. She gathered a stack of linen to put them away. He pushed them out of her hands, then "pushed her out of the bedroom doorway into the bedroom," at which point his wife shut the door and called her father in law.
Knight allegedly refused to let his wife out for 30 minutes, then picked the lock, entered the room and grabbed the phone from her. She ran to the master bedroom to take her purse and other belongings. He followed her, "grabbed her wedding set and other jewelry stating it was not hers," the report states. As he attempted to take the jewelry, he tore her left sweatshirt pocket.
Last year a circuit judge threw out an injunction against Palm Coast that Knight was handling, calling it without merit. The injunction was brought by Dennis McDonald, the Ronald Reagan Assemblies member, two-time county commission candidate and current candidate for State Senate in the Republican primary later this month. The injunction sought to stop the city from allegedly leveling trees in and around Palm Harbor shopping center. After the judge threw it out, Palm Coast sought to recoup some $18,000 in legal bills it had run up, and to pursue both McDonald and Knight equally for the cost. It's not a matter of whether McDonald and Knight are liable for costs, but how much. Orfinger will make that decision shortly.
Knight also represented the obscure group called the Palm Coast Watchdogs, which until now has been made up of one person, Dan Bozza, also a member of the Ronald Reagan Assemblies, in a lawsuit against Flagler County Government. That suit charged that the government's purchase of the old Memorial hospital in Bunnell was improper. A judge threw out that suit too, and the county has since been pursuing Knight and the "Watchdogs" for reimbursement. (Knight at the time said a new suit would be filed against the county, but none has been.) Meanwhile, Knight himself had a difficult year, struggling with health issues that kept him out of action, delaying movement on both legal matters, for weeks last year.
Knight, who moved to Palm Coast about two years ago, had no legal issues in the county other than six red-light camera violations in 2013.