First Baptist Church on Saturday (Nov. 27) overflowed with emotions, remembrances and people at a service for Joshua Crews, the Flagler County native, one-time owner and long-time bartender at Woody's Barbecue who died when his car rolled on U.S. 1 on Nov. 21. He was 34.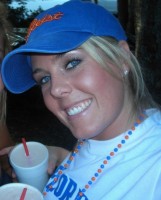 With Josh was 25-year-old Jamie Bly. The two were on their first date. Bly is in critical condition at Halifax Hospital in Daytona Beach "where," a post on a page created for her on Facebook reads, "she is fighting for her life. She is in a medical induced coma. Monday [Nov. 23] she had brain surgery […]. There has been no change (which is a good sign, the swelling has not gotten worse)." A late evening post on Sunday read: "I don't really pray much but [I've] said a prayer for you Jamie today. It hasn't been a very easy week but there is a lot of people out there standing by your side just as Josh did. Stay in there Chica!"
"What we have right here," one of the pallbearers at Josh's funeral said, noting Jamie's battle, "is truly a big family, and right now her family could use a bit of what we have here."
The number of people Josh touched in his brief life was attested by the sheer throngs that turned out at the service and the showing the day before, and by the testimonies he elicited. "I had 26 years with Josh. I don't know if I deserved a day," Jeremiah Mahoney, one of the pallbearers, said. "But I'm not going to trade it for anything."
---
Click On:
Praying for Jamie Bly Page on Facebook
In Memory of Josh Crews
---
---
"I think everyone would agree that Josh cared deeply about everyone he knew," Craig Atack, another pallbearer, said. "It's a way to say that he was a sensitive person. He'd hate to have someone call him that because he was such a tough guy. But he was incredibly intuitive when it came to human behavior."
Joe Rizzo, who owns Woody's with Josh's brother Matt, spoke of his long evenings with Josh, speaking about God–a recurring theme between the two. "I'm going to miss Josh," Rizzo said. "But I'm very happy to know that Josh is going to be with us for eternity, and that I'm going to get to see my friend again."
Pastor Rod Palmer summed it up this way: "God had given him the pub at Woody's to be the pulpit for him to minister and it's incredible how he managed to touch people's lives." Josh was buried later that day at Espanola Cemetery.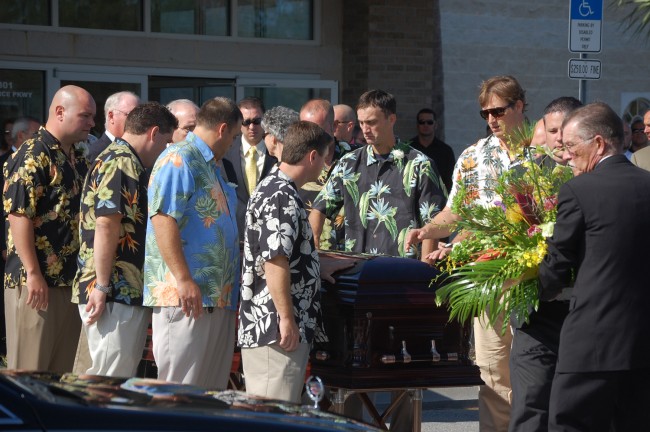 Ben Lacy of Flagler Beach, a friend of Josh's, contributed the following:
A few mornings ago, the news broke of the loss; cell phones rang and text messages beeped throughout town.
Josh and I shared bits and pieces of our childhood together, especially during those middle school years, afternoons over at the Crews' house, playing our own remixed version of Dungeons and Dragons, or weekends at the beach house, running back and forth across A1A to catch waves. Josh with his fins and bodyboard, me with my surfboard. Josh yelling up to me, "hey hana-baby, wait up!" It was the nickname he gave me, Benihana with an affectionate twist.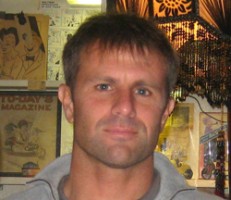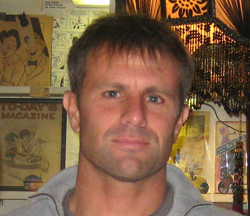 He was gregarious, told stories larger than life, and loved to add "baby" to the end of words he spoke. As kids, both Josh and his older brother, Matt, read through books at a staggering pace, often several books per week. My father, an avid reader, coveted that and always urged me to "do some reading like the Crews boys." Father offered me $10 per book. I read the usual book report stuff for English class – Animal Farm, Old Man and the Sea, To Kill a Mockingbird, Catcher in the Rye – but nothing clicked for me.
Josh on the other hand built relationships around his favorite authors. He tore through every book of each one, sometimes reading the same book over again. This was the case with James Clavell, who Josh idolized and could not stop discussing – Shogun, King Rat, Noble House, Tai-Pan – his infectious excitement over Clavell moved me. I borrowed Shogun, the longest book I'd ever attempted. And there, I found my first love with a novel. Over the coming months I also tore through all of Clavell's books, even Whirlwind his 1,300-page monstrosity that is sub-par to all the rest. Josh and I connected over those books and many more in the remaining years. He held respect for other readers who respected his reads.
In later years, I saw Josh here and there throughout town, at someone's house party, out drinking with friends, over at the beach, at the grocery. I always asked what he was reading, and he'd often turn me onto my next favorite author. Josh was quite a storyteller himself, and he spoke with me at times over the years about his dreams to be a fiction writer. He became glassy eyed and serious discussing it, his desire to write quality fiction. He made attempts and hit roadblocks. We discussed them. One time, I told him that I felt it was his destiny to write a great novel, and he would never feel complete without that.
Last we talked, he discussed Florida cracker historical fiction and told me of a few books to buy in that vein. He knew so many stories, more than anyone I've met. I'm not sure how far he got on his novel, but somewhere in some dresser drawer or closet, there is a gem waiting to be discovered.