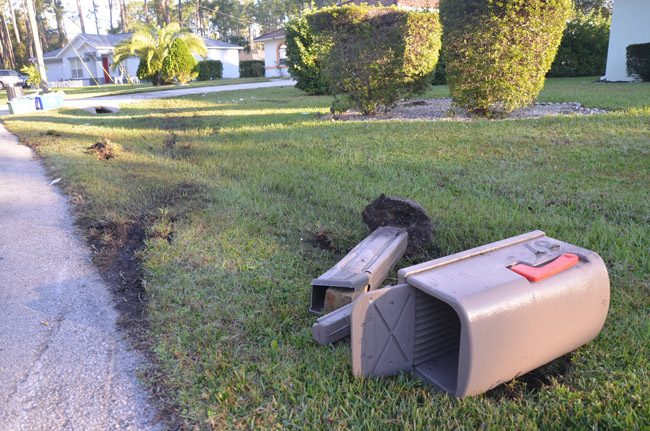 Joseph James Faircloth, a 38-year-old Palm Coast resident who'd married just two weeks ago, was killed in a motorcycle crash on Rickenbacker Drive in Palm Coast early this morning. No one else was involved.
Faircloth was riding his motorcycle north on Rickenbacker, off of Royal Palms Parkway, when he failed to negotiate a left curve just past the south intersection with Rippling Brook Drive. A single skid mark traces a straight line of some 20 to 30 feet into the mailbox in front of 87 Rickenbacker. Faircloth, according to a Florida Highway Patrol investigation, struck the mailbox, uprooting it off its foundation, and continued into the next yard at 85 Rickenbacker, where he came to rest partly on the driveway, partly in the grass. The motorcycle ended up on the driveway.
He was not wearing a helmet. FHP has not yet determined if alcohol was involved.
According to 911 notes, the crash was first reported at 42 minutes after midnight, when witnesses reported that there'd been a "lot of motorcycle riding around the neighborhood," and "debris everywhere" at the scene of the crash. For the first couple of minutes those reporting the crash spoke confusedly of the scene and were not able to locate the victim. At 49 minutes after midnight, dispatchers learned that the victim was "unresponsive," with severe head injuries. He was not breathing.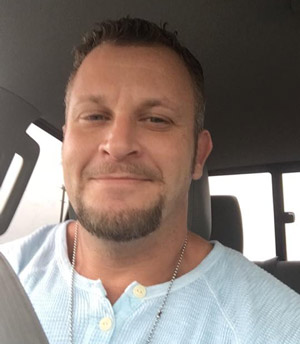 Volusia's Air One, the emergency helicopter, was placed on standby. But a paramedic pronounced Joseph Faircloth dead at 52 minutes after midnight.
The preliminary investigation determined that based on Faircloth's wife's account, the couple and some friends had been out that night to different bars and venues. They'd started at the Harley Davidson place off U.S. 1 in Ormond Beach, then gone to a bar in Bunnell, then to Smiley's in Palm Coast, before heading home. Faircloth was on one motorcycle, his wife on an other, and friends were following in a car. They were heading home to Faircloth's mother's house on Ripcord Lane, where he and his wife were staying.
At one point Faircloth took off to go ahead on his own. When his wife got home, he wasn't there. She went back out to look for him, and found the crash site.
The preliminary investigation also uncovered that he'd been driving on a suspended license for failure to pay a traffic fine by April 26 and failure to appear in court on May 29.
According to his Facebook page, Faircloth was a general manager at a Subway restaurant and had previously worked as a manager at River Grille on the Tomoka in Ormond Beach.
The Palm Coast Fire Police shut down both intersections of Rippling Brook Drive with Rickenbacker for the next several hours as the Florida Highway Patrol's Pete Young, a traffic homicide investigator, took over the scene until just before 4 a.m. Flagler County sheriff's deputies, the Palm Coast Fire Department and Flagler County Fire Rescue had also responded to the scene. Deputies had to keep several passers-by away from the scene as the body of the victim was not immediately removed by the medical examiner.
The motorcycle was towed by Roger's Towing of Bunnell. It was the first motorcycle fatality in the county since November 2017, when a motorcyclist was killed at U.S. 1 and Old Dixie Highway. It was the 13th crash this year that resulted in a fatality–a considerably lower number than last year, which was more than double that.