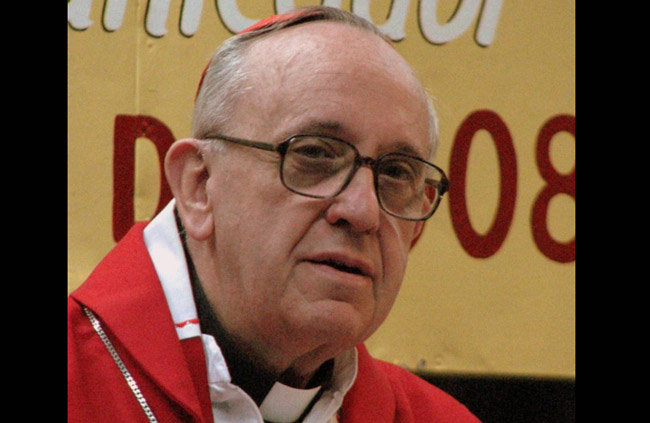 Catholics have a new pope, and it's 76-year-old Jorge Mario Bergoglio, Archbishop of Buenos Aires–the first-ever South American pope, the first non-European pope (since Columbus, anyway, as Jim Flahrety corrected), and the first-ever pope to name himself Francis (Francis I), after St. Francis, patron saint of the poor. He is the 266th pope, and far from the first-ever to have been born closer to the 19th century than the 21st.
Finally, nevertheless, a pope we can (somewhat) believe in, though he has a very long road ahead to restore much of the church's respectability in light of the pedophile scandal (Cardinal Roger Mahony of Los Angeles, astoundingly, was among those casting votes for the new pope despite his scabrous role in protecting child-raping priests), in light of its still-enduring and discordant wealth, in light of its still-enduring and ridiculous discriminations against women, and in light of its lacking embrace of the Americas' Catholics, north or south. All this to do in what may prove to be another abbreviated reign. The church appears incapable of getting over its fetish for doddering eminences who should be making room for leaders half their age.
This unsmiling pope has an oversize reputation for humility and popularity. He's the sort of man who took mass transit to go to work (and held audiences with commuters on their way to work). He's the sort of man who dispensed with the trappings of cardinals (big residences, ostentatious offices). He's the sort of man who, after all, picks Francis for a name, the Francis of Assisi who felt more comfortable chattering with animals than human beings. The Francis of Assisi who, to the dismay of oil companies everywhere now that he's breathing pontifical breadth (if not breath), is the patron saint of the environment. A few Greenpeace activist must right now be converting back to Catholicism. (Let's see how long it'll take Marco Rubio, patron saint of opportunists, to jump on the Bergoglio bandwagon and milk its Hispanic expediencies).
The announcement was still made in Latin, as it always has been, when it could more interestingly and daringly have been made in Spanish in recognition of the church's majority language. Maybe it's asking too much too soon. But nothing short of doing too much and quite soon can reverse the church's decline (not just its priest shortage, but its credibility shortage). Catholicism is neither hip nor relevant, the John Paul-Benedict versions of Catholicism especially. Those versions were distinctly reactionary and hurtful to masses of people who, looking for guidance from their spiritual leaders, got idiotic lessons instead, most notably in Africa, where the John Paul-Benedict years have as much to account for over the Aids holocaust, which they did nothing to combat, as did Pius XII during the Shoah. And let's not get into matters of contraception, homosexuality, transparency. The Vatican bank operates as if it was still 1226.
In Latin America meanwhile, the Church knows that its greatest challenge isn't money or faith. It's competition. Evangelicals have been piling up converts by the drove, not least because the Vatican has seemed as removed geographically as it's been politically and spiritually. The Vatican's inane rejection of liberation theology in the 1980s did it no favors. Rather, the rejection highlighted the desiccated institution it had become, more comfortable accommodating and exercising power, or apologizing for it, than tending to power's victims.
Latin America has had its share. Argentina had its disproportionate share, and this pope will have to answer for some of his past, given his possibly too silent relationship with the junta of the 1970s that repressed, massacred and disappeared Argentines by the drove. The choice of Francis becomes more and more revealing, if not more potent. On the other hand, every time Brazil will boast about hosting the next World Cup, Argentina will say it has its own pope. (Argentina won the World Cup in 1978, the only time it hosted it, under the murderous gaze of junta members. It's doubtful that the officiating was more democratic than the latest conclave in Rome.)
As for St. Francis (to whom we owe not only the talking fish, but, if Wikipedia is to be believed, the first Christmas manger scene), Valerie Martin wrote a wonderful portrait for the Atlantic in August 2000. The full version is available here.
–Pierre Tristam