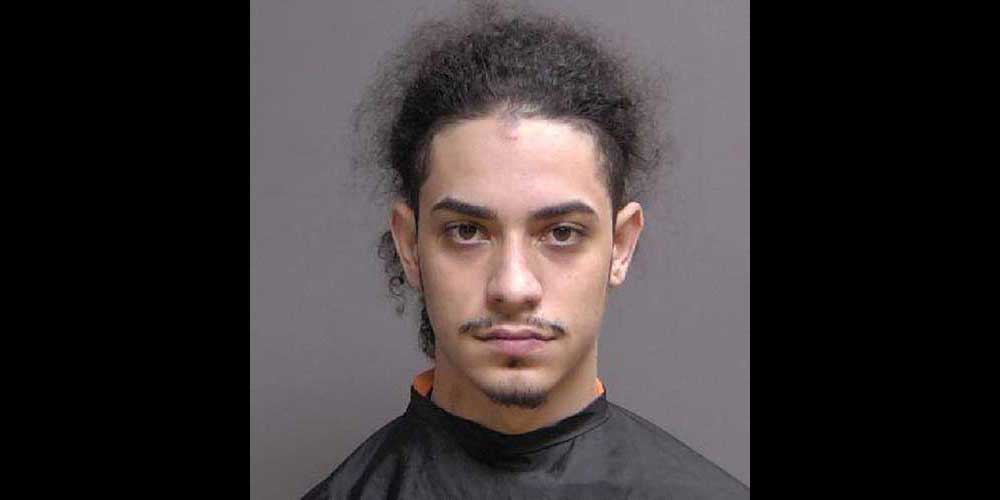 Jordan Munoz, a 21-year-old resident of 20 Blackwell Place in Palm Coast, was booked at the Flagler County jail last week on a felony charge of aggravated assault and two lesser charges after allegedly firing his gun in the open air during an argument with his girlfriend outside the house on Blackwell, a heavily residential area in the Woodlands.
Munoz and the woman had been dating for three weeks. The woman told a Flagler County Sheriff's deputy that on Jan. 11, Munoz had been rifling through her phone in a fit of jealousy about her communicating with another man. She wanted to leave the house, but Munoz would not give her back her phone.
She said he called her names and shoved her out of his bedroom, knocking her backwards. As the woman was walking out the front door, she said he "shoved her" from behind. She sat in her car but did not immediately leave, not having her glasses or contact lenses. Munoz, she said, then came outside screaming at her to get off his property, then sat on the trunk of his white BMW.
By then the woman had recovered her phone and was calling someone to pick her up. Munoz "stood up from his trunk and kicked the front of her vehicle," his arrest report states, then "pulled a dark colored handgun from his waist band, pointed it to the sky and fired a single shot into the air." Munoz went back into the house, and the woman drove out to a Circle K. The incident was reported to the Sheriff's Office by a neighbor who heard the argument and the gunshot.




Responding deputies set up a "containment" perimeter around Munoz's house and detained him when he walked out to go to friend's house. A single .40-caliber shell casing was recovered from the property. Sweeping the property, deputies also found a Spike's Tactical ST15 rifle in a bedroom, a Glock 23, and a small black Springfield Hellcat. The Glock was taken into evidence.
In addition to the aggravated battery charge, Munoz was charged with domestic battery and firing a gun in public, each a first degree misdemeanor. Last year, he was the subject of a temporary injunction.
In 2021, when he was 19, Munoz was the subject of a strange arrest: he had been riding his dirt bike in Palm Coast's L Section, and doing wheelies. "As he was doing this, he was staring at my patrol vehicle with agency decals on both sides of the vehicle," a sheriff's deputy reported, prefacing what would end up being Munoz's arrest on fleeing and eluding charges. "As he passed me on London Drive while I was still at the stop sign, he continued to look at me. I made a Westbound turn onto London Drive to attempt a traffic stop on the dirt bike."
The deputy also mentioned that the bike had no license plate. But dirt bikes are not required to be registered in Florida. Nor is it illegal to do wheelies. Nor is it illegal to look at a sheriff's deputies, whether the deputy's car has decals or not. The deputy reported that Munoz "failed to stop" at a stop sign, and kept biking off after the deputy turned on lights and siren.




Munoz was charged with fleeing and eluding and reckless driving. The State Attorney's Office initially filed a fleeing and eluding charge, a felony. In a plea, the charge was reduced to reckless driving, to which Munoz pleaded, and adjudication was withheld. He was sentenced to six months on probation.
Reader Interactions