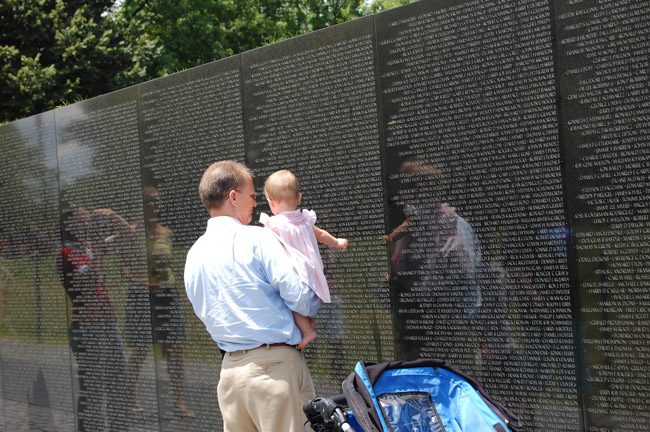 It isn't often that a conscientious objector who refused to carry a rifle in the thick of battle is the decorated hero to be recognized at a Memorial Day ceremony.
So it will be Monday when Private First Class Jonathan "Nat" Spicer, U.S. Marine Corps and former Flagler County resident and Bunnell High School student, is recognized for the Navy Cross for Courage Under Fire, awarded Spicer posthumously: he was killed in 1968 at the Battle of Khe Sanh, the fiercest of the Vietnam War. He had been a medic.
Several Memorial Day ceremonies are scheduled for Monday across the region. The events have been staggered, making it possible to attend each one–at 8 a.m. in Palm Coast, 10 a.m. at the county seat, and 1 p.m. in Flagler Beach.
Memorial Day has come to mark the beginning of summer, with barbecues, major retail sales and car races. That was not the intention. It is a Civil War-era holiday started by a Union soldier in remembrance of war dead. It had been preceded by Decoration Day, when the graves of civilians and soldiers alike were decorated with flags and flowers. It was only in 1971 that Memorial Day became a federal holiday. At the time, Congress set the date to remember the nearly 600,000 Americans who had died in what, until then, had been nine major wars and innumerable minor ones.
American soldiers have since been involved in wars in Grenada, Lebanon, Panama, Kuwait and Iraq in 1991, Iraq again starting in 2003, Somalia, the Balkans, Afghanistan, Libya, and now Syria.
Flagler County will mark Memorial Day starting at 10 a.m. in front of the Government Services Building in Bunnell, with Spicer's memory at center stage.
Marines sustained a 75-day siege at Khe Sanh in 1968, lost some 205 men, but inflicted casualties on the North Vietnamese forces at a ratio of between 50 to 1 to 75 to 1. The battle ultimately had little strategic value for either side, and the so-called "riddle of Khe Sanh" was never answered.
Gregg Jones wrote a detailed account of Spicer's last days in "Last Stand at Khe Sahn," a vivid account of the siege, which had begun in January.
"By early March, one of the most valued members of Finnegan's Charlie Med team was a slight, nineteen-year-old preacher's son from Florida. Private First Class Jonathan Nathaniel Spicer served as a stretcher bearer, carrying wounded Marines from arriving helicopters or ambulances to the Charlie Med triage area and then shuttling stabilized casualties to the helicopter pad for evacuation–all under enemy fire. Spicer had earned a reputation for bravery and selflessness, shielding the wounded with his own body as enemy shells rained down.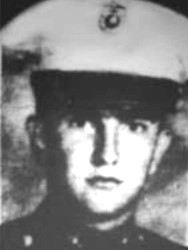 "After all that Spicer had done to prove himself, it was easy to forget the controversy that had accompanied his arrival at Charlie Med a month earlier. The trouble had started when he arrived at Khe Sanh and refused to carry a rifle in his assignment with the supply unit of Bravo 1/26. Spicer explained that he was a conscientious objector and couldn't kill anyone. He had loved animals growing up in Florida and had hoped to be assigned to a canine unit when he joined the Marines. But Spicer was designated a rifleman, and at every stop in the Marines, he was told to take up his claim of conscientious objector status at his next duty station.
"Spicer heard that line all the way to Vietnam, and the next thing he knew, he was in Bravo Company, enduring torment from his comrades for his pacifism, his Bible reading, and his rejection of the rough language that was a rite of passage in the Marine Corps. Spicer sought out Protestant chaplain Ray Stubbe at Kha Sanh in late January, and Stubbe came away from their conversation convinced that the Florida teenager was for real. He arranged for Spicer to be attached to Charlie Med as a stretcher bearer.
"Spicer was only about five foot seven and 140 pounds, but he impressed everyone at Charlie Med with his courage and hard work. He was pleasant and soft-spoken, fond about talking about the home and family he missed. He had written the name of his girlfriend–Carla–on his helmet. He felt bad about his time at Bravo Company and wanted to prove he wasn;t a coward. But he wasn;t going to fight, even if the [North Vietnamese Army] overran the base. 'I don't have any problem with dying,' he would say to ambulance driver Danny Sullivan. 'But I will not kill anyone.'
"On the afternoon of Friday, March 8, medevac flights arrived at the Kha Sanh helicopter pad during an intense North Vietnamese bombardment. Spicer and other stretcher bearers headed into the fire with litters loaded with wounded Marines and carried them aboard the waiting aircraft. Spicer had gotten his wounded aboard and had dashed back to get the final casualties out of the shell fire and onto a chopper. A mortar round burst among the knot of stretcher bearers and casualties, and shrapnel sliced into Spicer's chest, face, and legs. He had left his flack jacket unzipped, and a small metal fragment found the opening and pierced his heart."
Spicer held on for six days before he died.
On Monday, family and friends of Spicer will place a memorial wreath at the Veterans Monument in front of the Government Services Building. Golden Sands chapter of the Girl Scouts of America will place a Daisy Wreath at the monument. Flagler Palm Coast High School students will sing the national anthem. Randy Morris, a boyhood friend of Spicer's, will read the commendation, which notes: "Completely disregarding his own safety, he continued to expedite the loading of the wounded aboard the aircraft, despite the increasing intensity of the attack, and was the last man to seek shelter in a bunker at the edge of the air strip."
The Memorial Day ceremony will also feature U.S. Navy veteran Dr. Tracy Hejmanowski of Jacksonville Naval Hospital as the guest speaker. In her nine years as the Program Manager of the Naval Hospital Jacksonville Deployment Center, Dr. Hejmanowski has provided individual, group, and couples therapy for chronic operator fatigue and post-traumatic stress related conditions and has provided innovative alternative treatment modalities to military members from all service branches and components.
---
"His selfless actions undoubtedly prevented serious injury or possible death to his fellow Marines and were an inspiration to all who observed him."
---
There will also be a 2K Run/Walk immediately following the ceremony. It is supported by the Flagler Sheriff Police Athletic League. Prizes will be issued for the most-patriotic attire. The event is sponsored by the Flagler County Commission and the Flagler County Veterans Advisory Council. Participating groups include American Legion Post 115, Amvets Post 113, DAV Chapter 86, Italian American War Veterans Post 7, Jewish War Veterans Post 300, Marine Corps League 876, Military Officers Association of America, Military Order of the Purple Heart, Flagler County Veterans Service Office, VFW Post 8696, and the Knights of Columbus 2264 Color Corps.
Earlier that morning, at 8 a.m., Palm Coast government will hold its traditional Memorial Day Ceremony at Heroes Memorial Park, 2860 Palm Coast Pkwy. NW, Palm Coast (1/2 mile west of the Flagler County Library). Parking is available along Corporate Drive and at the Library.
Guest speakers at the ceremony will be House Rep. Paul Renner and U.S. Rep. Ron DeSantis, Edward Beier of American Legion Post 115, and Palm Coast Mayor Milissa Holland, with the presentation of colors by Coastal Florida Police & Fire Pipes & Drums and the Palm Coast Fire Department Honor Guard. The Community Chorus of Palm Coast will perform The Star-Spangled Banner and also offer a musical tribute of Song for the Unsung Hero.
In Flagler Beach at 1 p.m., the ceremony will take place at Veterans Park and feature Raymond A. Parker, 1st Lieutenant, U.S. Army (Ret.), the Military Officers Association of America, Disabled American Veterans, Chapter 86, and Flagler Palm Coast High's JROTC. The featured speaker is Major General Jack Leide, U.S. Army (Ret.)
All government offices, schools and banks are closed Monday.
"On balance, there is something to remember this Memorial Day that is not entirely depressing," the columnist James Reston wrote in 1971, the year the date became a federal holiday, and a year when 2,400 Americans and perhaps 20 times that number of Vietnamese were killed in Vietnam. "Underneath the troubled waters on the surface of the earth there are some deeper tides running, and many of them are running toward better communications and more serious conversations on the great issues that divide mankind."
That optimism may be difficult to echo today.

Jonathan Nathaniel Spicer: The Full Citation for His Navy Cross:
For extraordinary heroism while serving with Company C, Third Medical Battalion, Third Marine Division in the Republic of Vietnam on 8 March 1968. During an intense enemy rocket, mortar and artillery attack against the Khe Sanh Combat Base, Private Spicer unhesitatingly volunteered to serve as a stretcher bearer and assisted in embarking the numerous casualties aboard transport helicopters for evacuation. Completely disregarding his own safety, he continued to expedite the loading of the wounded aboard the aircraft, despite the increasing intensity of the attack, and was the last man to seek shelter in a bunker at the edge of the air strip. Observing a mortar round exploding near an evacuation helicopter loaded with casualties, he unhesitatingly left his position of relative safety to assist the wounded who were unable to move from their exposed position. Moments later, another round exploded within a few feet of Private Spicer, seriously wounding him, as he shielded a Marine from the blast with his own body. Unable to walk, he warned his comrades to remain in their protective positions while he attempted to crawl from the hazardous area to safety by himself. His selfless actions undoubtedly prevented serious injury or possible death to his fellow Marines and were an inspiration to all who observed him. By his dauntless courage, unfaltering determination and selfless devotion to duty at great risk, Private Spicer upheld the highest traditions of the Marine Corps and the United States Naval Service.