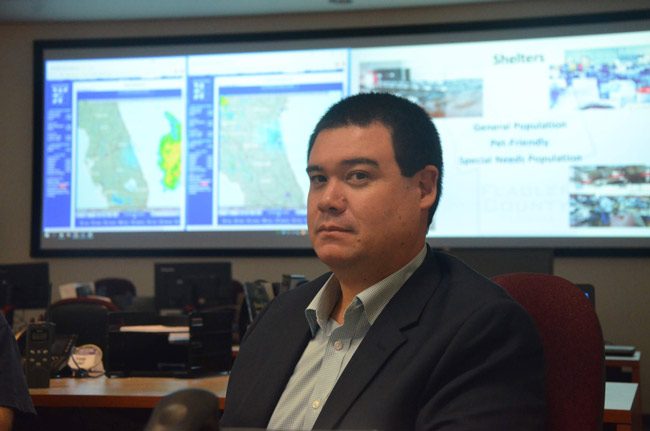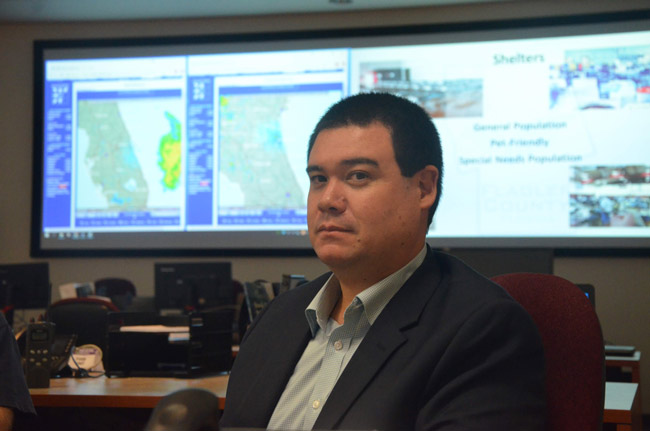 Jonathan Lord doesn't much care for terms like "hurricane season." Nor is he inclined to think of his role as somehow heightened between June 1 and Nov. 1, the Atlantic hurricane season. For that matter, he doesn't even put much stock in those annual projections of how many storms will develop and how many will have names like "Beryl," "Chris," "Debby," "Kirk" and "Nadine" (some of this year's picks), though this year's projections range from six to nine hurricanes and 12 to 16 named storms, depending on which agency is making the projection.
"At the end of the day those numbers mean nothing to me, absolutely nothing, because it takes only one storm," says Lord, Flagler County's relatively new emergency management chief (he started in January). He sees June 1 as "just a random date," not just because storms can take place before and after the season's brackets, but because in places like Flagler, focusing on hurricane season is itself a hazard to habits of awareness.
There's also spring's fire season and potential tornadoes. There's winter's nor'easters, which have taught the region's shore a few unhappy lessons in the past two years. There's potential flooding any time of year. In other words, rare is the time of year in Flagler's calendar when weather is an entirely benign force.
That's what Lord is trying to impress on his audiences as he spends these weeks speaking with local governments, civic groups and, last week, with local media, making good on his promise back in January to establish all sorts of "relationships" during the quiet times. Those relationships will pay dividends when his emergency management operation may be activated: emergency management is all about co-dependence and coordination. It is responsible for coordinating the message and preparation ahead of a disaster in the making, the response by various agencies as it hits, and the recovery afterward. (See the video at the foot of the article for a short, clear explanation of emergency management.)
The overwhelming majority of people in any community have nothing to do with emergency management. When a disaster nears or strikes, their responsibility is to be prepared either in their homes or with an evacuation plan, and to follow whatever directions emergency management provides up to and including a required complete evacuation.
To that end, Lord has been emphasizing "awareness." He wants residents and businesses to be most of all prepared to hunker down if there's a repeat of the last two years' hurricanes (Matthew and Irma left Flagler without power for days as FPL, particularly after Irma, focused its reparative attention elsewhere). He is de-emphasizing shelters as anything other than an option of last resort, preferring instead to direct people to find shelter elsewhere with family or friends, or to have the supplies to stay in place.
And he wants residents not to fall prey to the trappings of armchair weather forecasting (a bugaboo with Bob Pickering as well: Pickering is emergency management's weather specialist.) Just because a hurricane is downgraded to a Category 3 or 2 doesn't mean that its impact won't be very severe. Every storm has different characteristics, Lord says: a hurricane can be all wind and little rain, it can stay offshore but devastate the shoreline (as was the case with Matthew), it can be a tropical storm by the time it reaches Flagler (as was the case with Irma) but drop torrential rains and leave swaths of the county flooded, as Irma did in Flagler Beach and the west side of the county–so much so that Flagler Beach's property valuations this year have increased at half the rate of those in Palm Coast, Bunnell and the rest of the county because so many houses damaged by Irma had to be taken off the tax rolls for a period.
That's what makes emergency management's role key for residents: its directives are calibrated not just to the sort of storm that develops in this part of the hemisphere, but to the specific effects of that storm on Flagler particularly–a level of detail you'll never get from the Weather Channel's talking heads. Emergency management doesn't make forecasts, but it applies the National Hurricane Center's forecasts to Flagler to decide, for example, if and when the area must be evacuated, keeping in mind that it takes about 15 hours to evacuate the Barrier Island alone. And as much as officials loathe evacuations, if it comes to that there's generally no hesitation to issue the order. "It's much better to evacuate and say, you get to go back home, nothing happened," Lord said–much better than the alternative, that is.
Short of evacuations, the goal when a hurricane or a tropical storm is about to hit is to have everyone in a safe place before it hits–including first responders. When winds hit 39 mph or higher–well short of hurricane force winds, which don't kick in until the anemometer shows speeds of 74 mph or higher–first responders, including police and firefighters, no longer respond to emergencies. The Flagler Beach Bridge is closed to traffic. Anyone in trouble is on his or her own until the severest winds pass. That means everyone will have had to be either safely out of the region, safe at home or in a shelter.
Another lesson of the past two years' storms: having just three or four days' supplies at home won't cut it. Not when FPL won't restore power for a week or more. So the word is now to be prepared for a week's power outage or more. It's not only FPL's fault: "A lot of parts of Florida love to be tree cities," Lord says, not least among them Palm Coast, "but trees and power lines aren't the best of friends."
"It's not just power restoration," Pickering says, "they're actually doing power rebuilding." (Along those lines, Lord and Pickering implore residents to be careful when hooking up their homes to generators, which Pickering calls "double-edged swords." They're great for comfort. But "every time there's a storm, somebody dies" because of a generator mis-placed or mis-wired, Lord says.
Lord has known emergency management from many angles, including state management. He's been a volunteer Emergency Medical Technician, an EMT, a department of health officer and EMS chief, he's been the emergency management coordinator for Miami-Dade County, and was the planning section chief during Hurricanes Katrina and Wilma. He's managed the division's public safety branch and assistant director of the county's entire emergency management department before becoming deputy director of Florida's Division of Emergency Management, where he oversaw the statewide response to Hurricanes Hermine, Matthew and Irma firsthand.
So when he keeps calm as he talks about disaster preparedness, it's not a pose. It's from experience. No gung-ho attitudes from this guy, no projections of nervousness or fear or even undue urgency: just awareness and preparedness.
Is Craig Coffey, the county administrator who's notoriously micromanaged Flagler's emergency management over the past few years, giving Lord and his vastly superior experience in the field room to maneuver? "I feel it's an appropriate amount of independence," Lord says. "He provides me plenty of rope to get myself in trouble, but I don't."
Coffey, Lord says, is letting Lord increase the size of the department and apply his philosophy: "I don't want it to be about just hurricanes anymore."