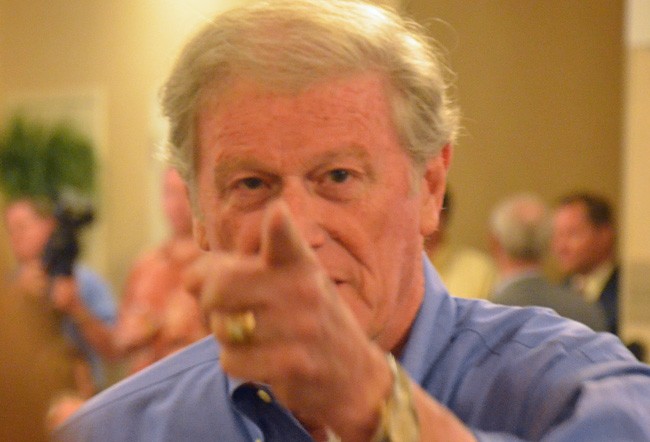 Florida State University President John Thrasher already was one of the most-influential political figures in the state before taking his current post. A former state House speaker and chairman of the Republican Party of Florida, he became the leader of his alma mater last year, after a tumultuous selection process.
An attorney, Thrasher began his political career on the Clay County School Board, rising to become its chairman. He entered the House of Representatives in 1992 and became speaker in 1998. He is widely credited with helping establish FSU's College of Medicine, which is housed in a building named for him. After leaving the House, he became the first chairman of the university's Board of Trustees and co-founded Southern Strategy Group, one of the capital's most-successful lobbying firms. In 2009, Thrasher was elected to the state Senate and was subsequently re-elected, serving as chairman of the Rules Committee.
Thrasher has close ties to former Gov. Jeb Bush, whose presidential campaign he supports, and was chairman of Gov. Rick Scott's re-election campaign until being tapped to lead FSU in September 2014.
The News Service of Florida has five questions for John Thrasher:
Q: You seem to be having the time of your life. Is this the dream job? What are you trying to accomplish at FSU?
THRASHER: It truly is. You know, in my wildest dreams — two years ago, three years ago, 10 years ago — I never, ever thought I'd have this opportunity. It's the job of a lifetime. It's probably the last job I'll ever have, and it's certainly the most exciting job I've ever had. It's fun, it's challenging. I'm around brilliant people every single day: our staff, our faculty and our students, who are incredibly gifted students, now coming into Florida State University. So every day's a fun day. I get up anxious to be here and blessed to be here, to be honest with you. I'm really happy about it. My wife and I are both thrilled to be here.
A lot of (what I'm trying to do) is a carryover from past administrations, Sandy D'Alemberte, my great friend, and T.K. (Wetherell) and Eric (Barron). … You know, we want to move Florida State ahead. We want to make the diploma that our students get when they leave here and hopefully go out and get a job more valuable than it is today, for us and certainly for future generations.
You do that by raising the excellence of the university. You do it by ensuring you have a great faculty, great research facilities. And you ensure it by having good students. And like I said, we're having some of the brightest students that we've ever had come to FSU. In fact, our last freshman class was probably, in terms of grade-point averages and SAT scores, the highest we've ever had in either of those categories. We know it's a great destination for a lot of students. We had 22,000 applications last year for about 6,000 slots. Florida State's doing extraordinarily well, in my opinion.
(Anything special on your to-do list?) Yeah! To get into the top 25 of public universities. You remember, I guess three years ago, when I was still in the Legislature, the Legislature adopted the legislation that created the preeminent universities — us as well as the University of Florida. And they want us to raise our standards. They want us to raise our profile. For us, it means trying to get into the top 25 of public universities (and) for the University of Florida to get into the top 10. Because of the metrics that they've established, we get some extra funding if we meet those metrics, and we've done it every single year, we're going to continue to do it, and hopefully it will continue to raise our ability to get into the top 25.
Q: Your opposition to guns on campus arises, at least in part, from a personal connection. How did the shooting at Strozier Library affect you, especially coming so soon after you took the job?
THRASHER: It rocked me to the core.
You know, you have a lot of things in your playbook. I kind of had the first 90, 100 days mapped out, what I was going to try to accomplish, the things I was going to try to do, and I did a lot of them still, but … that happened 10 days into my presidency. And it shook us all, it clearly did.
We recovered, I think, quickly, because of the response, first and foremost, of our first responders right here on our campus. Our friends at Tallahassee Police Department also were very helpful. I think we handled it as positively as we could. The kids responded well. And of course, the one young man who was most seriously injured is still here on campus, albeit he's got some serious physical problems, but we have worked with he and his family, and we're optimistic he's going to graduate from Florida State University in the next few years.
(The campus-carry bill is up in both chambers tomorrow.) Look, I'll just give you my bottom line. I've researched it with our police department, other law enforcement folks, I've talked to other presidents in the university system, other people who are involved and care about our university system. I think all of those folks almost to a totality — 100 percent — agree that having more guns on our campus does not make our campus safer.
We live in a different environment where, if you look at the footprint of this campus and you see where this campus is and where it goes, and then you look at the outskirts of it, there are multiple places to be served alcohol, there are multiple types of high-risk behaviors that go on at universities when you have 42,000 students.
I frankly think it's just a mistake to do it. I've said that. I'm going to continue to say it. I believe in the Second Amendment. I supported it when I was in the Legislature, but I think there certainly are reasonable exceptions. This is one of those.
Q: When you became president, you had critics who argued that you'd be a threat to academic freedom at FSU. Fair or unfair? How has that played out?
THRASHER: I'm not going to comment on whether it's fair or not. Perceptions are perceptions people have of you, and … Look, what I've tried to do is, I've tried to reach out to the faculty. In fact, we've worked closely with many segments of our faculty. We've worked closely with our union friends, and this year, were able to complete our union negotiations on salaries — for our union, for our police department, for our graduate assistants and for other employees — before the first class started. I'm very proud of that. That was something I had talked about in my interview process. We have, certainly, some equity issues in our salary structure. We addressed some of those. We're not totally there. But I think they're respectful of the fact that I said what I was going to do, and I did it.
Obviously, there may be some people out there that still feel differently, but I feel like the feedback I'm getting is positive feedback, and I'm not looking in the past, I'm looking ahead.
Q: We agreed not to talk about Florida A&M University's governance woes. But you're a key player in FAMU's past, present and future — what do you say to those who fear your agenda is to subsume FAMU into Florida State?
THRASHER: Bottom line: I want FAMU to be successful. I want them to be as successful as any other university in the system. Whatever we can do, working with them in the (FAMU-FSU) engineering school, other things that we share, other things that we do together, I want them to be successful, and I look forward to continuing to work with them.
Q: U.S. Sen. and presidential hopeful Marco Rubio just told an Iowa radio station that "there has to be a school where people that can't get into (the University of) Florida can go to college, so that's why we have Florida State." Many Seminoles objected, but you bantered back, telling the Tallahassee Democrat that Rubio could be "frustrated by his low standings in the polls, which I believe could be a reflection of where he got his education." That would be Florida.
THRASHER: He was, I think, feeling his oats a little bit, out in Iowa. It was on a sports program, and I get that. I think Marco's a very gifted young man, no question about it. But our folks took a little bit of exception to what he had to say. You know, maybe they're over-sensitized about the Florida-FSU relationship over so many years. So I had to respond back, and I hope he takes it in the spirit in which it was given. … It's all good fun. He's a good man.
–Margie Menzel, News Service of Florida