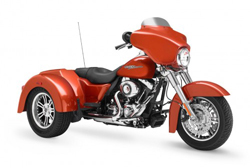 John Russell Tucker, 76, was riding his new, three-wheel Harley-Davidson motorcycle north on I-95 Monday afternoon when, changing lanes, he lost control.
The wreck took place at mile marker 295.5, some four miles north of the Palm Coast Parkway exit, at 4:30 p.m. "The vehicle traveled into the median and struck a guardrail," Lt. Bill Leeper, Florida Highway Patrol spokesman said. "The driver was ejected off the bike and was taken to Florida Hospital where he was pronounced dead."
Tucker, a resident of Jacksonville, was wearing a helmet.

Pregnant Woman Ticketed After Wreck
In a separate incident on Tuesday, around 4:45 pm on US 1 south and Whiteview Parkway, a 2003 Chevrolet 2-door driven by Tamara Sue Megee, 41, of Palm Coast, collided with a 1999 Harley-Davidson motorcycle driven by Keith C. Evans, 51, of Palm Coast.
According to Leeper, "the Chevrolet pulled out from White View Parkway in front of the motorcycle, which was headed northbound on US 1. The bike slid in to the Chevrolet, causing road rash injuries to the motorcycle driver."
Evans was transported to Florida Hospital Flagler. Megee is pregnant and was taken to Florida Hospital for observation. She was ticketed for violation of right-of-way, Leeper said.
Other Recent Traffic Fatalities: