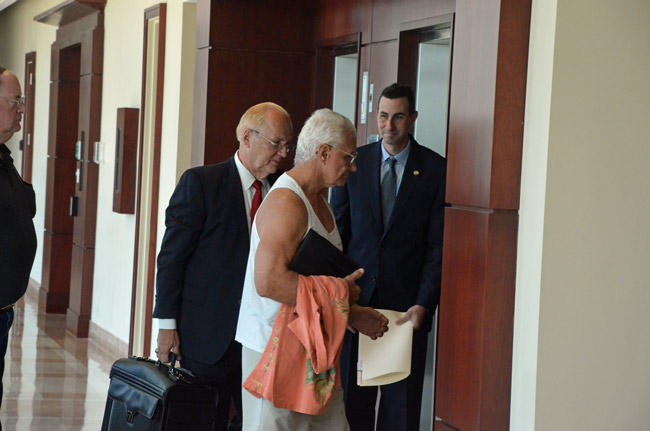 "A fucking phony."
That's what John Ruffalo, a founding member and current first vice president of the group known as the Ronald Reagan Republican Assemblies, allegedly called Flagler County Commissioner Charlie Ericksen today outside a courtroom at the Flagler County Courthouse, prompting Ericksen–who was concerned for his safety–to report the incident to sheriff's deputies.
The alleged incident took place two months after another Reagan group member, Mark Richter, resigned after sending an obscene email to local media. Richter is running for the county commission against Ericksen.
Ericksen and Ruffalo were at the courthouse in anticipation of the first pre-trial hearing in the case of Kimberle Weeks, the ex-elections supervisor facing 12 felony counts on charges she illegally recorded various individuals, among them Ericksen, without their knowledge.
"I was walking down here, I saw him sitting here," Ericksen said this afternoon, describing the long and wide corridor outside the fourth-floor courtrooms at the courthouse, where a few benches face entry to each courtroom. "He just gave me this blank stare." Ericksen checked the door to one courtroom. It was locked. He checked the door to another, and somewhere along the way Ruffalo, Ericksen said, let out the expletive.
Ruffalo and Ericksen are both in their early 70s, but Ericksen says he's aware of Ruffalo's history. (Ruffalo three years ago allegedly used force against a 72-year-old woman and fellow-Republican to prevent her from coming into a Republican headquarters in Palm Coast.)
"He was ready to say something else," Ericksen said. "I said: do we need to call the sheriff or something, and he said no, so I just went downstairs and made a record of it." Ericksen spoke with the sheriff's sergeant supervising the bailiffs at the courthouse.
Ruffalo was sitting next to Duane Weeks, husband of Kimberle, who had his own run-in with a county commissioner last September. Kimberle Weeks herself did not show up: she filed a waiver of appearance.
"I guess I'm a phony because I didn't do everything they told me to do," Ericksen said. He had been a member of the Reagan assemblies several years ago, before he was elected to the commission. He broke away, as did Palm Coast council member Bill McGuire, after disagreeing with the group's tactics.
Ruffalo did not return a call to his home. Ruffalo was in the news earlier this week as the author of two new ethics violation allegations he filed against County Attorney Al Hadeed (who was in court today, sitting across from Ruffalo) and Commissioner Barbara Revels.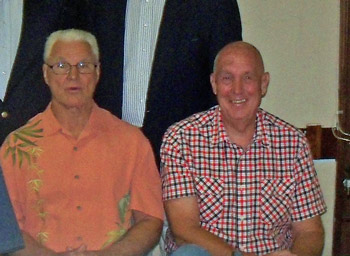 Absent a plea from Weeks, which was not expected–at least not this early in the process: Weeks's history is such that she has tended to stretch out her confrontations until the last minute when, facing a losing situation, she makes a deal–the pre-trial was likely to be uneventful. And it was.
There was confusion about when it was scheduled. The court docket listed it as 9 a.m. It was, in fact, either set for or continued to 1:30 p.m., when it actually started. Circuit Judge Margaret Hudson, who is replacing Judge J. David Walsh in the case (he recused himself), introduced herself, as did the prosecutor, Assistant State Attorney Jason Lewis, and Weeks's attorney, Joerg Jaeger of Orlando.
They all agreed to hold another pre-trial conference on Oct. 23 at 1:30 p.m., as various matters have to be worked out between now and then. "There are some issues that are novel and new that may need some legal interpretation on. I think 90 days would be an appropriate period of time," Jaeger, hinting at the approach the defense will take. Jaeger mentioned "a lot of innovations with the advent of smart phones," suggesting that how these "innovations" intersect with the law may be the grounds where he will be arguing his side of the case.
The only other surprise in the minutes-long hearing was when Lewis proposed the Tallahassee office of the Florida Department of Law Enforcement as a venue for some depositions. It's not a very nice place but we can do that," Jaeger said.
The hearing was ended soon after that.
Ruffalo was quick to leave the courtroom and the floor. The exchange with Ericksen was not his first in the last few weeks. On June 16, Ruffalo emailed Ericksen, after Ericksen was quoted in FlaglerLive as saying that Jason DeLorenzo, the Palm Coast city councilman, would made a good county commissioner, even in Ericksen's own seat, should Ericksen decide not to run again. Ruffalo's email is richly sarcastic, making oblique reference to the fact that Ruffalo had himself put up and taken down campaign signs for Ericksen (as he did for many Republicans), and that Ruffalo had his own wife run as a write-in candidate in Ericksen's general-election race in 2012, ensuring that the primary race would be a closed primary (even though there was no legitimate candidate in the general), which helped Ericksen win. Ruffalo then wonders with equal sarcasm whether it was DeLorenzo who'd been Ericksen's campaign manager before he calls Ericksen "a man without honor," adding: "History shows that we are judged not for what we say but for what we do."
In late May the Reagan group's president, Mike McElroy, sent a letter to his membership cautioning against name calling. The email was promoted by Richter's actions after his obscene email to local media.
"Sometimes it is very easy to click a button and satisfy some immediate passion or grudge. We need to reflect before we do so. We not only discredit ourselves but we harm the organization and values we are here to promote," McElroy wrote. "I share members frustrations about media labeling and name calling. All the more reason that we should not engage in this kind of tactic. Political dialogue and passion are one thing, but when we give in to anger and darker emotions we do not elevate ourselves. In the future I would not wish to be put in this position again. Our by-laws do have a process for addressing actions by members which reflect discredit on the body. I prefer that we accept individual responsibility and avoid bringing discredit to our Assembly."
Contacted by phone about today's alleged name-calling by Ruffalo, McElroy said he'd not been made aware of the issue. "I conduct myself with manners, but I don't want to judge anyone until I hear both sides of the story."