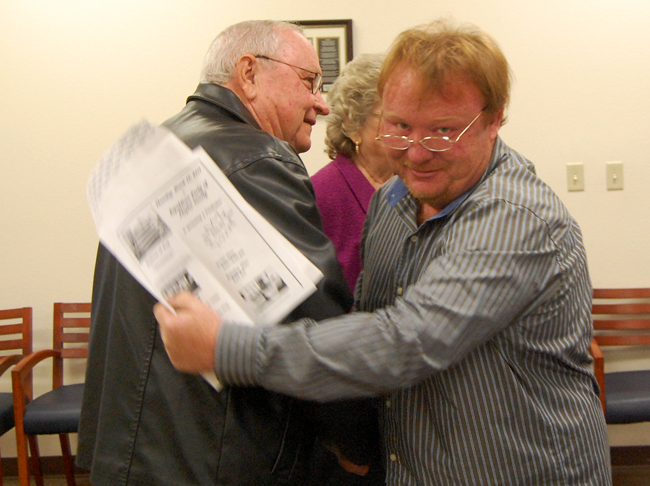 With just six contested ballots and three votes separating Bill Baxley from John Rogers after Tuesday's municipal election, there wasn't much doubt about the final result. Two of the six provisional ballots were certain to be thrown out (and were), since the voters had registered too late. Baxley would have had to win all four remaining votes to top Rogers–in a field of five candidates. He didn't.
The final tally was Rogers 110 votes to Baxley's 107. Vice Mayor Jenny Crain Brady tallied 126 votes to retain her seat. Rogers unseated nine-year incumbent and rival wrecker Jimmy Flynt, who managed just 39 votes, or 9 percent, polling last, behind Koreen Kowalsky Colpoys, who got 68 votes.
Turnout in Bunnell is never high. Tuesday's election drew a total of 450 voters, less than a fifth of the local electorate. Inm Flagler Beach, a city of comparable size, the two winning candidates in that municipal election on Tuesday each polled more than the total Bunnell vote combined.
Baxley knew, as he sat in the Supervisor of Elections' lobby, waiting for the 10 a.m. canvassing board meeting, that he had no chance. He said the election was "a good learning experience," but considered Rogers' campaign superior to his: Rogers advertised and campaigned more, Baxley said. Despite not advertising, Baxley considers his result, almost even with Rogers's, a good indication. He's running again in two years.
The canvassing board met at the Supervisor of Elections' conference room, with Supervisor Kimberle Weeks in the room. The board was made up of Dan Davis, the Bunnell city clerk, Daisy Henry, the Bunnell city commissioner, and Cissy Bertha, Bunnell's finance director. They first examined each ballot envelope to judge it legitimate or not. They ruled out the two ballots that belonged to voters who registered on Marc1, three weeks past the registration deadline of Feb. 7. Then accepted the four other ballots, each of which had had identification problems: the voters had not presented precisely the sort of photo identification required, but each had subsequently been certified as being registered voters. The envelopes containing the provisional ballots were then opened by one of the supervisor's employees, and put through the counting machine that tallied the final result.
There'll be a final audit of the ballots on March 15, when every ballot will be counted by hand. That's not unusual. After every election, the supervisor conducts an audit by sampling some precincts from each election. Since Bunnell had just one precinct, the entire batch will be counted. Weeks does not expect the numbers to change.
Rogers and Crain-Brady will be sworn in at the Bunnell City Commission's first meeting in April.