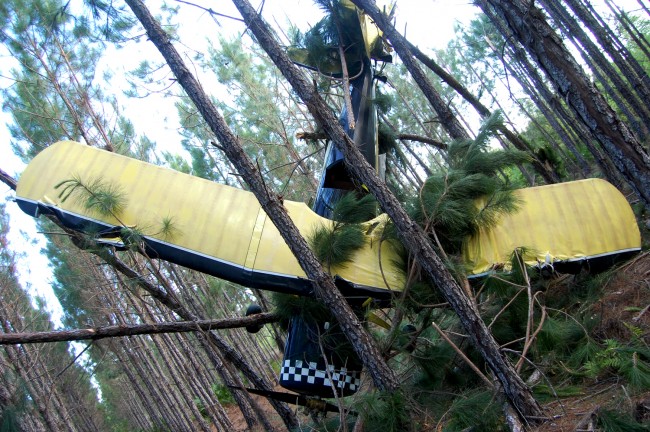 Last Updated: May 5, 9:11 p.m.
John Roderick, a 66-year-old retired Air Force lieutenant colonel, was flying an experimental, open-cockpit biplane back from the Flagler County Airport to St. Augustine this afternoon, according to a state trooper, when his manual and electrical fuel pumps both failed over western Flagler at 2:30 p.m.
Rodderick, of Ponte Verda, tried to maneuver his plane toward an empty field along State Road 100. The plane wasn't going to make it. So he literally eased it into a copse of pines on a tree farm, as he described it to Florida Highway Patrol Trooper 1st Class R. Conover. The plane crashed into several trees, "kind of like a cushion," Conover said, which broke its fall enough that the propeller and nose of the plane sustained only minor damage, and Roderick sustained virtually none. But the rest of the plane had to be salvaged.
"He just had a few scraps on his elbow, but other than that, he was fine," Conover said. "Wasn't transported to the hospital or anything."
"John was truly blessed to have his training and experience (as well as a couple of angels) there with him in the cockpit yesterday," Roderick's wife, Paula Roderick, also a retired Air Force lieutenant colonel, wrote FlaglerLive. "He told me once she started dropping out of the sky, he never considered trying to land her anywhere else other than where she was headed—which was straight into the trees–and he tried to keep flying her right up until she stopped. That's how he'd been trained and he credits that with saving his life…that and the fact it was a new growth forest."
As for herself, Paul Roderick said she was "very happy to be a wife and not a widow today."
The yellow and black plane, called Queen Bee, its wingspan of about 30 feet damaged, had clipped several branches on its way down, but its propeller was intact because, stalled, it wasn't spinning on its way down, Conover said. There was a fuel leak. It was stopped. Fuel remains in the plane's tanks, though the plane was never on fire.
The plane was built in 1969, according to its Federal Aviation Administration registration, by Alfred Pfouts. It's a fixed-wing, single-engine, two-seat Senior Aero SPT D260.
Roderick "learned to fly at base aero clubs while serving as an enlisted comm guy in Japan and later as a comm officer in South Carolina," his wife said. "He since has earned several civilian type ratings, including his commercial and seaplane ratings." (An earlier version of this story had incorrectly referred to Roderick as a pilot in the Air Force.)
Mike Cichanowski, an aviation safety inspector with the of the Federal Aviation Administration, was at the scene of the crash (the FAA routinely investigates all crashes). Flagler Air Exchange of Palm Coast will remove the plane from the crash site Thursday.
Paula Roderick added: "Our family is very grateful to all of those first responders from Flagler County who came to John's aide in those first minutes after his crash: the nurse & off-duty deputy in the pick-up truck who were the first on the scene and rendered immediate aide and called for emergency support; the Flagler Country Sheriffs Department, Flager County Fire Department & EMT personnel, the Florida Highway Patrol stationed in Flagler County; pilot Ron Johnson who flew overhead cover until emergency aide arrived; and, finally, Tom and other local Flagler area good samaritans. We also want to thank all of John's friends and fellow pilots at St Augustine Airport who were standing by to welcome him home in traditional pilot-fashion as well as our many neighbors and friends from PVB and elsewhere who have been so wonderfully supportive. Nice to know all the folks who would have shown up if things had turned out differently."
The crash took place about 30 yards inside the D Dot Ranch, a tree farm owned by a group of Jacksonville lawyers. The crash site is located less than a mile west of Water Oak Road, about six miles east of the Putnam County line.
Paula Roderick reports her husband is already in the market for a new open cockpit bi-plane.

Crash site photo gallery:
[nggallery id=55]