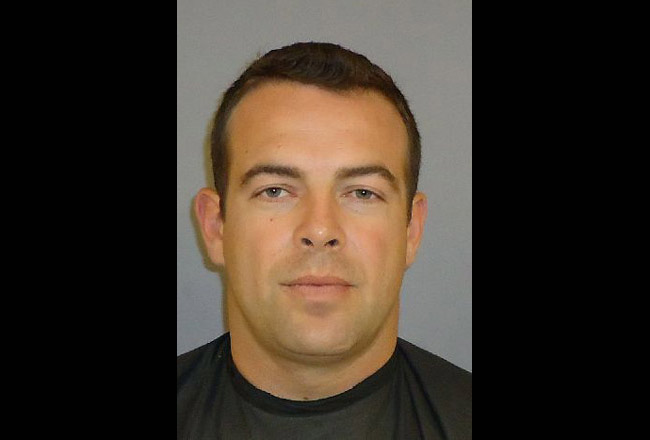 "Don't tell me what to do."
It's a saying especially favored by people who have a keen sense of their own confidence, but perhaps not as keen a sense of others' rights: a private business does, in fact, have every right to tell a patron, or more particularly an ex-patron, what to do, particularly when it means: "Your patronage is no longer wanted."
John Quesinberry, a self-employed 36-year-old resident of Mount Airy (or of Palmetto Avenue in Flagler Beach, depending on which official report one looks at), had apparently patronized Johnny D's Bar & Grill in Flagler Beach before. The outcome was not to the restaurant owner's pleasure. So when Quesinberry showed up at the restaurant on Saturday. Two people greeted him at the door: Stephen Zelen, the manager, and John Davis, the owner of the restaurant. They told him, according to a Flagler Beach Police Department report, that he was "not welcome" there.
That's when Quesinberry said that no one was telling him what to do. Quesinberry, according to the report, "struck the manager in the mouth with a closed fist. After doing this he threw the owner to the ground and struck him on the right side of his face." Davis is 65, which, for Quesinberry, triggers a different sort of charge, when such charges are pressed: battery on a person over 65.
Battery on an adult younger than 65 is a misdemeanor, under Florida law. On a person 65 or older, it's a third-degree felony (if the defendant is convicted of that charge), with a potential sentence of three years in prison, a $10,000 fine, restitution to the victim and  up to 500 hours of community service work. The restitution and community service must be in addition to the fine or sentence, and cannot be in lieu of.
When elderly victims are involved, adjudication of guilt or imposition of sentence may not be suspended, deferred, or withheld.
According to the police report, "the manager's mouth was bleeding and the owner had scrapes on his elbow from being thrown to the ground and what appeared to be a bruise forming on his face."
Quesinberry, according to the report, fled in a Black Dodge Caravan with another white man, but himself called and requested to speak to a police officer about 50 minutes after the incident. The Flagler Beach police officer went to Quesinberry's Palmetto Avenue address, where Quesinberry told him that the manager began pushing him, and after the second push, Quesinberry pushed back. Quesinberry said the owner, too, attacked him, and that he (Quesinberry) was merely pushing him back. "This did not explain how the victims' injuries occurred," the police report states.
"A witness statement from a waitress of the establishment advises that [Quesinberry] struck [Zelen] upon being asked to leave and then struck the owner." Both Zelen and Davis wanted to pursue charges. Quesinberry was then arrested. While being driven to the Flagler County jail for booking, he said of one of his victims: 'Of course his mouth is bleeding. I popped him in it," according to the police report. This, the report states, "contradicted his previous statement that he only pushed the manager."
The report continues: "While pulling up to the inmate facility [Quesinberry] then stated, "Since I'm going to jail, I wish I really put it on them."
Quesinberry posted $1,500 bond and was released after his Saturday arrest.