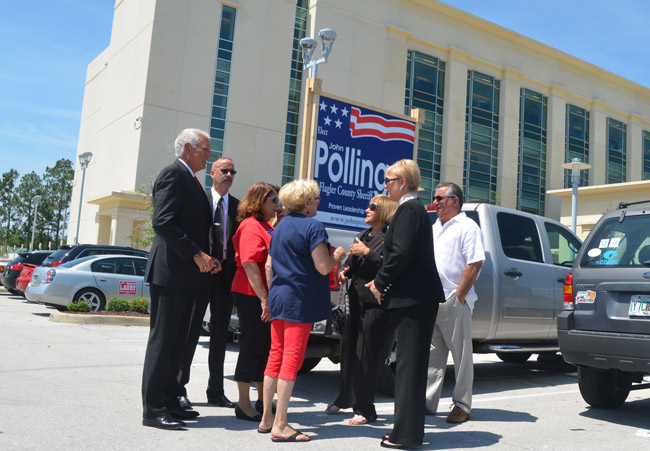 Anne-Marie Shaffer describes herself as a "stay-at home, home-schooling mom." But she's also an ardent Republican, an officer of the local hard-right insurgent group known as the Ronald Reagan Republican Assemblies, and an equally ardent supporter of Ray Stevens, one of three Republican candidates for Flagler County Sheriff on the Aug. 14 primary ballot. The others are incumbent Don Fleming and John Pollinger.
Shaffer is suing Pollinger to get him off the ballot as a Republican, because in her view he's unqualified: he was registered Democrat in New Jersey, where he lived until 2008. Pollinger became an independent when he first moved to Florida that year, then registered as a Republican in 2009. But his New Jersey voter profile still had him recorded as a Democrat until January, when Pollinger had New Jersey authorities remove him from the rolls. He doesn't think it's a big deal: hardly anyone verifies their previous state's registration status, especially when he'd have been ineligible to vote in New Jersey anyway.
To Shaffer, it's a very big deal, so she sued. The lawsuit is proceeding. Flagler County Circuit Judge ruled last week against Shaffer's attempt to keep Supervisor of Elections Kim Weeks from including Pollinger on the ballot, but he's yet to hear arguments and rule on the merits of the case—Pollinger's qualification under a Florida law that requires candidates to swear an oath that they haven't been a member of another party for 365 days before qualifying for an election under a particular party. Pollinger signed that oath, because in his view his New Jersey registration has been null and void for four years. Knowingly breaking that law is a third-degree felony.
Both sides filed motions for summary judgment. Craig could hear the case as early as this week or next week.
The court documents filed in the case reveal far more than arguments about the law. They reveal Shaffer's motivations, the deep and angry rift between various factions of local Republicans, which Shaffer or someone writing for her referred to as a "conspiracy," and the opacity of her support group. Jake Kaney, her attorney, blocked questions from Pollinger's attorney about who was behind her financially, and said he would block any such attempt in court. Shaffer herself named only one other person as being involved in the case: Dennis McDonald, a member of the Reagan group and a candidate for the county commission. It was McDonald who submitted Shaffer's case against Pollinger to Weeks, triggering Weeks's inquiries to the state Division of Elections. And Shaffer revealed that her association with Stevens was close and continuing ("I've never ceased my support of Ray Stevens").
But Weeks, the supervisor of elections, herself revealed in a separate deposition that it was Stevens—who has been coy about his involvement in the suit—who first called Weeks to complain about Pollinger's registration status several months ago. "I just basically listened to him vent about it," Weeks said.
Four years ago, when Stevens ran for sheriff the first time on a no-party affiliation, had made a point—at a Grand Haven forum—that he was running "with no political affiliation because I firmly believe that law enforcement should not be influenced by politics."
Court documents show that at heart, the suit against Pollinger is driven in large part by politics.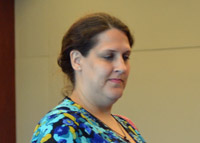 "There is a conspiracy afoot by a group of Grand Haven residents to infiltrate and hijack this county as their 'last hoorah,'" Shaffer posted at a website she created called Pollinger Can't Qualify. "Many are RINO Republicanswho, just like Mr. Pollinger, were forever members of the Democratic Party before relocating to Flagler County and immediately switching their party affiliation to Republican. This conspiracy is at the very heart of all that has and is going wrong within the Flagler Republican Executive Committee. I have seen what makes up a concerned, action-oriented body of Republicans. It is not full of crabby, elitist, hate-spewing blue-hairs who accomplish nothing for the conservative Republican cause."
Shaffer says the text was given her by someone else, though she signed it with one of her own pseudonyms ("the researcher"), but that she agreed with the characterization of latter-day Republicans.
Shaffer's questioning about her motives for bringing the suit were equally revealing.
"Weren't your motives to knock out Ray Stevens' competition in the election?" Ron Hertel, Pollinger's attorney, asked her in a deposition last week.
"My motives?" Shaffer replied. "My motives are for party purity and to preserve the integrity of the election for the voters in Flagler County."
Hertel was taken aback: "party purity" is not generally associated with democratic traditions. (The Chinese Communist Party a few weeks ago, after purging one of its maverick members, issued an address titled "Firmly Implement Actions to Preserve the Purity of the Party.")
"So what—what—what do you mean by party purity," Hertel stuttered.
"Well, his dual registration in two parties," Shaffer replied.
"Is that it? Is that all you mean by 'party purity'?"
"True Republicans in Republican primaries, in Republican races, that's party purity."
Hertel persisted. "So you don't consider John Pollinger to be a true Republican, is that correct?"
"Personally?"
"Yeah."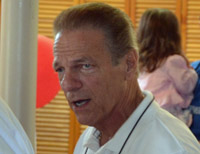 "Not from what I have experienced and seen" Shaffer said. "As I've stated, he does not live up to Republican standards."
Questions then turned to Ronald Reagan, who had himself been a Democrat for many years before becoming a Republican. "Does that make him a true Republican by Republican standards?" Hertel asked.
"Ronald Reagan admitted his faults in being associated with the Democratic Party," Shaffer said, explaining that "he apologized for that association, affiliation. He said he had been a member of the wrong party for 30 years."
"Would you have blocked Ronald Reagan in a similar situation?" Hertel asked later, after a contentious back and forth that saw Shaffer trying to evade the question.
"If the situation was the same?" she said.
"Yeah."
"If I had the same knowledge and same information?"
"Uh-huh, yes."
"I would feel it would be a duty," Shaffer said.
"To block Ronald Reagan," Hertel deadpanned.
"If I had the capacity to do so."
Shaffer said, incidentally, that the Ronald Reagan club is not supporting or endorsing her lawsuit, though she and McDonald are members of the club.
None of that means that she doesn't have a case against Pollinger. In a withering and often ridiculing motion for final judgment in her favor, Kaney argues that the law in question leaves no room for Pollinger to have qualified his knowledge of his previous registration. Either he was still registered as a Democrat, as his voter profile clearly showed, or he wasn't. Since he was, the Florida law is in effect: he broke oath. The law does not qualify the circumstances. It's irrelevant if he was also registered in Florida as a Republican, that he was a member of this or that Republican club, that he was a dues paying Republican, that he'd voted here previously, or that he'd not voted in New Jersey in the interim. What's relevant, Kaney argues, is only the fact of his registration as a Democrat, which was not nullified—by Pollinger himself—until January.
Kaney repeatedly tells the court—in language judges don't usually like to hear—that if it ruled against Shaffer, it "would have to rewrite the statute," it would be "the death-knell of the statute" in question, it "would have to legislate from the bench by writing the qualifying language into the statute." And he tells Craig, flatly, that Craig's previous ruling, which found that Pollinger's New Jersey registration was made automatically null and void by his Florida registration, "is not true." (Shaffer herself echoed the slapping around of Craig when she proferred her own legal conclusion during her deposition: "Looking at what Judge Craig wrote, it does look to me as if he's completely dismissing New Jersey.")
According to Pollinger's claim, Kaney argues, "the oath would be translated to a 'best knowledge' representation. That is not the law. The duty to assure that he was qualified to run for the Republican nomination in this election remains with Pollinger." In other words, Kaney dismisses the notion that either the local supervisor of elections or the motor voter clerk who initially took Pollinger's registration information, or the state Division of Elections, which certifies registration changes, or the state of New Jersey, or Monmouth County, New Jersey, were in any way at fault for having failed, at any point, to nullify his previous registration.
"Going forward," Kaney continued, and with characteristic acidity, "people could just say, 'Oh, I didn't know. Sorry, but I'm running away.' Irony aside, defendant Pollinger's ignorance of the law defense is not a defense any more than a broken speedometer is a defense to the speed limit laws. That door should not be opened. Pollinger's proffered defense that it is someone else's fault that he was still registered as a Democrat in New Jersey as recently as January is no defense."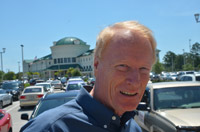 Kaney also dismisses the argument, put forth by Pollinger and his attorneys, that Shaffer has "selfish or ulterior motives" because she is "clearly entitled" to sue.
Not according to  Pollinger's side, which argues that "the question whether a mere registered voter has standing to bring a declaratory judgment action seeking to disqualify a candidate" has no precedent.
If the court were to establish such precedent, it could theoretically open the floodgates of "mere voter" lawsuits against candidates at election time.
In this case, Hertel argues on Pollinger's behalf, "Shaffer's entire case relies upon a single fact: that Pollinger had a Democratic party affiliated voting registration in New Jersey that failed to be cancelled when he moved to Florida over four years prior to seeking the Republican nomination for Sheriff of Flagler County. The record is clear that Pollinger has not used his New Jersey voter registration since 2007, and that it was merely a stale voter registration that failed to be cancelled, for whatever reason. It is also clear that Pollinger could not have legally voted in New Jersey after changing his residence to Florida, without re-establishing his residence in New Jersey first."
There was one other starling moment in the run-up to the case's latest filings. Toward the end of her deposition, Hertel and Shaffer returned to the question of why she'd filed the lawsuit. At that point, Shaffer, who'd also said earlier that she was doing it on behalf of the voting process, provided yet another answer.
"Why I filed the lawsuit is because Mr. Pollinger asked me to."
"Mr. Pollinger asked you to sue him?" Hertel asked.
"Yes, he did." She then explained: "He stated that Kimberle Weeks could not throw him off the ballot and that he would not leave—he would not leave the Republican primary and that somebody had to challenge him. So I'm challenging him. He asked me to challenge him."
Gary Hart might understand the logic.