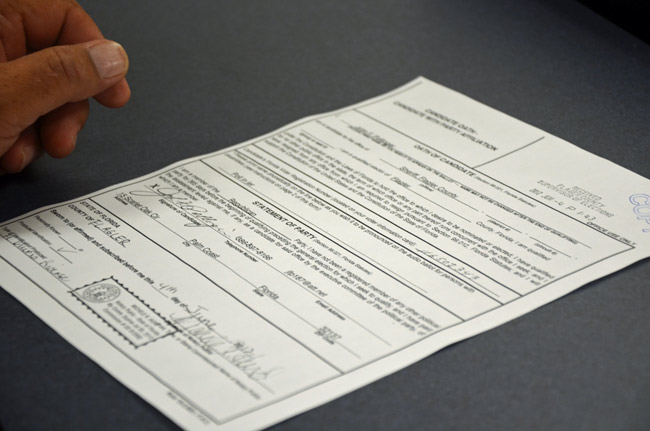 Last Updated: 5:46 p.m.
Flagler County Circuit Judge Dennis Craig ruled today that John Pollinger, the candidate for Flagler County Sheriff, has been legally a member of the Republican Party in Flagler County since August 2009, and therefore can remain on the Aug. 14 primary ballot as a Republican.
Craig threw out claims by Anne-Marie Shaffer, who charged in a suit that Pollinger was a Democrat in New Jersey until January, that Pollinger had intentionally remained a member of both parties, and that his status as a Republican in Florida was not legal. Florida law requires that anyone running for office under a party affiliation swear an oath that he or she has not been a member of another party for at least 365 days. Shaffer was asking for an injunction to keep Pollinger off the ballot. Craig ruled within a day of the supervisor of elections sending the ballot to the printer that there is no merit to an injunction.
"The court finds that Pollinger did not intend and in fact did not 'flip flop' his party registration within 365 days of the June 4, 2012 qualifying start date," Craig wrote. "Pollinger registered to vote in Flagler County, Florida in 2008 and changed the party affiliation to the Republican Party of Florida on his registration in August 2009. There is no evidence that his party affiliation has changed on his valid Florida voter's registration since August 2009."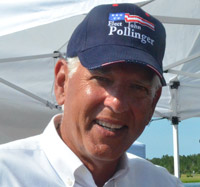 For Pollinger, the judge's ruling is a victory on at least two counts: he won the case, but he has also been capitalizing on the attention the case drew to lift his name recognition. His conduct throughout the controversy–more humorous and resilient than resentful–likely added to his stature.
"There's been a lot of accusations by certain parties that I lied and I didn't know the law," Pollinger said soon after the ruling's release this afternoon. "This ruling today is at least a vindication of my integrity and my honestly, that I did not lie, and I did not violate the law."
The ruling was conversely a stinging defeat for his opponents, particularly Ray Stevens, a fellow-Republican running for sheriff for the second time (he ran as an independent four years ago). Shaffer was Stevens's campaign manager until she decided to file the suit against Pollinger. Jake Kaney, Shaffer's attorney, did not return a call this afternoon. Shaffer made clear previously she had no interest in commenting on the case. When Stevens returned a call, he said he had no comment on the case, but accused FlaglerLive of having "no interest in the truth." He declined an interview.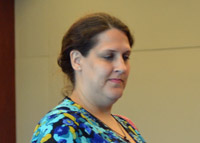 The case is not over. It had two components. The injunction Shaffer was seeking was one; a declaratory judgment on Pollinger's Republican qualifications is the other. Shaffer can still press on. But what's more likely to happen is a move by Pollinger for a summary judgment that would essentially end the lawsuit. Craig, in several parts of his order, either suggests or explicitly states that there is no evidence supporting claims against Pollinger's Republican registration, or that Pollinger attempted to circumvent Florida law in any way.
The law in question revolves around the oath regarding party affiliation. "The purpose of this section of the statute was to establish party loyalty," Craig wrote. "As pointed out by [Shaffer], the statute was amended in 2010 to lengthen the time period to 365 days after Charlie Crist changed his party affiliation. To borrow a term from [Shaffer], the 'evil' sought to be prohibited by this statute was any flip flopping of party affiliation within 365 days of opening of qualifying as a candidate for an elected office." To show that there was such flip flopping, Shaffer had to show that Pollinger was in fact a member of the Democratic Party in New Jersey until January.
Shaffer didn't. "There is no activity reflected in the New Jersey 'voter profile' between November 6, 2007 and January 17, 2012," Craig wrote of Pollinger's history in his previous state, where he'd been a police chief in Middletown after serving 27 years straight in the same department. "Since 2008 upon establishing himself as a Florida resident, Pollinger was not eligible to vote in New Jersey and his New Jersey voter registration was not legally valid notwithstanding the 'voter profile' not reflecting deletion until January 17, 2012."
Craig dismissed suggestions that Pollinger had been dually registered in Florida and New Jersey, or that it would have even been possible for him to be registered as both a Democrat and a Republican, the standard Florida voter application form providing only one box to check.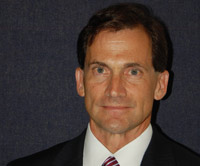 Craig's ruling, even though addressing only the injunction, went well beyond that issue to address the merits of the case against Pollinger overall: "There was insufficient evidence presented at the evidentiary hearing that Pollinger was legally registered to vote both as a Democrat and a Republican simultaneously. Further, there is no evidence that Pollinger intended to illegally maintain his New Jersey registration after moving from New Jersey in 2008."
Craig returned to the matter of the 'evil' of flip flopping at the end of his ruling to state explicitly that "Pollinger did not engage in this behavior. Pollinger has had a valid Flagler County, Florida voter's registration with the party affiliation of the Republican Party of Florida since August 2009."
Stated as categorically as he did, Craig left very little room for the case against Pollinger to move forward successfully. Nevertheless, it still can, and both sides are likely to meet again in Craig's hearing room at least one more time, likely before the end of the month, as Craig acknowledged the urgency of resolving the issue.
Pollinger wasn't quite celebrating this afternoon. "I don't get happy or sad with court rulings. I just accept the judge's ruling as a matter of fact," he said. "I know there's been a lot of concern not only with supporters but people in general, voters in general, about whether or not I was going to be on the ballot, what my party affiliation was, or was not, during this whole period of time, and I think the judge affirms in his writing that he's ruled that I've been a member of the Republican Party since 2009."
The name recognition was a windfall, but "at a cost," Pollinger said. "I just continue doing what I'm doing. As I said from the beginning, I'll continue campaigning, and campaigning until somebody to stop. And today, no one told me to stop."