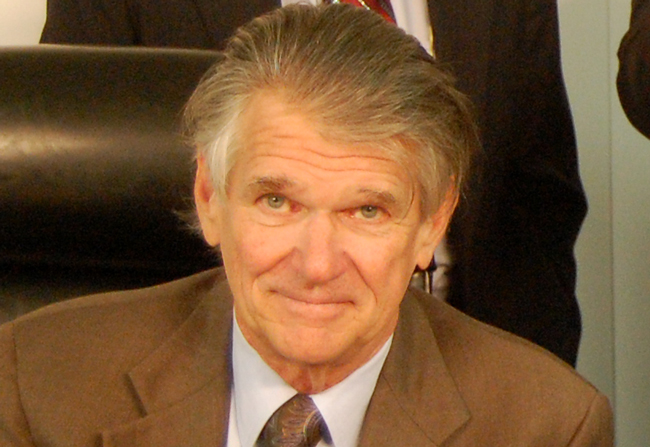 For the first time in almost nine years, the Flagler Beach City Commission will be without John Feind when it convenes for the first time after the Jan. 31 municipal election. When 5 o'clock struck on Friday, the final deadline for anyone wishing to run for the seat Feind holds, and for mayor, Feind's name was not among the contenders.
And Joy McGrew, who came close to winning the election without quite running—hers had been the only name in the pot for Feind's seat until just hours before the deadline—found herself facing a one contestant, Sandra Mason, a resident of Flagler Beach since 2003 and an emerging voice in the town's environmental movement.
In the mayor's race, with Alice Baker choosing not to run again, just two candidates qualified: Linda Provencher and J. NeJame, who had already qualified last week by gathering the required 37 petitions.
When it convenes in February, the commission will look vastly different than it did just a year ago, with three of its commission seats and the mayor's seat having turned over. But none of the new members on the panel will quite be newcomers. McGrew, 52, and Provencher, 48, are former commissioners. McGrew was elected with Provencher in 2006, serving four years. Provencher served three. Neither has lost an election as both decided not to run again at the time. McGrew wanted a break. And she wouldn't have run against Feind had he chosen to run again. The two spoke of his decision not to run. She jumped in, hoping to bring back her strong voice for local business and a forthright approach on the commission that seldom leaves people guessing where she stands—though her votes are neither predictable nor ideological.
NeJame, 61, has run for mayor (against Baker) and for the commission before, not yet successfully, and appears at commission meetings almost without fail, often addressing commissioners on various matters, at times more than once an evening. And even Mason, despite being a late-comer to the races, has been visible on city issues and concerns lately. She took a stand against bonfires on the beach. She is an avid environmentalist and a supporter of the local turtle patrol, and she's been making her voice heard as part of the movement against a sea wall and in favor of an undersea anti-erosion technology that has yet to gain the favor of local, state or federal officials. Ironically, she lives in the Aliki, the city's condo tower on 16th Street North that, a quarter century ago, was the bane of local environmentalists.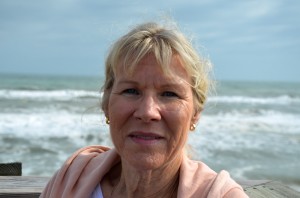 Mason, 55, is a native of Benton harbor, Mich., and trained historian whose marriage to an Air Force officer and helicopter pilot meant the family was often on the move, "and when we moved if I could find work in my field I did and if I couldn't, well—we moved all over the country, and actually had the opportunity to live in the United Kingdom for a period of time," Mason said during a brief interview this morning.
She and her husband discovered Flagler Beach some 10 years ago when, living in Georgia at the time,  they'd visit friends—and fell in love with the place. "Since I've been here in 2003 I've been not actively seeking a job, although there have been a couple of instances where volunteer work has presented itself, mostly in the construction and preservation area," Mason said. "The building itself underwent some major repairs right about the time we got here so I was chairman of the maintenance committee for the building and then we did a renovation of the common spaces and I was the chairperson for the interior lobby renovation, and I also had served on the county contractor review board."
Mason adds: "I have been thinking about running for office periodically over the last couple of years, and this just seemed like a good time. I'm mostly concerned about Flagler Beach, its environment and its ambiance." She points to Flagler Beach's mission statement: "I absolutely believe preserving our environment is a community asset, and maintaining our small-town charm is the main focus of what a commissioner can do."
For Provencher, the decision to run again was always a matter of time. She had her eyes set on the mayor's job. But she wasn't going to run against Baker, having a lot of respect for her, "so when she told me that she wasn't running, I decided to go ahead and run now."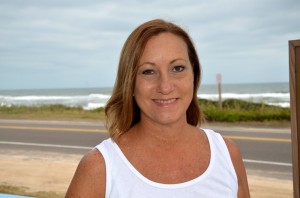 Why not a commission seat again, and the wielding a policy-making pen, which the mayor does not? "I've already done that, and to me our mayor is different than any other mayor in any other town," Provencher, a long-time manager at the Golden Lion restaurant on A1A in Flagler Beach, said. "You don't have a vote, you don't make the decisions, but what you can do, and what I do every day for a living, is I listen to people, I listen to what they have to say, what their complaints are, what they want to see happen with the city. I think as mayor then you can listen to everyone, go back to the commission and report it hopefully in an unbiased way of what the people are feeling and thinking. I don't want to say lobby the commission, but I think you can—you have a lot more freedom than you do as a commissioner, and you do have the veto power to keep it in checks and balances."
Provencher was supportive of Steve Settle, Kim Carney and Marshal Shupe when they ran for the commission they now serve on, and is supportive of McGrew's run. "It's time for the next generation to run," she said.  "We are the next generation. It's our turn."