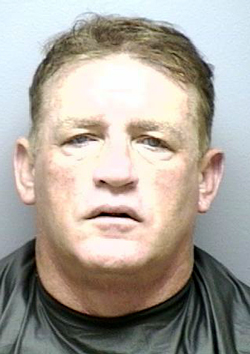 John Boback Sr., a 51-year-old Flagler Beach developer, was arrested Tuesday morning and charged with grand theft. Boback, of Springdale Drive, allegedly took $410,000 from Patrick Lyons of Marco Island in the sale and contracted construction of a condominium on property at 4366 North Ocean Shore Boulevard. Boback received the money. Lyons only got a deed. The structure was never built.
Boback was booked into the Flagler County Inmate Facility on Aug. 10 and later released after posting $50,000 on the charge.
Lyons, 55, told investigators that in late 2006, he paid Boback for a condominium unit that was to be part of a professional complex on State Road A1A. Lyons said when he realized the property had not been developed, Boback would not refund his money. The property is presently in foreclosure.
Cpl. Nate Flach, a detective with the Flagler County Sheriff's Office, led the grand theft investigation. He said Boback was planning to develop the property under the name of Hammock Cove Development, LLC. His plans were to construct a medical condominium called Hammock Medical and Professional Center Condominium Association, Inc.
"He never turned a shovel of dirt," Flach said.
Investigators tracking Lyons' money concluded that between August 2006 and February 2007, $335,000 of Lyons' funds was deposited to Bova Construction. Boback was the signature of authority on the bank accounts of Hammock Cove Development and Bova Construction.  Portions of  Lyons' funds also were distributed in payments to subcontractors working on other projects for Boback's construction firm
"The facets of this type of investigation are intricate and time consuming and Cpl. Flach has done an excellent job in putting the pieces together. We aren't done. This investigation is ongoing," said Flagler County Sheriff Donald W. Fleming.
Anyone who thinks they may have been a victimized by Mr. Boback is asked to contact Cpl. Flach at (386) 313-4329.