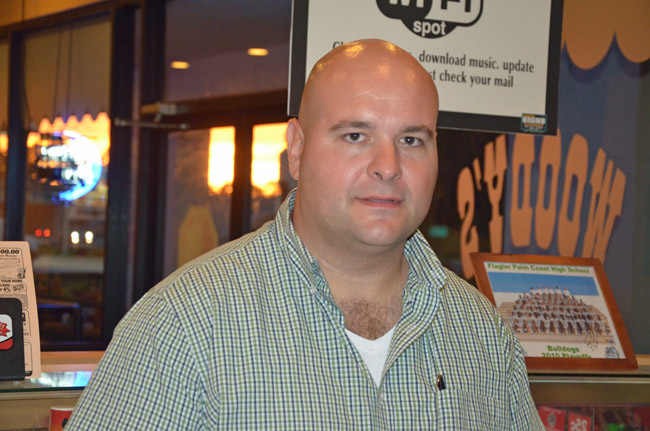 Around noon Sunday Joe Rizzo was doing one of the things he does best: preparing a party that would entertain dozens of people. The Woody's co-owner and president-elect of the Flagler County Education Foundation was organizing his house for the foundation's annual Christmas party. He'd hosted the party last year, when some 40 people showed up. This time the invite list had grown to 50.
No one was there yet: the party wasn't scheduled to start until after sundown. Rizzo was in his hard,, lighting up a small fire pit, as he's done 162 times, by his reckoning. Then something happened. Either an ember flared up or something else he hasn't determined. It caught his shirt–a chemically treated shirt that turned into prime fuel.
The shirt caught fire.
"The shirt was gone in 10 seconds probably," Rizzo said, speaking earlier today from his hospital bed at Orlando Regional Medical Center's burn unit. The fire left second-degree burns on 11 percent of his body (as opposed to 17 percent, as was earlier believed), Rizzo said, particularly inside his arm and along his rib cage. But, characteristically for a man who appears never to let anything get to him, Rizzo was downplaying the whole incident.
"It's not like I'm mangled or anything like that," he said. "The big bummer of the whole thing was we were having the Education Foundation's Christmas party at my house and had to cancel that."
A neighbor who heard Rizzo in trouble was first on the scene. Rizzo's wife and one of his partners at Woody's, Matt Crews, arrived soon after, and he was taken to the hospital, where he's expected to remain for most of the week. Earlier this year, Rizzo had undergone some harrowing medical procedures for his heart.
"He's been through a lot, and I'll tell you he's just a wonderful man and there's just so many people in the community who'll do anything for him," Deborah Williams, the executive director of the foundation, said. The foundation is the non-profit arm of the Flagler County school district. It raises funds for numerous scholarships and grants, including teacher grants, and provides supplies and clothing to needy children. Rizzo has been a member of the foundation's 12-member board for years, and will be its president next year.
He was as cheerful as if it were any other day when he spoke by phone today. "I actually feel pretty good," he said, finding it difficult to believe that his accident warranted a story. "I wouldn;t trade my life for anybody else's. I've got a pretty good deal."
The Christmas party plans are on hold. "We don't know exactly what we're going to do right now," Rizzo said. "I just feel we're going to focus on him getting better and it wouldn't be a party without him, so we'll just wait."