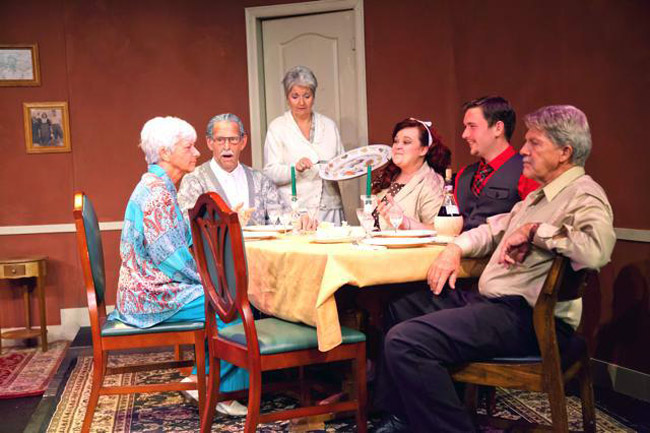 How much do you owe the people who cared for you? And how much must you sacrifice to repay such an unpayable debt? It's the guilt-ridden question many first- and second-generation immigrants eventually ask themselves as they come of age and try to navigate the cultural and generational differences within their own clan—and it's the central theme of Tony-winner Joe DiPietro's Off-Broadway hit comedy, "Over the River and Through the Woods," which runs through Sunday at the Flagler Playhouse.
Now Playing at the
Flagler Playhouse:
---
"Fiddler On the Roof," music by Jerry Bock, lyrics by Sheldon Harnick and based on the book by Joseph Stein, directed by Stephen Pigman. Performances: April 13, 14, 15, 20, 21, 22, 27, 28 & 29. All Friday and Saturday performances start at 7: 30 p.m., Sunday performances start at 2 p.m. Tickets: $20 for adults, $15 for youth. The Flagler Playhouse is at 301 E. Moody Boulevard (SR 100) in Bunnell. Call (386)586-0773 or visit the theater's website.
Click On:
---
Although the sitcom play has become popular with Off-Broadway and community theater audiences—DiPietro has enough theater pedigree to belie the play's critics as the author of another long‐running Off Broadway musical revue "I Love You, You're Perfect, Now Change" (1996), "The Thing About Men" (2003) and Tony Awards for his book and lyrics to the hit Broadway musical, "Memphis"—it was dismissed as corny with a dose of forced humor when it first showed in 1998.
DiPietro says that while the characters in "Over the River and Through the Woods" are based loosely on his own four grandparents, the plot is completely fictional.  It's almost easy to see why, in the first act of the Flagler Playhouse production, critics dismissed it as corn. But the play develops into a poignant tale of family relationships with witty dialogue and heartfelt characters married familiarly to each other and to their old-fashioned point of view. By the middle of the second act, the Playhouse was a congregation of sniffles and leaky eyes.
In Teaneck, N.J.-born playwright and lyricist DiPietro's Over the River and Through the Woods ("everyone is supposed to know the next line"), Italian-American Nick Cristano has for 29 years dutifully visited the New Jersey home of his maternal grandparents, Frank and Aida Gianelli, and endured well-meaning love and nagging there from his also-present and loud paternal grandparents, Nunzio and Emma Cristano, for Sunday dinner. He has, after all, been brought up according to the Old World's three F's: family, faith and food—and Tango Famiglia. But when he announces an enviable job promotion that will take him almost 3,000 miles away to Seattle, his two sets of grandparents fly into an abandonment panic, embarking on a scheme to keep him close, ranging from effusive guilt trips to trying to set him up with an aw-shucks, eye-batting nurse named Caitlin played by Jenica Frederickson. And, as is often the case with ambitious, career-focused Gen Y'ers, the tactic succeeds only in exasperating Cristano, overacted by Bruce Popielarski.
Popielarski, who has appeared in 10 other Flagler Playhouse productions and studied at the Florida School of Arts, sustains the role of the put-out, unappreciative grandson so, well, theatrically, that the rest of the elder cast's understated yet wonderfully effective performances are a welcome foil. In Kathryn Weed's portrayal of a seemingly wispy Aida Gianelli, she needs only frown or offer a meal—"You hungry? You look hungry"—to create perfect humor with her equal dedication to family and food as she shuffles well-meaningly to the kitchen.
Likewise, her onstage husband Frank, played by Peter Gutierrez, is perhaps the funniest of them all as he denies his driving foibles from the rocking chair. And he's all the more convincing because Gutierrez, last seen in the Playhouse's musical, "The 25th Annual Putnam County Spelling Bee," is no old man, yet he does the trembling body language and garrulous cantankerousness so well.
Paternal grandparents Nunzio and Emma Cristano are played by real life husband and wife, John and Sue Pope. John Pope has performed in community and professional theatres from New York and Alabama to Virginia and Jacksonville. (He has also been a professor, academic dean, and an FBI agent—a diversity of experience that no doubt informed both his humorous delivery and heartfelt monologue in the play.) Sue Pope has over 25 years of experience in theatre across the state on stage and on film, and sings with the Jacksonville Harmony Chorus. As Emma, she delivers one of the most profound lines of the play when she declares, "Did we make for you a better life? Better? Just different." Is Nick's existence complicated by ambition better than his grandparents' "good" life or just different by the older generation's standards, where happiness meant a union job, a devoted spouse, children, and settling in one place surrounded by family?
One of the most moving moments of the play is when the two elderly couples dance to "Yes, Sir, That's My Baby" while Frank Gianelli plays the banjo. In the end, "Over the River and Through the Woods" is the story of a young man's coming of age and the binding love of family. It is the delicate story of the price younger generations struggle to pay for their elder's devotion and mortality. And it is worth seeing if you can make it to the second act.
The Flagler Playhouse, in conjunction with the Flagler County Art League and the Palm Coast Arts Foundation, will participate in a special 2012 Taste of the Arts for the presentation of tonight's show (March 10). The event will kick off with a private art showing at the Flagler County Art League at 4:30 p.m. with appetizers, wine and a musical performance by the Flagler Youth Orchestra before the Flagler Playhouse show at 7:30 p.m., which features an additional art showing, dessert and coffee. The cost is $25 per person.
Flagler Playhouse tickets of this play are also good for a free glass of wine at Terranova's Restaurant and Pizzeria on 208 N. State St. in Bunnell.