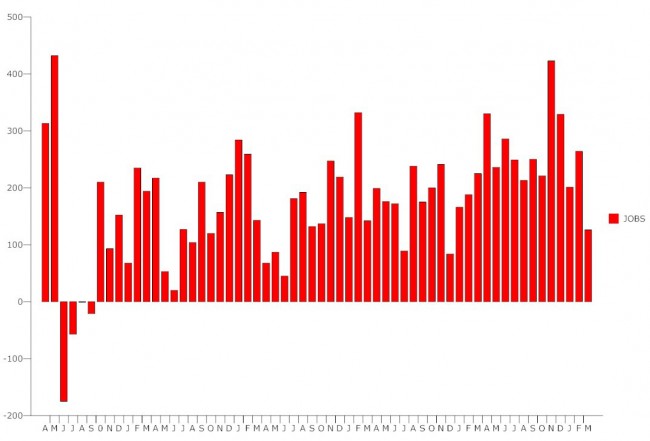 It's the most disappointing jobs report in 15 months: just 126,000 jobs were created in March across the country at the end of a relatively tepid first quarter. The unemployment rate remained at 5.5 percent, where it was in February, though its 1.1 percent lower than it was a year ago.
The Labor Department also revised lower the job-creation totals for January and February by 69,000, to a total of 465,000 jobs for the two months.
Several factors have slowed the economy in the first quarter: harsh winter conditions, recession in Europe and a surging dollar, which hurts exports. Even lower oil prices, which have benefited consumers at the pump, have crimped investment in the energy sector, reducing job expansion there.
On a barely brighter note, average wages, which rose just a cent in February, rose by 7 cents, or 0.3 percent, for private sector employees, to $24.86 an hour.
Overall, 8.6 million Americans are unemployed, with blacks accounting for the largest rate of unemployed adults (10.1 percent). Whites had a rate of 4.7 percent, men 5.1 percent, women 4.9 percent, teenagers 17.5 percent, Asians 3.2 percent, and Hispanics 6.8 percent.
First-time entrants into the labor force declined by 157,000 in March, keeping the civilian labor participation rate at 62.7 percent. The number of people employed part-time involuntarily, because their hours have been cut back or they were unable to find full-time work, is at 6.7 million. When those "involuntary" part-time workers, who are under-employed, are added to the number of discouraged workers–those who have dropped out of the workforce–and the unemployed, the actual unemployment and underemployment rate is 10.9 percent nationally, and 12.8 percent in Florida (one of the higher rates in the states). Nationally, that rate, also called the U-6 alternative unemployment rate, is down from 12.8 percent last year.
Despite the rather dour jobs report, it represents the 61st straight month of private-sector job growth, the longest such streak on record, with 12.1 million jobs created along the way, the Labor Department notes.
"While March's numbers aren't as robust as we've seen over the last year," Labor Secretary Thomas Perez said this morning in a statement, "overall trends remain solid, and there is every reason to be optimistic about our economic trajectory going forward. We've made incredible strides since the depths of the Great Recession, but there's more work to do to make sure every person can benefit from this recovery. There's more to do to strengthen and grow our middle class."
Perez added, as he has almost every month: "Wage growth remains the unfinished business of this recovery. While Wall Street employees are collectively taking home billions of dollars just in bonuses, minimum wage workers haven't had a raise since 2009. Even as many states and localities take action on this issue, we still need Congress to put partisanship aside and raise the federal wage floor. And to help working families, we also need to expand access to paid leave, so that no one has to lose a paycheck in order to take care of a sick child or spouse. This week we kicked off a nationwide tour — Lead on Leave: Empowering Working Families Across America — to highlight best practices from employers and state and local governments, raising awareness about the need nationwide for paid leave and other flexible workplace policies."