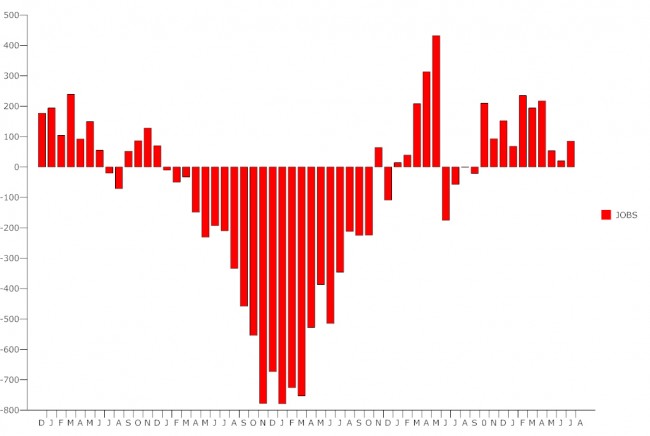 The economy's job engine is stalled. No jobs were created in August, although the unemployment rate remained at 9.1 percent, where it has hovered for the last six months–an unlikely number, given underlying trends and the large number of people leaving the unemployment rolls not because they have found a job, but because they are too discouraged to keep looking.
Job-creation figures for June and July were also revised downward , lowering those two months' numbers from 163,000 new jobs to 105,000.
Economists had predicted 60,000 new jobs. There are a couple of caveats to the dismal numbers, but minor ones: 45,000 Verizon workers were on strike at the time of the Labor Department's survey, depressing the jobs number somewhat–but not by much. Also, when declines in government jobs are excluded, private-sector payrolls increased again, but by just 17,000.
The number of unemployed Americans held at 14 million, but the number of people working part-time involuntarily, either because they had their hours cut back or because they couldn't find-full-time work, soared by 400,000, to 8.8 million. That's again the highest figure since last August.
Another 2.6 million people were considered marginally attached to the labor force, an increase of 200,000 in one month. Those are able-bodied workers who want to work, but hadn't looked for work in the past four weeks, so they were not counted among the unemployed. Six million people, or 42.9 percent of the unemployed, have been out of work for six months or more. The longer a person is unemployed, the less likely that person will find a job.
When the number of officially unemployed workers is added to involuntary part-timers and the marginal workers, the number soars to 25.4 million, out of a labor force of 153.6 million, or an effective rate of unemployed or under-employed of 16.5 percent. That figure may still be an under-count, because the labor force of 153.6 million does not include individuals who have dropped out of the work force altogether, either because they have quit looking for work or because their unemployment benefits have run out.
A few highlights of the August jobs report:
Total nonfarm payroll employment, at 131.1 million, was unchanged (0) in
August. Employment changed little in most major private-sector industries.
(See table B-1.)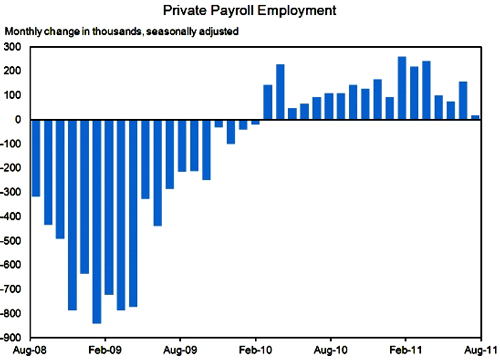 Health care employment rose by 30,000. Mining added 6,000 jobs. Computer systems design and related services added 8,000, temporary help services added 5,000. Employment in the information industry declined by 48,000 in August. That number includes the 45,000 Verizon workers. Manufacturing lost 3,000 jobs. Construction, trade, transportation, and utilities, financial activities and tourism changed little over the month.
Government jobs continued to drop (a loss of 17,000 in August) even after 22,000 government workers returned to work in Minnesota, after a government shut-down there. Since employment peaked in September 2008, local government has lost 550,000 jobs.
The average workweek was down by 0.1 hour, 34.2 hours. The manufacturing workweek was 40.3 hours for the third consecutive month; factory overtime increased by 0.1 hour, to 3.2 hours. Average hourly earnings for all employees on private payrolls decreased by 3 cents, or 0.1 percent, to $23.09. This decline followed an 11-cent gain in July. Over the past 12 months, average hourly earnings have increased by 1.9 percent.
Reactions:
"Business confidence surveys have uniformly pointed to businesses who are not laying off workers, but who are holding off on hiring while they wait for a clearer outlook — an outlook that became much cloudier and more volatile" beginning with the debt-ceiling battle in July. Ellen Zentner, senior United States economist for Nomura Securities, quoted in The New York Times.
"We've got at least another 12 months of difficulty to go through," Steven Ricchiuto, United States economist for Mizuho Securities USA, told The Times. "I know that doesn't help politicians who are worried about the elections."
Chad Moutray, chief economist, National Association of Manufacturers: "This report is not good news, but it is not inconsistent with other recent indicators. On Wednesday, the ADP report said that manufacturing employment fell by 4,000 workers, which is nearly identical to today's reading. With much of the policy focus over the coming weeks on job creation – including President Obama's speech to Congress next Thursday – today's numbers will embolden those who argue for new initiatives to stimulate economic growth. They will also put more pressure on the Federal Reserve Board, as it plans to meet September 20 and 21 to discuss possible measures, including whether or not to have a third round of quantitative easing."
Katharine Abraham, member of the White House Council of Economic Advisers: "Despite a slowdown in economic growth from substantial headwinds experienced throughout the year, the economy has added private sector jobs for 18 straight months, for a total of 2.4 million jobs over that period. Clearly, faster growth is needed to replace the jobs lost in the downturn. Today's report underscores the President's call for Congress to pass a clean extension of the transportation bill to keep workers on the job and keep critical highway construction, bridge repair, mass transit and other important projects moving forward. Next week, the President will lay out a series of additional bipartisan steps that Congress can take immediately to put more money in the paychecks of working and middle class families; to make it easier for small businesses to hire workers; to put construction crews to work rebuilding our nation's infrastructure; and other measures that will help the economy grow while still reducing our deficit and getting our fiscal house in order."