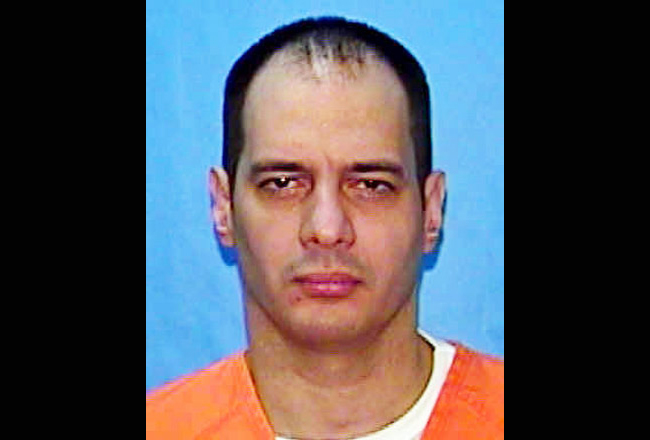 Gov. Rick Scott has scheduled a February execution for Juan Carlos Chavez, who committed the notorious 1995 murder of nine-year-old Jimmy Ryce in Miami-Dade County.
Scott notified Florida State Prison Warden John Palmer of Florida State Prison on Thursday that the execution for Chavez, 46, will be held at Feb. 12.
Chavez was convicted in 1998 of kidnapping, sexual assault and murder of Ryce. The brutal crime spurred the Legislature to pass the Jimmy Ryce Involuntary Civil Commitment for Sexually Violent Predators' Treatment and Care Act, known simply as the Jimmy Ryce Act.
The 1998 law lets the state indefinitely keep violent sexual predators behind bars by requiring them to undergo a review for the risk of re-offending and to be committed at a secured treatment facility after completing their sentences.
Ryce's dismembered body was found near an avocado grove three months after being abducted at gunpoint near his Redland school bus stop on Sept. 11, 1995. Ryce's book bag was found in Chavez' trailer.
The Florida Supreme Court affirmed Chavez' most recent appeal on Oct. 11, 2013.
Scott's order comes a little less than a year after the death of Martha Ryce, a Redland native who dedicated her life to advocate for missing children after the murder of her brother. Martha Ryce, who was considered the voice of her family, committed suicide on December 30th in Atlanta. She was 35.
And the warrant comes as lawmakers consider strengthening the 1998 law in the wake of reports by the South Florida Sun Sentinel that found that nearly 600 sexual predators had been released only to be convicted of new sex offenses — including more than 460 child molestations, 121 rapes and 14 murders.
Scott's office received numerous pleas for the governor to execute Chavez as the 18th anniversary of Ryce's death approached.
"As simply as I can put it, it is time to end this family's suffering," Colleen Salaam of Broward County e-mailed Scott in September.
"He has out lived the entirety of the (Ryce) family," wrote Dade County resident Matthew Schantz of Chavez. "It is time to put an end to this. It is time for justice."
The tone was much different from the international pleas Scott often gets for amnesty when an inmate execution is pending.
With subject lines that include "the man who murdered this child has been on death row for way too long," a number of people questioned how "this animal is still alive" and that they "don't want to clothes, feed, and house" Chavez.
"I am one of those citizens of Homestead that spent days looking for poor Jimmy Ryce only to have my heart broken," wrote Patty Accursio in September. Chavez "does not deserve to live one more day. The pain and suffering he has caused this family is just not acceptable."
Chavez is the one of two Death Row inmates with a pending execution set by Scott. Convicted murderer Askari Abdullah Muhammad is set to be put to death by lethal injection on Tuesday. Scott reset the execution for Muhammad, formerly known as Thomas Knight, on Dec. 20.
Muhammad, 62, will be put to death for fatally stabbing corrections Officer Richard James Burke with a sharpened spoon in October 1980 while Muhammad was already on Death Row.
–Jim Turner, News Service of Florida