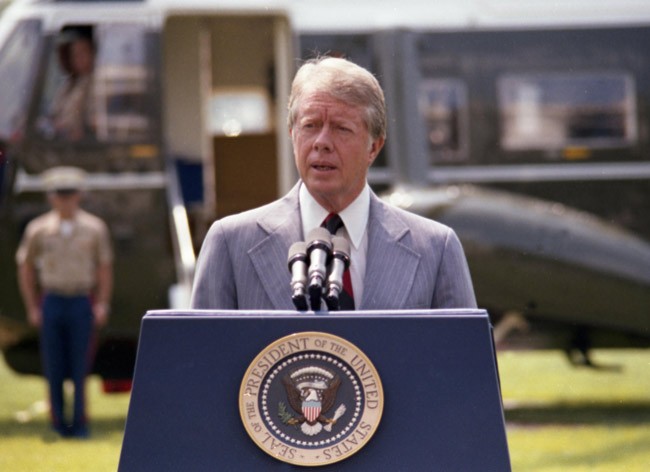 Presidential candidate Donald Trump's proposal to ban all Muslims from entering the United States led to numerous condemnations from liberals and conservatives, but also to significant support especially on conservative talk radio shows and, according to a Bloomberg poll, from two-thirds of likely Republican voters.
Trump's statement has also caused his defenders to point to precedents, among them Franklin D. Roosevelt's internment of Japanese-Americans during World War II (to which Trump pointed as one rationale for his approach, though the internment era, while never invalidated by the Supreme Court, now ranks as an unmitigated blight on FDR's record and the nation's history). On Wednesday, the story of President Carter's restrictions on Iranians during the Iranian hostage crisis of 1979-81 began surfacing. The story, as told by reactionary sites such as Newsmax and Frontpage, is mostly wrong, and bears correcting, as it is beginning to invade discussion streams and distort facts. As one commenter put it on FlaglerLive, "Even Jimmy Carter paused Iranian immigration and had a sort of registration in 1980? Is he racist?"
In fact, Carter never paused Iranian immigration wholesale, nor was there a registration system. But what Carter tried to implement was bad enough in that regard. It did not pass the test of its first judicial review a judge barely three weeks after implementation, but an appeals court upheld the president's authority to set immigration policy, "so long as such distinctions" be tween classes of immigrants "are not wholly irrational."
On Nov. 10, 1979, six days into the 444-day hostage crisis, Carter ordered Attorney General Benjamin Civiletti to begin deportation proceedings of Iranian students—and only Iranian students—found to be illegally in the United States. The Attorney General always had that authority, and attorneys general have exercised it to a larger or lesser extent, depending on the administration (Obama's has been the harshest of the last couple of decades). The difference with Carter's order is that it targeted a specific class of people, a specific nationality. In that regard, Carter was giving in to public pressure to look like he was "doing something" in the face of the hostage crisis in its early days.
To enforce the order, Civiletti on Nov. 13 issued an order for all Iranians with student visas to report to federal immigration offices or face deportation, according to the New York Times at the time. Students alone were targeted because the hostage-takers in Tehran were purportedly students. All other Iranians in the United States, including tourists, business travelers, other visitors, Iranian students who'd immigrated, and all other Green Card holders, were exempt. For student-visa holders, that would have been a limited registration system of a sort, but it didn't get very far: on Dec. 11, Federal District Judge Joyce Hens Green, who had been appointed to the bench by Carter just seven months earlier, gave Carter a thank you note by way of ordering his and his attorney general to immediately stop enforcement of the Civiletti order–and forbade the administration from using any information gathered on the students until that point.
"The effect of the regulation at issue is to establish two classes of nonimmigrant students, Iranians and non-Iranians," Judge Green wrote in her order. The guarantee of equal protection is "one fundamental to the individual freedom of all persons, citizens and noncitizens alike, and it is one that the action of the executive threatens to totally annul.
"The need to express American anger at Iranian actions is hardly sufficiently compelling to justify subjecting only Iranian students to a discriminatory, 30-day roundup that violates the fundamental principles of American fairness," the judge wrote. "Above all, it is patent that the executive, even in the area of immigration and naturalization, must be subject to applicable principles of the Constitution."
By then, the Justice Department had interviewed 50,437 students, 41,254 (or 82 percent) of whom were in compliance and 405 of whom had applied for asylum. The Justice Department found 6,042 of them deportable, with some 3,200 who'd not produced enough information at the time of their interviews. The ruling did not stop the administration from enforcing laws in place, so the deportations could proceed. But by then, only nine had been deported.
Seventeen days after Green's decision, a three-judge panel of the U.S. Court of Appeals in D.C. overturned the decision, ruling that "it is not the business of courts to pass judgment on the decisions of the President in the field of foreign policy." The court also stated that it was not in a position to challenge Carter's judgment "in the absence of acts that are clearly in excess of his authority." Nevertheless, the matter was strictly limited to Iranian students, and the overwhelming majority of them continued to be permitted to stay in the country. (By the time of the appeals court order, 55,000 students had reported to immigration offices and 45,700 were cleared to stay.)
On April 7, 1980, immediately after Ayatollah Khomeini backed the student take-over of the U.S. Embassy in Tehran, Carter cut all diplomatic ties with Iran, imposed sanctions, froze Iranian assets, and ordered the issuance of visas to Iranian nationals halted in most circumstances—not an uncommon ploy between nations that end their diplomatic relations. Currently, for example, there is no visa service in Syria, Yemen, Libya and Belarus.
Carter's order was to "invalidate all visas issued to Iranian citizens for future entry into the United States, effective today," he said on April 7, 1980. "We will not reissue visas, nor will we issue new visas, except for compelling and proven humanitarian reasons or where the national interest of our own country requires. This directive will be interpreted very strictly."
To compare that action either to the internment of nationals or resident aliens or the blanket ban on travel by an entire religion, regardless of origin, or to judge it somehow out of the norms of diplomatic sanctions, mischaracterizes history and inaccurately conflates Trump's actions with those of Carter.
Judge Green, meanwhile, remains a federal judge. After serving seven years on the U.S. Foreign Intelligence Surveillance Court—to which she was appointed by President Reagan—she has been a senior district judge in the D.C. circuit. She is 87, but still Carter's junior by four years.