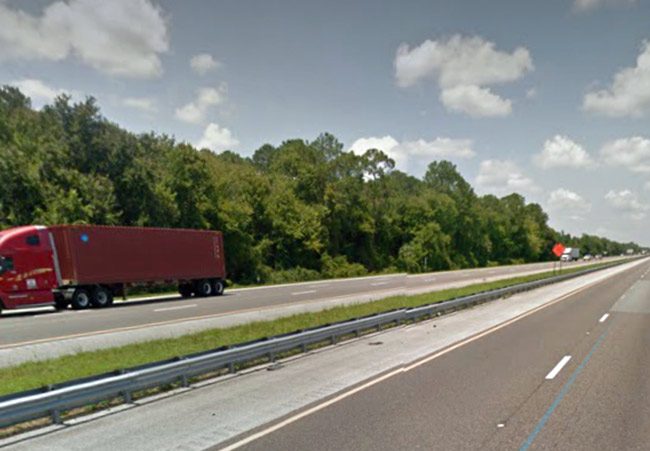 It was just two weeks ago, on Jan. 5, that Jimmie and Arlesha Brazell got married. This morning shortly after midnight, Jimmie Brazell, 56, was killed as he walked across I-95 in Palm Coast, about a mile south of the intersection with Matanzas Woods Parkway.
The Brazells had been driving south on I-95. Jimmie was at the wheel. According to information relayed to Flagler County's 911 dispatch center, he was speeding and had been drinking, so Arlesha had gotten scared and asked him to pull over so she would drive.
They pulled over. As she told it to the 911 center, she got out to change seats, but Jimmie wouldn't let her drive. So she refused to get back in the car. Somehow at that point, Jimmie himself got out of the car and walked across the highway–and got struck by a GMC Envoy that Jose Gonzalez, 38, of St. Augustine, was driving south.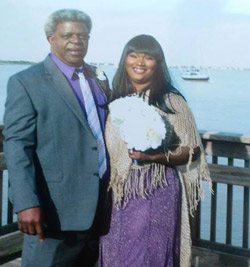 Gonzalez immediately called 911 and reported that he'd struck somebody and that there was blood all over his car. As responders would discover, Brazell was dragged and his legs were torn. At 29 minutes after midnight, paramedics pronounced Jimmie Brazell dead.
The Florida Highway Patrol sent a traffic homicide investigator and two of the three southbound lanes of I-95 were closed as the Palm Coast Fire Police regulated traffic for the duration of the investigation. Around 12:45, Arlesha had to be taken to Florida Hospital Flagler with a panic attack where, about 45 minutes later, Jimmie's family members arrived at the hospital. A commotion ensued so that additional sheriff's deputies were required there to keep the peace.
Matters quieted down for a while but by 4 a.m. some 20 family members had gathered at the hospital and, according to the 911 center, were "giving staff a hard time."
By 4:30 a.m., both Jimmie's and Arlesha's family members had left the hospital.
FHP's trooper Chris Conrad is the crash investigator, and Cpl. Daniel Mueller Is the traffic homicide investigator on the case. Flagler County Fire Rescue and the Palm Coast Fire Department also responded to the scene. According to FHP, Brazell lived in Daytona Beach.