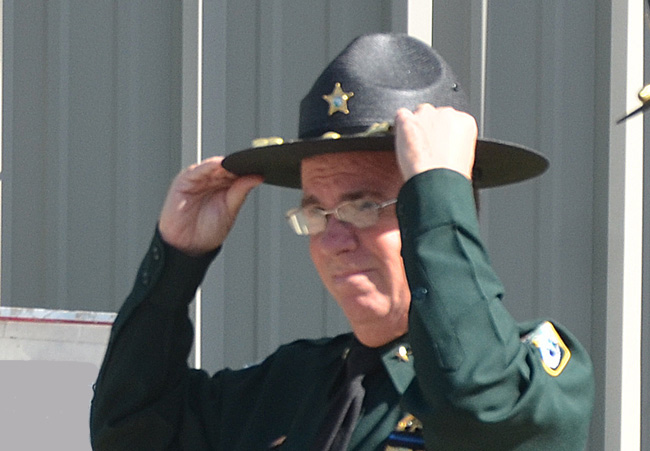 In a deal with the Florida Ethics Commission, Flagler County Sheriff Jim Manfre has admitted to violating Florida law by using department vehicles for personal, out-of-state trips on three occasions. He faces a fine of up to $1,500 and restitution of $846. A commission investigation found probable cause for two additional ethics violation charges, but those were dismissed in light of the recommended settlement. A fourth charge was found to have no merit. The Ethics Commission will rule on the settlement on Dec. 12.
The charges were the result of an ethics complaint filed in late May by Linda Bolante, the sheriff's ex-finance director, who had been forced to resign a few weeks earlier. Manfre, Bolante claimed to the commission, "has consistently engaged in conduct that I believe amounts to malfeasance in public office. He has used and continues to use public property and public funds for personal gain. He has been advised about the inappropriate and improper use of public property/funds but continues with his inadvisable conduct." Bolante also filed a whistleblower suit against Manfre. The suit is ongoing.
The proposed settlement is brief and clinical. The 13-page investigative report and 19-page Commission Advocate's Recommendations, which sum up the ethics investigation and were submitted in September and October, were more detailed and harsher. Diane Guillemette, the advocate, couched no terms as she unraveled a pattern of behavior by the sheriff that cast serious doubt on his veracity and showed him repeatedly blaming either his now ex-finance director, his faulty memory or existing customs at the sheriff's office for what investigators found to be cause for ethical breaches.
"Through his interview with the investigator," Manfre's attorney, Linda Edwards of Tallahassee, wrote the commission's executive director in a five-page letter in early October, Manfre "repeatedly advised that he did not believe he was doing anything wrong." If he had questions, he relied on Bolante, who "organizationally had the most knowledge and experience with managing financial matters." Manfre was a private citizen for eight years between his two stints as sheriff, she wrote, while Bolante was continuously at the department, earning $90,000 a year. Manfre, Edwards wrote, has taken responsibility for the lapses, while Bolante has "unclean hands," and was forced to retire because of "her missteps." Edwards goes further, saying Bolante had been a supporter of the former sheriff, politically, but that Manfre had agreed to keep her on as long as she complied with a few changes.
The attorney's letter then systematically turns the charges by Bolante around on Bolante herself, essentially blaming Bolante for the sheriff's mistakes. The commission investigation and advocate's recommendations did not take that route, focusing responsibility on Manfre himself.
The Ethics Commission investigation and recommendation were made public Tuesday, ahead of the commission's December meeting. The report and investigation are the latest in a series of setbacks for Manfre, who was elected on a platform of ethics above all. He faces a federal lawsuit on wage issues, the lawsuit by Bolante and an impasse with his three unions, while the suicide of a deputy who'd recently been forced to resign triggered a wave of bitterness directed at Manfre. The department's spokespersons have in consequence increasingly bristled at criticism or transparency. (The Sheriff's Office in early November, and in an apparent violation of the public record law, ceased sending news releases to FlaglerLive, though there's been a standing request for the releases–which are public record–predating this administration.)
Bolante made four charges. She said Manfre asked her almost immediately after assuming office two years ago to issue his paycheck early so he could buy a fridge. Bolante complied. Manfre, the investigation found, "gained a short-term benefit; however, absent a policy regarding advance issuance of paychecks or pressure upon the Business Services Director, corrupt intent is not shown, and the act would not be considered inconsistent with the proper performance of [Manfre's] public duties." The Ethics Commission investigation dismissed that charge outright, finding no probable cause for an ethics violation.
Bolante also charged that Manfre on three occasions had misused department vehicles by traveling out of state with his wife. One of those trips has previously been reported after the car in August 2013 was involved in a wreck that Manfre failed to properly report, as agency policy requires. The sheriff had gone to Virginia to visit his daughter and to visit colleges with his college-bound son. The sheriff subsequently conceded to have erred by using a department vehicle and reimbursed the office for $667 in mileage fees.
But Bolante documents two additional trips: one to New Orleans in January 2013, after the sheriff had attended a job-related conference in Destin, Fla., and one to Pigeon Forge, Tenn., in May 2013, to a cabin owned by Undersheriff Rick Staly. Manfre was pulled over by a highway trooper on the trip to New Orleans, but the reason is not disclosed. "There was no public purpose for this trip," Bolante wrote of the trip to Tennessee. "It was merely a vacation for he and his wife."
The cabin would have rented for $370 to $430 per night, Bolante charged, saying the sheriff accepted a gift without it being reported on his disclosures of gifts. Manfre paid only the $75 cleaning fee for use of the cabin. Five months later, following a Florida Sheriff's Association ethics training webinar, Manfre told the undersheriff that a gift disclosure was in order, but said he would claim the value of the gift was $99 a night. Staly, according to the investigation, advised against that, saying the disclosure must be in line with the advertised value of the cabin's rental. Manfre told the investigator that he did not recall having had that conversation with Staly. Manfre, the investigation reports, "did not file a gift disclosure until he learned that this Ethics Complaint was to be filed against him."
The advocate found probable cause that Manfre had violated the law by accepting a gift and improperly reporting it late.
The commission's investigative report notes that when first interviewed by the investigator about the Tennessee trip, Manfre said he'd driven his own BMW to Pigeon Forge. It was only after "the commission investigator delved into the matter further" that the investigator found that not to be true. In hi second interview, Manfre told the investigator "it is possible that he used the FCSO vehicle for the Pigeon Forge trip, but he cannot remember." Manfre said he may have been confusing the trip he'd made to Naples with his BMW.
Manfre told the investigator that Bolante had spoken of the previous sheriff, Don Fleming, using his sheriff's issued vehicle "for personal reasons and, therefore, he did not think about the legal ramifications of using it for personal travel." Bolante acknowledged not warning the sheriff about using the vehicle for out of state travel. The sheriff would subsequently cite instances of Bolante not cautioning him on key department matters as among the reasons why she was forced to resign. At any rate, the investigation found, Manfre "was less than forthcoming about his use of the county vehicles, which may be viewed as an indicia of of knowledge of wrongdoing."
As a result, the ethics investigation found probable cause that Manfre had violated the law by using sheriff's vehicles for public travel,
Bolante then, in what would amount to the fourth charge, listed a series of instances where Manfre used his sheriff's office-issued credit card without submitting receipts. most of the purchases involving alcohol and most of them involving people that included non sheriff employee, among them the sheriff's wife. Bolante listed six such instances. Only one such instance was previously reported, when, at a job-related conference, the sheriff paid for a meal for himself, his wife, the undersheriff and his wife, at which alcohol was also served. Staly, the undersheriff, subsequently documented that he and his wife had not had alcohol, nor had he been aware that the sheriff was paying for the meal with a sheriff's issued credit card. Staly reimbursed the office for the meal. The total charges for the six occasions add up to $610. Manfre reimbursed the office $344, Bolante said, only after public record requests of credit card documentation were made.
Manfre told the investigator that Bolante had given him the procedure for using the credit card: he could charge all expenses on any given business trip to the card, and Bolante would then calculate the difference between the per diem allowance and what balance he would be responsible for. Manfre told the investigator that he "did not follow up to reimburse, despite the credit card charges being obviously larger than his per diem, because he was very busy and he depended upon Bolante to tell him he was using the credit card improperly." Bolante, the investigator reports, denied ever telling Manfre that his travel purchases would be offset by the per diem.
State policy prohibits the use of government-issued credit cards for meals and alcohol, and a written department policy was provided the investigator. The policy states: "Sheriff will make only agency related purchases and return receipts to Finance."
"The facts as presented," the investigation concludes, show that Manfre "used the FCSO issued credit card, a resource he was entrusted with, to secure a benefit for his wife and others (the meals and drinks purchased). [Manfre] may also have personally benefited in terms of goodwill when others thought he had 'picked up' the check."