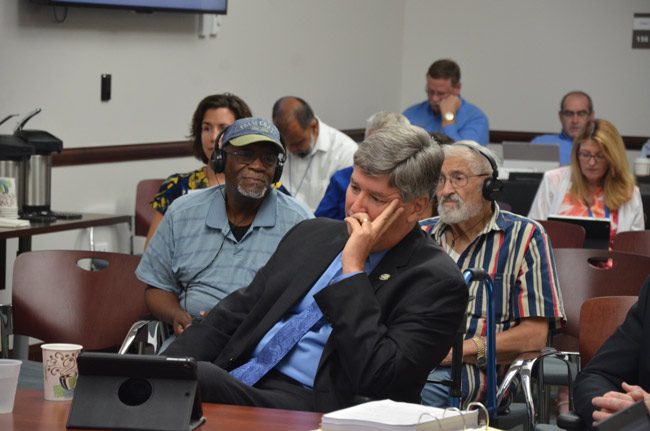 After 10 years as Palm Coast's city manager and months of mounting friction with most of his bosses, Jim Landon has lost the confidence of four of the five city council members. His departure is now a matter of when, not if.
The when is a matter of weeks or months at most–and possibly days, though Landon is asking for two years. The difference depends on whether the council is willing to tolerate a protracted "transition" on Landon's terms, as he has been trying to impress on them behind closed doors in the past few days, or whether the council will cut the knot now to do what a majority of members have been wanting to do since the last election, and some of them for much longer than that: start fresh with their own manager, on their terms, rather than those imposed by a council that has since turned over completely twice in 10 years.
At least three council members have no interest in a protracted, two-year exit plan. Two of them want it over now. One of them is willing to go no further than February, if that. A fourth is considering the two-year plan only as a means to avoid paying severance, but even that council member prefers to get rid of Landon now if the votes are there. The council member was not aware of colleagues' positions, nor was made aware in interviews. In other words, it may be all over but the voting.
The four council members all agree: Landon shepherded the city well through the recession. But the recession is long over and Landon's methods have not changed: he has not been an ideas man, but a caretaker. Council members credit the administration for running well because of a cadre of well-heeled directors, but on automatic pilot, with Landon stuck in his ways and worse: his arrogance is intensifying. His interactions with the community are diminishing. He has been publicly and privately insulting and dismissive of at least two council members, and at one point placed the responsibility for mending the relationship on one of them, underscoring the criticism across the community that Landon thinks he's in charge of the council, rather than being its subordinate.
It is that dynamic that the council has been chafing under, to the point of inadmissibility, according to four of the five council members.
The four council members who no longer have confidence in Landon would vote to fire him today if it weren't for two issues, both of which hold them hostage, but only up to a point. One is a severance package that would cost the city around $227,000. That package was negotiated under former Mayor Jon Netts more than 10 years ago, before state law changed to make such egregious golden parachutes illegal. The current council is not responsible for the terms of the severance except by inheritance, and some of them resent having their decisions tied by the reckless action of a previous council.
The second issue is the fact that Landon has been secretively negotiating the terms of his exit with each individual council member behind closed doors since returning from a two-week vacation with his wife in their RV after July 4. (His secretary referred to the meetings as "very secretive" to one of the council members.) Landon has done so by exploiting the sunshine law at the council members' expense and stacking the deck in his favor where it counts: he has all the information about how each of them thinks. They do not. Landon has kept them collectively in the dark, never broaching the subject in open meeting, knowing that council members are barred from speaking with each other about it outside of an official meeting, and betting, correctly so far, that none would bring it up in a meeting just yet.
---
"He has clearly understood that his time in Palm Coast has come to an end."
---
They have not done so, several of them have told me, because the line between opening the discussion publicly and being placed in a position to fire him is thin, and since each individual member who wants to get rid of him doesn't know whether the votes are there to get rid of him, none wants to be in what amounts to a Milissa Holland situation. Holland is the mayor. When she was a Flagler County Commissioner, she had lost confidence in Craig Coffey, the county administrator. She moved in 2010 to fire him, thinking she had the three votes. Absent breaking the law by speaking to commissioners outside a meeting, she had no way to know ahead of the vote whether she did in fact have the votes secured. She did not. She had two.
The difference between the Coffey and Landon situation is this: at the time of Holland's move against Coffey, what tension may have existed with commissioners was much less clear or restrained, there had been no publicly reported issues as there has been with Landon, and there was no independent reporting about commissioners' positions. Much of Holland's approach was speculative.
In this case, what is known about the Palm Coast council members' positions is based on a dozen extensive interviews with all five of them—including repeated interviews with most of them—adding up to some eight hours over recent days. They agreed to speak with me once I learned of the series of closed door meetings. I did not share the substance of any conversation from one council member to another: I was not interested in being their conduit of information. I wanted to learn what they and Landon were discussing behind closed doors. The aim was to publish information that should have been in the public domain all along. Council members were fully aware that I would be reporting on the conversations collectively, with the only caveat, which I offered, being that I would not name them individually. They are public officials and what they say should normally be attributed to them individually. I offered the caveat because I wanted to hear their perspective as candidly as possible, unfiltered by what reserve they'd feel from being called out at this point. They will themselves make those positions clear in open meetings soon enough.
None of this would have been necessary had Landon not been maneuvering behind the scenes over what amounts to one of the most central and public—and, to taxpayers, costly—issue regarding city business. The manipulations are a reflection of imperious and controlling methods that have become a norm of conducting city business. "They're 100 percent about control," one council member said of the serial meetings.
Council members, ultimately, have enabled the method, though this is not the first council that has done so. It is the first council that is looking to break the vise. In the words of one council member: "This reign has to stop. The current methodologies, the current ways, have to end."
Another council member put it this way: "He has clearly understood that his time in Palm Coast has come to an end."
The momentum to end Landon's tenure picked up several weeks ago.
One council member put Landon on notice that he had to bring his tenure to an end. He told him so shortly before Landon began his RV vacation in late June. Landon said he'd use the vacation to speak with his wife about his future. By then, he was well aware that dissatisfaction had been growing. He has put up his house for sale. He bought the RV, suggesting that his days were numbered. "When men of a certain age start shopping for RVs," one council member said, "retirement looms large."
He has also been whittling down his accrued unused personal days. By February, he'd accrued 160 of them. As of this month, he'd whittled them down to around 137. There's a reason for that: in his severance package, Landon is entitled to six months' pay and whatever benefits correlate to that. He's also entitled to a cash payout of unused personal days, up to 130 days. (He gets 30 personal days a year and is required to take at least 10.) So he's been taking a lot of paid vacation time in order to use up days he would otherwise lose in a severance settlement. That, too, has been an indication of his thinking, or disengagement, as he was not big on long vacations previously.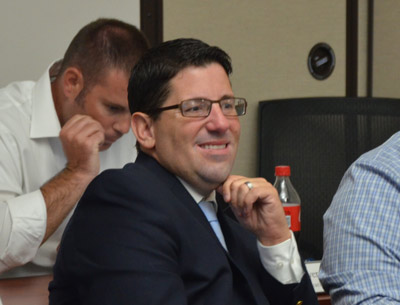 Upon his return, however, he summoned council members to meetings with him and made the following proposal: he would spare the city a severance payout if the council allowed him to retire in 2019—in two years. He wants to ride out the next two years until his granddaughter's graduation, at which point he'd be willing to retire. He told council members that he would then help the city execute a succession plan. He wants Beau Falgout, his director of economic development, to be the next city manager. And he wants to make the announcement of his retirement on his terms, at an August meeting.
Each council member reported a version of that plan. One council member, who does not see "any huge divide" between Landon and the council, found it reasonable, though Landon had been less specific with that member than he had with at least some of the others.
The other four council members were taken aback by the plan, and some of them were floored by what they described as brazen presumptions, particularly the assumption that he would use private family matters to dictate a retirement schedule at the city's expense, or that he would assume that the succession is in his hands. None of them are interested in Falgout as the next manager—not only because Falgout, though a nice enough man, lacks the gravitas of a leader, but because the council wants a change in culture.
"I would want something brand new," a council member said.
"That would be kind of crazy and kind of bizarro world," another said of the succession plan.
To at least two council members Landon justified the notion of such a succession plan by comparing it to the succession plan in the works at the Palm Coast Fire Department, where Fire Chief Mike Beadle is retiring in less than two years, along with several ranked members of the department. Beadle has been developing an extensive plan to ensure the succession.
Landon's comparison, as one council member noted, reveals the extent to which he's lost sight of his role and the council's role, confusing his administrative authority with the council's authority. The council alone hires and fires two people, the manager and the city attorney. The manager has no say in those decisions. But he's maneuvering to do just that. "It's not up to him," the council member said, echoing others.
When it comes to finding a replacement for Landon, whether he is still in the manager's seat or not, four of the five council members want the search to be completely independent of him: they say they know he will try to control the process, and they are adamant that they will not let him do so, assuming he's not already gone.
But if the four council members all say independently that they want him gone, they disagree over the manner of separation, primarily because of the severance cost. Landon knows it, and has been holding the severance over council members' head as both carrot and stick: to those who bristle at the severance cost, a form of transition plan is appealing if it avoids the payout. Two others are beyond the point of making a decision influenced in one way or another by the severance cost. They are Landon's biggest fear, because they are ready to call for his removal immediately.
But he's put it bluntly to some of the council members: "Either way, it really doesn't hurt me," he told one of them. "If you let me go, I get my severance." (The measure of their disagreement is in large part driven by their ignorance of their fellow council members' positions on the severance issue. They were not told what those positions are during the interviews.)
But even the two other council members who are uncomfortable with the severance package are almost embittered about his continued presence: "I personally feel that he does no good for the city anymore," one of them said. "There's such a dark cloud over him in the city." That council member, who at one point had spoken of not being able to abide the cost of the severance package—which is why Landon clearly played on that council member's vulnerability by playing up the "succession" plan and his tenure through 2019—also spoke of preferring to end it now regardless, despite the cost of severance, "but I don't think the votes are there."
---
"I want the announcement made now and I want the search to begin now."
---
In fact, the four votes appear to be already there, though council members remain reluctant to make moves without more complete information. Timing is still a variable, with three ready to see him gone now and a fourth looking for a more planned approach. That member, who is ready to be done with Landon despite struggling over the severance, put it this way: "I don't want anyone calling for a vote right now until we have a discussion and talk about our options." In other words, the council member wants to level the playing field and take back the control of information that Landon has abrogated through the process.
The council member who's been concerned about the severance has sought to negotiate it with Landon, or find ways to negotiate down the severance, but Landon is unlikely to willingly weaken what would be his last means of leverage, once the veil on the secrecy of his meetings is lifted. Yet that same council member has also said that in the end, while severance is an issue, the fault does not belong with this council and the cost should not be a deciding factor.
The council member found it absurd that Landon would hold out for two more years, at a cost of nearly half a million dollars to the city, when the city could be done now even at the cost of severance. (Even if the severance package were more restrained and in line with current state law, he would still have been owed 20 weeks instead of 26 weeks' pay, plus accrued personal days as a cash payout, plus benefits. So the cost would have been less, but not much less.)
"I want the announcement made now and I want the search to begin now," the council member said, adamant about going through the search process and ending it by February, before the next election season.
To yet another council member, the mere fact that Landon is talking about retiring, whether in six months or two years, proves that he has already checked out, and that stretching out his tenure, even to avoid paying severance, would be untenable: it would place the city's immediate needs at the mercy of his coasting toward retirement. If Landon is already having the retirement discussion, the council member said, "it doesn't make sense" to continue. "I don't think he has the passion," the council member said, though he's holding back the passion of the youngest and most energetic council in the city's history.
"If it gets brought up in a council meeting, my recommendation is going to be to move on now," the council member said.
Landon's two-year deal and succession plan, in sum, is risible to a majority of the council, and his attempt to control his tenure's end appears to be itself the first casualty of his closing days, as council members are clearly done with complying with his closed-door methods for that reason: his obsession with control is part of their disenchantment.
One council member's proposal appears to be a likely next step: a special meeting for the council to discuss the issue, possibly without Landon's presence, to more openly figure out where each council member stands and how to proceed. Only then will it be clearer if Landon's end days are in fact here or if the council will again turn to clay.
–Pierre Tristam