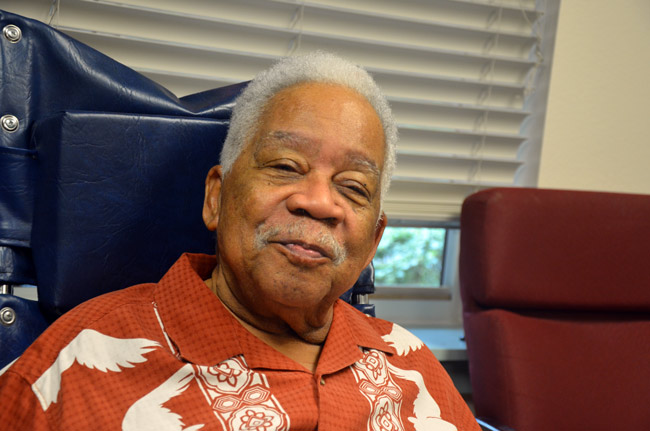 Just before Christmas Jim Guines, the popular, mordant, long-time Flagler County School Board member, was hospitalized with a recurring leg ailment that may have contributed to a stroke while he was in surgery. He's been in rehab since. On Sunday (Feb. 26), Guines celebrated his 80th birthday with his wife LaVerne, his daughter and son-in-law Kim and Ervin Blowe, and some three dozen people who braved the neon-lit halls of Grand Oaks Health and Rehabilitation Center to bring a little more jovial light to Guines's surroundings.
Guines' left side has been somewhat incapacitated by the stroke, but improvement since December has been visible. It's not known when he might leave rehab, but sometime in March is a good bet.
"I'm feeling good," Guines said. "All things that I can control, my arm, my sense of humor, my brain. I'm ready to go to work again. I'm ready to get involved in the community, stirring up some news." It isn't in Guines's nature to be awake without stirring up something.
Guines, who is a member of the FlaglerLive board of directors, retired from the school board in April 2007, just five months after winning his fourth consecutive election. He'd retired to Palm Coast in 1988 after 17 years as an assistant superintendent in the Washington, D.C., school system. On the local board he quickly burnished a reputation as an outspoken, at times brash board member who had no worries about occasionally antagonizing his colleagues or the public, only to rally opponents back to his side with his "Smokin' Jim" barbecue enterprize, which he wheeled to ballgames and special events around town.
Guines was ailing in spring 2007 and needing a break. He took it, recovered, and got involved again, off the board, as a mentor and counselor–especially to a few politicians or would-be politicians in town. He ran attorney Raven Sword's unsuccessful campaign for school board, against John Fischer, in 2010, and was among the more reasonable voices that prevailed, last fall, in getting the school board to reverse its decision to cancel the staging of "To Kill a Mockingbird" for fear that racial slurs might cause trouble.
More recently, from an iPad his family acquired for him, he's been following the uniform controversy at the school board–and lending his support to the pro-uniform side of things. "A lot of things going down since I got sick," he said–an understatement that, next to a birthday cake and ice cream, didn't need elaboration.