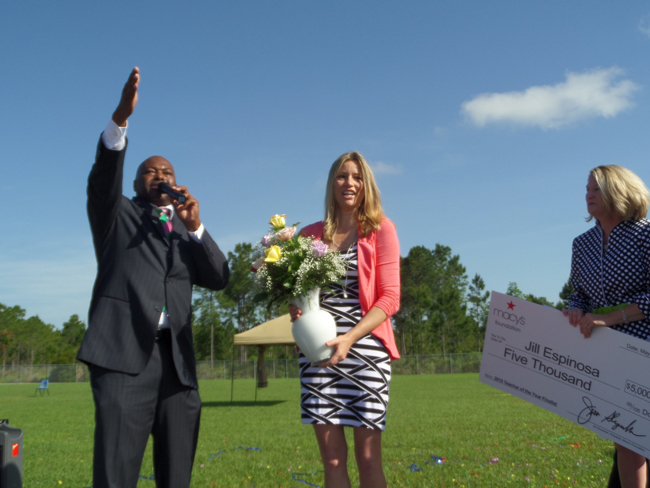 At first students thought someone was getting arrested. Maybe even their teacher. Possibly the teacher: Jill Espinosa, who is this year's Teacher of the Year in Flagler County. Students had reason to worry. They were arrayed on school grounds, enjoying what was to be their field day, when a motorcade of cops, lights flashing and sirens blaring, wheeled onto campus Thursday morning, and a cop called out Espinosa's name from his PA system.
But it was nothing of the sort. Pam Stewart, the Florida Commissioner of Education, the members of the Flagler County School Board, district administrators and that film crew from Macy's Corp. don't usually show up for the arrest of a teacher, even if Stewart stepped out of her car with a WANTED poster of Espinosa. Nor does the Matanzas steel drums band. Nor would the district's two superintendents be showing up for an arrest: Janet Valentine, who made a rare appearance after taking leave following a stroke around Thanksgiving, and Jacob Oliva, who was named Valentine's successor.
But they do show up to make the fourth of five such announcements across the state: Stewart told Belle Terre Elementary that Jill Espinosa, the 2014 Flagler County Teacher of the Year and a kindergarten teacher at Belle Terre, is one of the five finalists for Florida Teacher of the Year.
And they do show up bearing gifts: Espinosa got a $5,000 check just for making the finalists' cut, and Belle Terre got a $1,000 check, all paid for by Macy's.
"I'm just so overwhelmed and surprised," Espinosa said afterward, recalling how the previous day she'd been told all sorts of stories by the administration to ensure that she'd be at school. Administrators wanted her to speak at a principals' meeting—which was ostensibly scheduled at Belle Terre on Thursday—and they wanted her to take half a day off for something she couldn't quite figure out.
"I knew something was weird but I wasn't expecting—" this. "I started figuring it out when we were in the Evolve Lab in our school and they were all in there, a few people just had these really, like, knowing smiles, and I had to just try and stop myself from crying because I thought oh my gosh, this is what it is. I had to take a deep breath and try to pull myself together."
Espinosa was named Flagler County Teacher of the Year in January. No teacher from Flagler has ever gone on to win the statewide honor. That teacher will be named in July following a banquet in the five finalists' honor at the Hard Rock Café in Orlando, also hosted by Macy's. The film crew that accompanied Stewart and the rest of the production today has been filming each of the surprise announcements across the state. Those edited videos will be shown at the banquet in the lead up to the final nomination. Last year Sue McVeigh, the Flagler County Employee of the Year, made it to the final five, also a first for Flagler, but did not take the final honor. The last time Flagler scored a final-five finalist was about five years ago, when Diane Tomko was named.
"We're very excited for Jill Espinosa to be named one of the five finalists in this state," Oliva said. "To me, it's really no surprise. She is a dynamic teacher that consistently goes above and beyond and we're very lucky to have her in our Flagler family. We just found out the news and we were able to tell her today. She'll be representing Flagler County as a finalist for Florida Teacher of the Year. We know she'll do great."
Espinosa, a 16-year veteran, teaches kindergarten and tutors in a program for families whose children are having particular academic difficulties, and works on a lot of service learning projects with older students. Students this year built a giant, actual, flowing creek behind the school's media center, enabling students to give an in-school field trip and enriching students' science background. "It's been a huge undertaking," Espinosa said. All those little nuggets and images will make it into Espinosa's video profile, as did today's ceremonial announcement.
"I'm just glad I didn't faint or anything like that, or throw up," Espinosa said, around the time when she learned that state officials would be whisking her away to Tallahassee for a little "media training" ahead of the coming festivities. "I'm doing OK right now but I was really, really nervous. It's a wonderful surprise, it's great for our school, it represents more about who were are at Belle Terre, we have a wonderful thing going here and I'm just glad to be a part of it."
Soon the festivities resumed, with the Matanzas steel drums' sounds saturating the air for a while longer before the band was due to travel out of state today for a competition of its own.