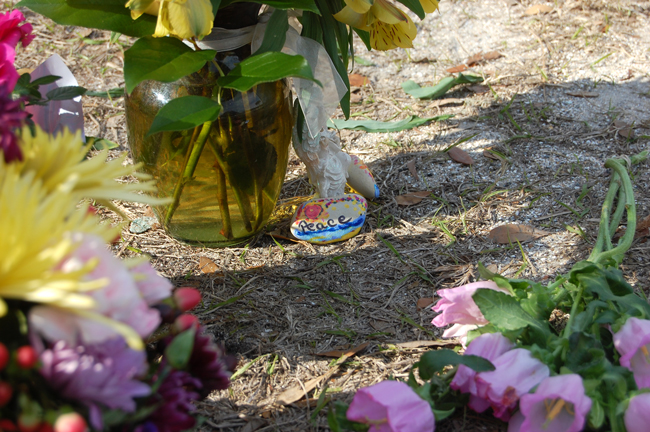 The Florida walk for Tibet will continue, starting with a prayer ceremony in the Hammock Thursday morning in honor of the late Jigme Norbu, the Dalai Lama's nephew. Norbu had started the 300-mile walk on Monday morning in St. Augustine. He was killed that evening by a passing car on State Road A1A near Palm Coast.
The 10 a.m. ceremony Thursday will take place at the site of the accident, at the foot of a stately oak tree (and the Hammock water tower behind it), where a memorial of flowers and plants has been growing since Monday.
After the ceremony, a group of people will walk for three miles south from the accident spot—a ceremonial three miles, to symbolize the 300 that Norbu was going to walk. Anyone who would like to join that walk is welcome.
Then, a core group of walkers, including Wangchuk Dorjee, a 67-year-old former Tibetan member of parliament, who was Norbu's walking partner on several walks, including his last, and three Tibetans from New York and Minnesota who are flying down for Thursday's ceremony, are planning to keep going, taking over for Norbu all the way to West Palm Beach. They won't walk every mile: Norbu habitually walked 30 miles a day, and had planned on reaching West Palm Beach by Feb. 25. Having lost a few days, they'll be walking about 10 miles a day and driving through emptier spots, according to Donna Kim-Brand, a friend of Norbu's who was planning and supporting the original walk, and will be taking part in the walk herself.
Every aspect of Norbu's walk had symbolic meaning. He had started it on Valentine's day "because it's a day of love, Kim-Brand said. "That matters to him. And St. Augustine is the first city in the United States, what became the United States." There was great significance in the destination, too: West Palm Beach. Few people knew what will likely become less of a secret in the days ahead: that since he was a young boy and through his teenage years, Jigme Norbu was a frequent visitor to Florida. He spent summer and Christmas holidays as his father brought the family to West Palm Beach.
---
Watch Fitzpatrick Play for the Dalai Lama
Norbu's father, Thubten Norbu, who died in 2008, was the eldest brother of the Dalai Lama and the leader of the Tibetan independence movement. He was also a close friend of Ann Norton, the artist, who founded the Ann Norton Sculpture Gardens in West Palm Beach. That was Norbu's destination: a link back to his childhood, to his father, to those very gardens, which represent a continuity of life, and to the place where, in Kim-Brand's words, "took over in spirit from his father the mission of leading the Tibetans," though not from a political standpoint. "Jigme wanted to take the humanitarian side." It was there, too, that Kim-Brand and Norbu met, in February 2009, when Kim-Brand put on a fund-raising event at the gardens for Michael Fitzpatrick, the cellist who often appears with the Dalai Lama and musically sets the stage for him.
It was there, in the summer of 2010, that Norbu and Kim-Brand had dinner at the gardens and planned the Florida walk. It is at the sculpture gardens that the broader memorial will be held on Saturday, Feb. 26.
Other events are also planned: On Friday, Feb. 25, one event in Norbu's memory is planned at the Dreyfoos School of the Arts in West Palm Beach. Another is planned later in the day at Palm Beach Atlantic University at 11 a.m. as part of the university's Global Events Forum.
Meanwhile, the re-start in St. Augustine and in the Hammock.
Kim-Brand said Wednesday evening that about eight to 10 people were gathering early Thursday morning in St. Augustine for a brief remembrance from the pier from which Nurbu started his walk. The group will then drive to the accident site in the Hammock, and resume the longer walk from there.
---
Charlotte's Interview With Damian Collins[media id=159 width=340 height=300]
Speaking for the first time at length since Norbu's death without breaking down, Kim-Brand, who was with him for most of his last days, recalled those last hours. Norbu and Dorjee had walked down from St. Augustine to the Matanzas Bridge, where they met many people, took pictures, spoke about the cause. Dorjee's back was hurting. He went by car with Kim-Brand, who drove ahead to scout places for lunch and for the night's stay. She and Dorjee drove to Flagler Beach, thinking that might eb the place for the night, but it was too far. She scouted a lodge further north. By the time the pair got back to Norbu, the sun had set, but he'd met Damian Collins, the owner of the Hammock Wine and Cheese Shoppe, and made arrangements with her to stay on her property. He wanted to make it all the way there, and insisted on walking still, even as night was falling. He told Dorjee and Kim-Brand to drive ahead to T.J.'s Seafood Shack and wait for him there. It was just two miles.
They drove down, got a table, and waited. A little too much time passed. "I called, he didn't answer," Kim-Brand said. "Then we got the call from the trooper, who apparently had found Dorjee's number on his phone."
Guilt took over: Kim-Brand thinking she should have insisted more that he get in the car, Dorjee thinking that if he hadn't stopped walking on account of his back, he would have been with Norbu, they would have been safer together. Another friend who'd gone to the ceremony in the morning worried that she'd delayed the start of the walk and caused him to walk at night. But why was Norbu walking on the side of the road? It wasn't like him. Not being safe wasn't like him. "Normally he would walk on the sidewalk, that's how he did it, and normally he doesn't walk at night. It was only because of the confluence of circumstances," Kim-Brand said, remembering how he figured that there was still time for the cause, as he saw it. "I'll use that hour to walk another two miles," is how he put it.
And then there's the young driver, Keith O'Dell of Palm Coast. "We are fully aware that he must be devastated, and with the children in the car," Kim-Brand said. O'Dell had two children with him. "As far as it appears, it was what they call an accident: wrong place, wrong time, so we have full compassion for him and his children." All of Norbu's community of friends, she said, are praying for Norbu as much as they are for O'Dell.
The irony of it all, Kim-Brand said, is that it took the accident to rouse untold number of people's feelings for Norbu and his case—the cause he wanted people to be aware of since starting his 20 walks and nearly 8,000 miles: Tibet's oppression at the hands of China since 1950. In the end, Kim-Brand said of Norbu, "we are also fully aware that he never wanted it to be about him, it was about the cause, so we are bucking up and carrying on in the name of the cause, as he would have."