Morse Museum Expansion
The Morse Museum in Winter Park, honored home to treasures and architectural objects by Louis Comfort Tiffany, will open new galleries on February 19, providing first-time access to the 'Daffodil Terrace' and 250 art objects from the Artist's Long Island Estate, 'Laurelton Hall.' This month the Museum completed the 12,000-square-foot expansion, creating 11 new galleries. The public opening is planned in conjunction with Tiffany's birthday – February 18, 1848.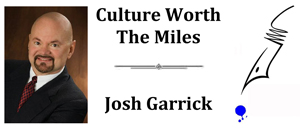 The $5 million addition increases exhibit space by 50 percent and showcases the lovingly restored Daffodil Terrace – an 18 by 32 foot outdoor room with marble columns topped with bouquets of glass daffodils. Also featured are surviving objects from Laurelton Hall's dining room, living room, and reception hall, including leaded-glass windows, Tiffany lamps, and art glass and pottery from Tiffany's personal collection. The Morse Museum, at 445 North Park Avenue in Winter Park, was founded in 1942 by Jeannette McKean as a gift to the community. In 1957, when a fire at Laurelton Hall threatened to destroy Tiffany's legacy, the McKeans rescued surviving art and architectural objects. Since then, the Morse has been dedicated to preserving and presenting Tiffany's work and is renowned as the world's most comprehensive collection of works by Louis Comfort Tiffany. Call 407.645.5311 x100 or visit morsemuseum.org
Art & Living Downtown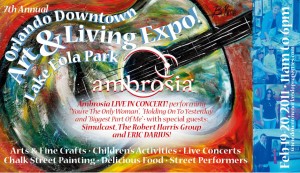 Each year this Free Downtown event gets bigger, better, and includes the work of more Central Florida Artists. This year the Orlando Downtown Art & Living Expo will be held on February 19 and 20 along the streets of Lake Eola Park showcasing over 200 Artists and exhibitors working in glass, jewelry, mosaics, painting, photography, pottery and sculpture. Open from 11 am to 6 pm on both days, Robinson Street will be turned into 275 feet of 'artist canvas' with chalk street paintings, while the exhibiting Artists vie for thousands of dollars of Art awards, prizes, and ribbons. Art Expo will also feature acoustic musicians, street performers, children's activities, and – of course – food. On Saturday the Free event features Eric Darius and the Robert Harris Group live in concert, and on Sunday its Ambrosia performing their hits "Biggest Part of Me" and "You're The Only Woman." Visit downtownorlandoproperties.com or call 407.592.0002
Wicked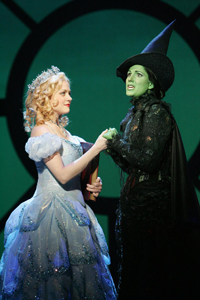 Long before Dorothy, that pig-tailed girl from Kansas, arrived in Munchkinland, two girls became rivals in the Land of Oz. The 'smart' one was born with green skin, leading to a life of feeling "different and misunderstood."  The other was beautiful and as popular as a home-coming queen. How these two 'ladies' grew to become the Wicked Witch of the West and Glinda the Good has turned into "the most complete, and completely satisfying, new musical in a long time," according to USA Today. Around the world, the musical Wicked has worked its magic on critics and audiences alike. Winner of 35 major awards, including a Grammy and three Tony Awards, Wicked is a huge Broadway hit, and that tornado of creativity is about to touch down in Orlando – at the Bob Carr – for five weeks from February 23 through March 27. If this is your first time, you won't want to miss your chance to be (uh, see) Wicked. There was a whole lot happening – before Dorothy dropped in!  Visit OrlandoBroadway.com or call 800-982-2787 or (407) 423-9999 x17
Leon Redbone at the Plaza
Leon Redbone, known for his iconic white fedora, jacket and sunglasses has remained musically respected for decades. Though his "celebrity persona" has been satirized (e.g. the Leon Redbone workout in Far Side cartoons), he remains a genuinely gifted artist. "I've always been complacent in my approach to music," Redbone says. "So in some ways maybe I'm the pure definition of consistent." At the core of his initial calling was the desire to simply honor songs from the past, establishing him as one of our most famous 'curators' of 20th century music. Over the course of his 30 year, 15 album career, this unique performer continues his love affair with turn-of-the-century tunes, flapper-era rhythms, Depression ragtime, Tin-Pan-Alley classics, and World War II folk-jazz. Redbone will bring his enduring talent to the Plaza Theatre at 425 North Bumby on Saturday, February 19 for one-show-only at 9 pm.  Visit www.theplazatheatre.com
"The Diary of Anne Frank"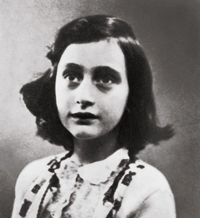 In a new adaptation, written with a new generation in mind, the words from the diary of Anne Frank will be presented by the Breakthrough Theatre of Winter Park from February 25 to March 13. With Jenny Ornstein in the title role, this powerful new adaptation by Wendy Kesselman, presents Anne Frank as a living, intensely gifted young girl, who confronts her changing life and the increasing horrors of her time with honesty, wit, and determination. The lives of eight people hiding from the Nazis in a storage attic come to life capturing the claustrophobia of their existence – their fears, hopes, laughter, and their grief. Anne Frank wrote in her diary every day of those two dark years. She said, "When I write, I shake off all my cares. But I want to achieve more than that. I want to be useful and bring enjoyment to all people, even those I've never met. I want to go on living even after my death!"  Directed by Tanya Roller, the play will present two 'Industry Night' performances on Monday, February 28 and March 7. The Breakthrough Theatre is located at 419A W. Fairbanks Avenue in Winter Park. Call 407-920-4034.